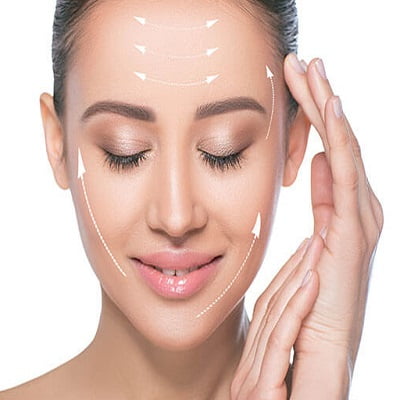 The image of having beautiful and flawless skin demands extra care. The majority of individuals around are struggling with this phenomenon which led them to approach a dermatologist for help. There are many procedures in the cosmetic industry for skin treatment but, cheek filler injects is highly demanded by patients which are a non-invasive procedure. If you feel unhappy with your skin and desire to alter your appearance to healthy younger-looking skin, then you should visit SKN Cosmetics for the best Cheek Filler Injection in Islamabad, Rawalpindi & Pakistan.
Cheek Filler Injection:
Cheek Filler Injection is a procedure that increases the volume of the cheeks or the region above it and surrounding them. It gives the appearance of better-defined cheekbones. It softens the appearance of wrinkles by injecting density underneath the surface of the skin. It is significantly less expensive than standard facial rejuvenation treatment owing to its origin. To maintain a healthy appearance of the skin for a long time, you need to attend several upkeep treatments after 6 – 8 months. It's a low-cost approach to seem younger without having to go under the knife.
Outcomes of Cheek Filler Injections:
Cheek filler injection considerably a simple procedure sign starts to appear within 3 – 4 weeks and lasts 6 – 8 months or 2 years max tops. It is essential to visit our clinic again as this procedure is not permanent and you may require more filler induction. Keeping in mind those filler inductions amounts are based on the skin condition which is recommended by the dermatologist in Islamabad.
Types of Cheek Filler Injections:
Three types of fillers are mostly used which are:
Hyaluronic Dermal Fillers (Substance occur naturally in the body)
Collagen Dermal Fillers (Access from animal origin)
Synthetic Dermal Fillers (Ready in a laboratory)
Targets of Cheek Filler Injections:
Cheek Filler Injection in Islamabad, Rawalpindi & Pakistan targets are as follows:
Restore the skin
Boost skin cells
Minimized wrinkles
Reduces fine lines
Enhances appearance to make it appear flawless and younger looking
Benefits of Cheek Filler Injections:
There is a multitude of benefits of Cheek Filler Injections which includes:
Helps to regain glow and confidence
Deals with every skin type issues
Required no or less anaesthesia
Quick recovery time slot
Lasts months or years, but unfortunately not permanent
Low risk of infection or serious complications
Can be induced multiple times till the desired goal is achieved
Less expensive non-invasive treatment
Suitable Candidate:
Individuals who dream to achieve immaculate skin undergo cheek filler injection treatment. A suitable candidate is the one who:
Have dull and saggy skin
Desire a radiant, healthy younger-looking appearance
Have sunken cheeks
Not a smoker
Have wrinkles and other ageing visible indicators
Have genuine expectations
You are not a good suitable candidate if you:
Have excessive bleeding syndrome
Are Allergic to Synthetic compounds
Pregnant or Feeding mother
Pre-Procedural Care:
Before undergoing this treatment you need to take care of certain things which are:
Avoid thinning medication prior 2 weeks
Take prescribed medication regularly
Strong SPF sun-screen is recommended before stepping out
No smoking
Procedure:
Cheek Filler Injections in Islamabad, Rawalpindi & Pakistan is a non-invasive, less painful, and less time-consuming procedure. Experts perform this treatment carefully which follows the steps:
You'll lie down in a sterilized environment for your session.
Local anesthesia will be used to a site of injection, or perhaps a numbing ingredient may already be incorporated with the filler.
The injection procedure should be straightforward and should take no more than 20 minutes.
You'll be able to detect several of the benefits right well after treatment.
This filler will require another day or two to adjust to its new place on the cheeks.
After the treatment, you can drive and possibly resume work and other such commitments right away.
After-Procedural Care:
Even though this treatment is safe but you are recommended to follow after-procedural care instructions. They include:
Within a minimum of one week following the treatment, minimize exposure to the injection site in sunlight.
Maintain proper care of the treated area since it might become infected if you aren't careful.
During the first 72 hours after the procedures, prevent pushing the area.
After the session, limit vigorous exertion for several days.
Cheek Filler Injection Cost:
The average Cost of Cheek Filler Injection in Islamabad, Rawalpindi & Pakistan depends upon the procedural techniques a dermatologist used. Approximately this procedure cost around 15k PKR to 30k PKR rupees.
Recovery Time-Slot:
You might experience slight swelling, bruising & redness on the treated area after the procedure.
These after-effects last 20 – 30 minutes
You can resume your daily tasks once the procedure is successfully done
Schedule an Appointment:
Feel free to reach us at any time whenever you require any additional information concerning Cheek Filler Injection, or whether you prefer to schedule an appointment at SKN Cosmetics. We promise to provide excellent outcomes.