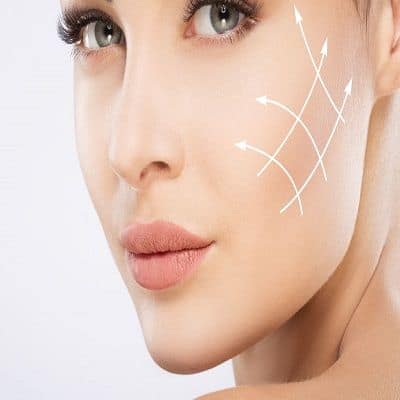 Organic fillers are used for vitalizing your look by reinstating lost volume to your face, to correct any unevenness, to plump your lips for broadening, to treat loose skin, and to decrease the appearance of deep wrinkles and smile lines around the mouth and nose, also called nasolabial folds. Organic fillers in Islamabad, Rawalpindi & Pakistan are designed to make the skin even, plumped and give you a young-looking appearance. These fillers, when inoculated in the treatment area, fill in the gap of tissues that roots looseness and stimulate natural collagen production in the face.
Suitable Candidates for Organic Fillers:
Both men and women are progressively opting for organic fillers in Islamabad and they work successfully on both regardless of gender or age. You can go for organic fillers if;
Your face has lost volume.
You have loose skin.
You have thin and small lips.
Your lips are flat.
You have deep wrinkles
You want to enhance your facial appearance.
You have deep acne scars.
Preparation for Treatment:
It is important that you consult with your doctor prior to the treatment just to be familiar with the procedure and the anticipated results. You can ask your doctor for his practice with earlier clients. Your doctor will examine your health generally in order to determine your suitability for the Cosmetic Injectables. You will be given a complete list of guidelines to keep an eye on before and after the procedure for your well-being and success of the treatment.
Organic Fillers Procedure:
The Organic fillers in Islamabad, Rawalpindi & Pakistan are used for harmless and simple treatment. Your doctor will cautiously inject these fillers into the quarantined areas that need to be treated. These effective fillers are injected into the treatment area where they start filling in for the loss of tissues and motivates the natural production of collagen.
Organic Fillers Result
Organic fillers are very operative in producing desired results. You will start feeling the difference in treated areas within sometime after the procedure.
Facial Volume restoration and Correction
Organic fillers are also used to add volume to your face in order to improve the evenness of your facial structures and to make it look younger and good-looking. These fillers are also used to make corrections of any abnormalities on your face.
Lip Augmentation
Lip augmentation has become fairly popular through organic fillers in Islamabad. It is used to give your even lips a plumping volume and to eliminate the undesirable lines that appear on your lips.
Deep Wrinkles and Nasolabial Folds
Organic fillers are used to plug in the loss of tissues and collagen production. Wrinkles and other fine lines began to appear with age when the collagen fabrication has slowed down. These fillers help in promoting natural collagen production and deep wrinkles, nasolabial folds near your mouth and nose disappear.
Organic Fillers Benefits
These organic fillers are safe
It is a worldwide trusted and well-recognized treatment, so you can be assured about its outcomes
No long term side effects linked with the procedure.
You can continue your daily routine right after the procedure.
Organic fillers yield instant and enduring results.
It is a minimally invasive procedure.
It improves elasticity and firmness of skin through accelerates collagen production.
These filters work well for both men and women of all ages.
Organic Fillers Recovery
Organic fillers in Islamabad, Rawalpindi & Pakistan do not require extensive recovery time, neither there is any downtime. Though you will be given a widespread list of instructions to follow from your doctor that will help in rapid healing and sustaining the results.