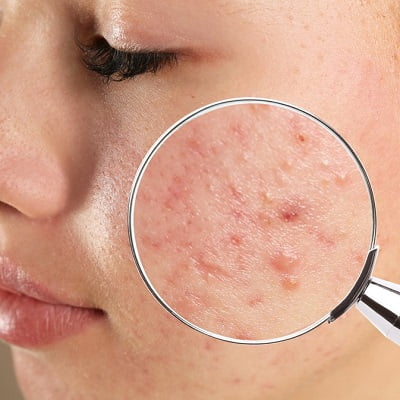 For a teenager, acne is most certainly the biggest nightmare. Those pesky pimples often show up at the wrong time and ruin perfectly good looks. As the teen years go by, most people no longer suffer from this problem. However, for others, this problem can persist and continue well into the twenties and beyond. In such cases, acne scarring is inevitable. It is a problem many people face around the globe. These scars affect the appearance in an ill manner. Permanent Acne Scars Treatment in Islamabad, Rawalpindi & Pakistan is an ideal solution for those looking to regain their fabulous looks. Let's learn more about treatment options.
Acne Scar Treatment in Islamabad, Pakistan:
There are a number of options for Acne Scars Removal in Islamabad, Rawalpindi & Pakistan that can be used by your doctor to treat acne scars. It depends on the extent of the scarring and what suits you the best.
Results of this Treatment:
The results are quite impressive once Permanent Acne Scars Treatment has been completed. Most people have their skins cleared of the unsightly scars that affect their overall personality. Do keep in mind that the scars can be greatly removed though in some cases, they may not be completely erased.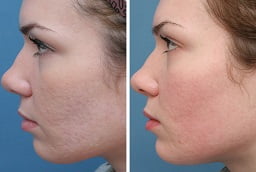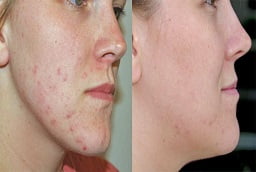 Cost of Laser Acne Scar Treatment:
Laser Acne Scar Removal Cost in Islamabad Pakistan ranges from 10,000 to 40,000 PKR. The is decided after consultation with our dermatologist. We used high-end Laser machines for acne scar removal in Islamabad Pakistan.
Techniques We Are Used:
Here you see the latest techniques we are using to remove the Permanently Acne Scars.
Scarlet S Laser Machine:
Scarlet S laser machine is a device used to repair scars with short pulse Radiofrequency Technology. It delivers energy deep inside the skin to get the skin enhanced from the inside out. When the device is powered on, existing collagen fibers tighten and rearrange themselves, consequently, the acne scars become less noticeable. Anyway, besides treating scars, the device can be also used to lift up the sagging skin and to reduce other effects of aging.
Chemical Peels:
These are chemical solutions that are used for treating mild acne scarring. They remove the damaged surface of the skin to allow the formation of healthier skin. Greater collagen, a protein responsible for the health of the skin, is also produced in larger quantities. With a few treatment sessions, fantastic results can be had. Do make sure that a professional applies the peels since amateurs can damage the skin.
Radio Frequency Treatment (RFT):
As the name suggests, the treatment works with the use of radiofrequency. The frequency is set in a manner that it does not affect the top layers of the skin and targets the deeper areas. It instigates the production of collagen. Within some time, the greater collagen starts evening out the skin on the surface. A few sessions of treatment can help in getting great results in mild to moderate acne scarring.
Microdermabrasion:
It is one of the more preferred options of Acne Scar Treatment in Islamabad, Rawalpindi & Pakistan. Microdermabrasion uses a handheld tool to spray tiny crystals that cause micro-injuries to the skin. Instantly, the healing process starts. The damaged skin is replaced with healthier skin and collagen and elastin production also get a boost. Much like other treatments, a few repeats are needed to ensure that the desired results are acquired.
Fractional CO2 Laser:
This is probably the most effective treatment of all. It is generally used for mild to severe acne. It works with the help of beams of carbon dioxide laser that destroy the damaged skin and allow new skin to form. It also boosts the slowed-down elastin and collagen production in the skin, making it better in general. With a few treatment sessions of Fractional CO2, the skin gets better and better.
Things to Remember for Acne Scar Treatment:
There are a few matters of importance that must be kept in mind prior to, during, and after the Acne Scars Removal/Treatment to ensure fantastic results.
You must avoid exposure to too much sun for a couple of weeks prior to any Laser treatment and protect the skin for a few days after the treatment as well. Use sunscreen and prefer night time for outside travels.
A cooling gel or a topical anesthetic will be applied to the skin to ensure that you do not feel discomfort during the treatment. Cool air may also be blown during the treatment to further add comfort.
There will be crusting on the skin, do not try to remove the scabs. They will fall away as the skin heals after the treatment. This is imperative that you let the process take its natural course.
Most treatments should only be repeated after a minimum of six weeks. Do not try to rush your acne scar treatment in Islamabad as it can damage the skin instead of correcting it.
Frequently Asked Questions (FAQs)
Free Consultation:
If you want to get rid of your Acne Scars then SKN Cosmetics Provides the Best Acne Scars Treatment in Islamabad, Rawalpindi & Pakistan want to know more fill out our free consultation form.