Why Choose Laser Hair Removal Islamabad Pakistan?
Hair is certainly a blessing but, only when it's present on your scalp. If it's on a body, it's no less than a curse. The hair on the body (especially as a woman), looks extremely untidy. None of us want to look like teddy bears. The conventional options of hair removal; threading, waxing and epilating are not effective at all. Your hair grows right back after a few days or weeks. Thanks to the technology, we now have Laser Hair Removal in Islamabad, Rawalpindi & Pakistan. It allows helping you get rid of hair once and for all within a few sessions.
Ideal candidate?
Before you get super excited about getting all your hair removed via you need to ensure that it is the right fit for you or not. You can undergo the treatment if:
You have thick and coarse hair
You want a smooth and hair-free skin
You are not pregnant
You are not breastfeeding
Your hair is not blond or red
Results of Laser Hair Removal:
Results of Laser Hair Removal will start to show through after the very first session. You will notice a significant reduction in hair growth after the very first session and will be completely eliminated once the sessions are completed. The results are permanent and you will never have to undergo maintenance treatments for staying hair-free.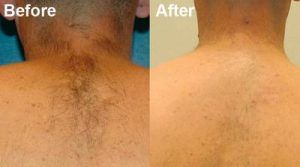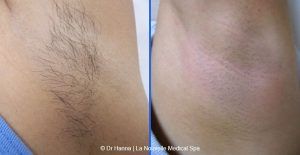 Goals of Hair Removal:
Our aims for Hair Removal Treatment:
Helping you get rid of unwanted hair for life
Making your skin appear smooth, silky and hair-free
Eliminating the problem of ingrown hair
Techniques Used:
There are multiple kinds of lasers used for laser hair reduction. The best technology used till this date is Candela GentleMax Laser. It is regarded as the best type of laser for hair removal.
Pre-Treatment Care:
Pre-Treatment Care is an important aspect of laser hair removal. It is essential to prepare your skin for the procedure. Here are a few things to consider:
Wear a broad-spectrum sunscreen and limit your sun exposure.
Do not go for tanning; fake and natural as it eliminates the contrast between hair and skin.
Do not go for waxing, epilating and tweezing at least a month prior to the Laser treatment; wax instead.
Do not use any deodorants or body sprays on your skin.
Do not apply any creams and lotions before coming to the laser hair removal session.
The Procedure:
Laser Hair Removal in Islamabad, Rawalpindi & Pakistan is a simple lunch hour procedure which is completed in less than an hour. It involves the following key steps:
The treatment site is properly cleaned before the treatment.
The hair on the treatment area is shaved prior to the laser.
The beam of the laser is set at a specific frequency.
The laser is targeted at the hair follicles, a pigment in the hair absorbs the laser beams.
The laser kills the roots of hair follicles.
A cooling gel is applied to the skin to soothe it.
Post-Treatment Care:
Post Treatment Care is as important as the treatment itself. It allows you to heal quickly and promotes uneventful recovery. Although you can immediately return back to work, here is a list of some basic tips:
Itching is a common side effect of the procedure. Resist your urge to itch the treated site.
Some individuals also experience swelling and discomfort. You can use cold compressions to alleviate the swelling.
Apply all the topical medications regularly.
Limit your sun exposure and avoid going out in the sun during peak hours.
Always wear sunscreen, preferably SPF 50 and above.
Avoid scrubbing your skin as it can irritate it further.
Benefits of Permanent Hair Removal:
The tremendous increase in the demand for Best laser hair removal speaks for its tremendous benefits. Here are few of the most pronounced ones:
You will immediately start to see the results of Laser Hair Removal. You won't have to wait for years to see results.
The results are permanent and you will not have to spend a single penny on products.
It is a pain less procedure. You don't have to undergo massive pain each moth to maintain a flawless skin.
It is a one-time investment. You will eliminate the need to spend monthly on supplies whether it is saloon appointments, shaving supplies, and waxing appointments.
It has absolutely no side effects. Yes, you heard it right. It has no side effects at all and yes, scarring is a myth.
It is suitable for people of all skin types; oily, dry and sensitive.
This procedure is safe to perform on all body parts; face, arms, legs, Tattoo's and intimate regions as well.
I hope that this answered all the questions regarding Laser Hair Removal in Islamabad, Rawalpindi & Pakistan. If you still have any queries, let us know and we will get back to you.
Fill in the form to get Consultation
We'll call you back within 15 minutes