If you are tired of having unpleasing hair on your body then laser hair removal treatment might be a good option for you. You can achieve all your cosmetic goals by efficiently utilizing laser energy. People undergo different hair removal procedures and home remedies such as waxing, tweezing, and shaving to get rid of unpleasant hair. Laser Hair Removal in Islamabad, Rawalpindi & Pakistan is a commonly used and popular technique to target uninvited hair follicles. As a result, the beam gets absorbed by the pigments present in the follicles, and eventually destroys the hair. To know more about its working, benefits, results and cost then read this article for more information.
An Overview:
After waxing, threading, or shaving, the hair grows back again after some days. On the other hand, along with the temporary removal of hair, Laser Hair Removing Treatment will stop the growth of unwanted hair by targeting the germ cells of the hair follicles. These cells are responsible for producing the hair again.
GentleMax Laser is considered to be the best technique used in this procedure. Sometimes Candela's GentleYag (ND Yag) is combined with Alexandrite's GentleLase to treat everything from unwanted hair to facial veins. It also works for eradicating the problem of ingrown hair.
Our Best Results:
After getting laser sessions, you will get naturally permanent, effective and satisfying results. Also, the results may obtain after getting proper sessions. The more you get the session, it will remove permanently. However, the laser treatment requires 6 to 8 sessions for accurate outcomes as it depends on the hair texture and growth. Moreover, Results will appear immediately after getting the first session of the treatment. You will be provided with a smooth and silky skin-free from unwanted hair.
Check out some of our best results of Laser Hair Removal Treatment.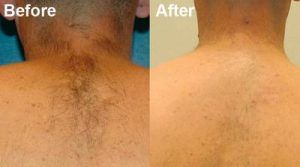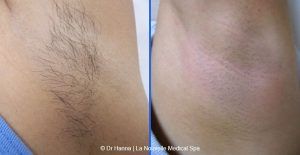 Which Body Areas Can be Treated?
The following are the areas that can be treated by effective laser hair removal treatment.
Arms
Legs
Underarms
Knees
Feet
Face
Bikini
Back
Upper lips
Tattoo removal The time required for the procedure will be different depending upon the area being treated. Normally the areas with larger surface areas will require a longer time than those having smaller ones. The effectiveness of the results is highly dependent upon skin color, hair color, and hair thickness.
Purpose Of The Treatment:
Hair is a blessing but only if only your head has it. People are taking Laser Hair Removal their consideration from all over the world for eliminating undesirable hair from their bodies. The cost of the treatment varies depending upon the part of the body being treated. It works by blasting the affected skin with intense ultrafast laser pulses.
The treatment has made it easy for people to reduce the unwanted hair growth on almost all parts of the body except the eyelids, as a laser might be dangerous for them. The beams destroy the follicles and leave behind hair-free smooth skin. It provides better results for darker-toned hair than red, blonde, grey, or white hair.
Top Benefits:
Generally, there are a lot of advantages of Laser Hair Removal in Islamabad, Rawalpindi & Pakistan, common benefits are:
A non-invasive and painless procedure.
Lasers can remove a number of hairs at a time.
Hair follicles will be eliminated permanently.
Helps you to get a fresher look.
No need for waxing and shaving.
You don't have to experience pain during the procedure.
A safe, time-saving and cost-effective treatment.
Suitable for men and women.
Naturally smooth and soft skin.
Speed up your self-confidence.
Who are Suitable Candidates?
Any male or female can opt for this cosmetic procedure. You have to satisfy candidacy criteria in order to get the tremendous outcomes of the treatment. You are the right prospect if;
You are not a pregnant or nursing woman.
A candidate must be above 18.
It works better for larger surface areas of skin such as arms, legs, etc.
To have dark, thick, and coarse hair.
You should be physically fit and healthy.
Your skin is free from allergies and infections.
Having realistic expectations about the outcomes.
Frequently Asked Questions (FAQs)
How To Prepare?
Patients are advised to follow some instructions to prepare their skin for the procedure. Here are a few things you have to consider;
Apply sunblock and sunscreen of strong SPF before going out
Avoid tanning and sunbathing for 2 or 3 weeks prior to the treatment
Do not use deodorants and body sprays on the affected skin
Before the procedure, you are requested to shave the entire area
Do not use retinol-A containing products in the treatment area
The Procedure:
Laser Hair Removal is a simple lunch-hour procedure that starts by properly cleaning and shaving the treatment area. Intense ultrafast laser pulses are directed on the skin to target undesirable hair follicles. The laser beam is set at a specific frequency. A melanin pigment present in the hair absorbs the laser beams. During the laser treatments, you might feel a tingling sensation in the area so a cooling gel will be applied for soothing it.
Aftercare Instructions:
It is as important as the treatment itself. It allows you to heal quickly and promotes uneventful recovery. Although you can immediately return to work, here is a list of some basic tips:
Itching is a common side effect of the procedure. Avoid touching the treated site
Some individuals also experience swelling and discomfort. You can use cold compressions to alleviate the swelling.
Apply all the topical medications regularly.
Limit your sun exposure and avoid going out in the sun during peak hours.
Always wear sunscreen, preferably SPF 50 and above.
Avoid scrubbing your skin as it can irritate it further.
Our Best Dermatologists:
At our clinic, we have expert and experienced skin specialists like Dr Abida Sardar, Dr Ayusha & Dr Maryam are the best Board Certified Dermatologists to perform Laser Hair Removal treatment very accurately and perfectly.
Cost of Laser Hair Removal:
At SKN Cosmetics, the Cost of Laser Hair Removal in Islamabad Pakistan ranges between 3,000 PKR to 20,000 PKR per session. Also, it depends on the few factors that can impact the cost of the treatment. Common factors are mentioned below:
Expert Practitioner's fee.
Number of Sessions.
Quantity of hair follicles.
Location and Reputation of the clinic.
Other additional charges.
Furthermore, if you are willing to know more about cost and its factors then you can contact our expert or visit our clinic anytime. We will provide you with helpful information!
Schedule An Appointment With Us!
Therefore, if you still have any queries regarding the treatment or want to consider the appointment for this effective treatment then feel free to Book your free initial consultation with one of our experts by filling in the online consultation form. We are here to give you satisfying services and a memorable experience!