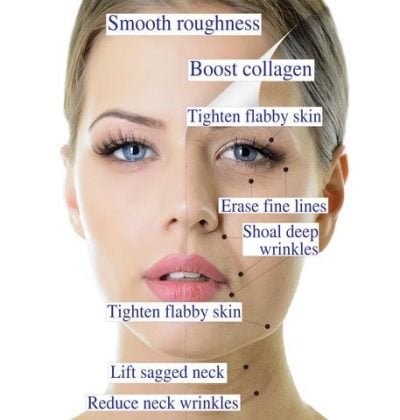 Wrinkles and fine lines usually occur on different body parts due to excessive sun exposure and age. It has been believed that such creases, folds, and ridges on the skin are also caused by facial expressions and movements.  With growing age, the skin begins to lose its elasticity which results in deeper and visible facial issues. We offer different treatments for the Removal Of Fine Lines and Wrinkles in Islamabad, Rawalpindi.
Results and Benefits:
Results:
Patients come up with improved skin tone right after laser treatment Fine Lines and Wrinkles Removal in Islamabad takes about a few months for delivering the final outcomes. Results are not guaranteed as the skin continues to grow overage and can give rise to the formation of such type of irregularities again.
Benefits:
It helps in moisturizing hydrated skin
It removes creases, folds, wrinkles and fine lines
It gives young and fresh skin by rejuvenating skin cells
It improves blood circulation and slows down the aging process
It enhances skin quality and tone after restoring damaged skin
Who Is Candidate?
Before considering the candidacy, firstly patient's health is assessed by your certified practitioner. You can be a candidate of Fine lines and Wrinkles Removal in Islamabad, Rawalpindi if:
You are mentally stable
You have mild to moderate skin laxity
You wrinkles/fine lines affect your confidence
You have realistic expectations for the treatment
Aim Of Treatment:
We can't get rid of inevitable signs of aging permanently even after getting medical treatments but SKN Clinic is providing a number of treatments for fading the appearance of ugly looking skin irregularities according to the sufferer's desires. Therefore, Wrinkles and Fine Lines Removal in Islamabad, Rawalpindi is aiming to remove these issues for giving the smooth taut surface of the skin.
Technique We Use:
Aging, facial muscle contractions, sun damage, smoking, and other factors contribute in the onset of wrinkles and fine lines. There are few treatments that aid in correcting issues of the skin:
1.     BOTOX Wrinkle Treatment:
This treatment doesn't take more than 5 minutes. It works by injecting "Botulinum toxin" directly into the muscle. Redness and mild swelling are usually observed right after completing the procedure which settles down quickly.
2.     Filler Treatment:
Fillers are used for adding volume to the face. Majorly, hyaluronic acid is applied under the skin for Removal of Fine Lines and Wrinkles in Islamabad, Rawalpindi. It requires zero to no recovery time.
3.     Chemical Peels:
The superficial peels use salicylic, glycolic, and trichloroacetic acid that penetrates deep into the skin. These peels play an important role in softening the appearance o wrinkles and fine lines.
4.     Dermabrasion:
The treatment through dermabrasion exfoliates the affected skin by using an instrument or by sanding tiny crystals. It replaces wrinkles and fines lines with a smoother layer of skin.
5.     Laser Resurfacing:
It involves the use of lasers to stimulate the production of collagen which aid in plumping up the skin. There are different types of lasers that are used according to the condition of the skin.
Recovery:
Laser Treatment for Removing Wrinkles/Fine Lines in Islamabad requires no downtime. Once the treatment is done, most of the patients experience splotchy redness on the area of treatment and surrounding that fades within 24 hours. Some patients also experience a stinging sensation which is normal.
Schedule a Free Consultation:
Prior to the treatment, we always provide a free initial consultation at SKN Laser Clinic in which we discuss the various treatment methods of Fine lines and Wrinkles Removal in Islamabad, Rawalpindi and you meet your consultant and the doctor. We discuss the potential treatment method(s), your wishes and expectations. We would be delighted to recommend a protocol that suits your needs. Please fill out the consultation form below.