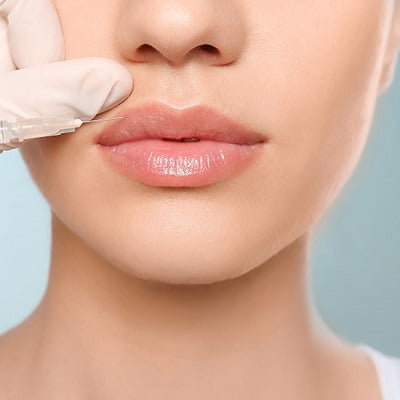 Due to cosmetic reasons, many women are seeking treatment to get plumper lips. Lip Augmentation in Islamabad, Rawalpindi & Pakistan is one of the easiest ways to enhance the shape of your lips. Lip implants and dermal fillers are widely used techniques to enhance the overall facial profile by plumping the lips. Certain types of fillers are injected around the mouth that helps in increasing the volume. Ongoing trends are changing the thinking of people. These trends are insisting people to get befitting shape of lips and eliminating fine lines around the mouth.
Benefits:
Enhances facial appearance
Helps in achieving beauty goals
Gives plumper and fuller appearance
Softens wrinkles and lines around the mouth
Transforms lip configuration according to your desires
Results for lip augmentation:
The procedure of Lip Augmentation Surgery delivers very natural results by plumping thin and uneven lips. Progressive results of dermal fillers usually appear within 3 months and tend to last for 5-6 months. However, if you have a high metabolic rate then the solution gets broken down and doesn't last for so long. Therefore, results may vary.



Who Is Candidate?
Today, thin and flat lips are the concern of many women. Most sufferers with realistic expectations can be considered as the prospect of Lip Augmentation/Enlargement at SKN Cosmetics. You are a good candidate if:
You feel your lips are too thin
Your gums expose whenever you smile
You are losing fuller lips with growing age
You want to increase the size for a morale boost
You have good skin elasticity to posture reshaping
Aim Of Treatment:
Treatment of  Lip Augmentation Surgery works with the aim to improve the shape of thin and uneven lips. Besides this, it develops symmetry between lips and other features of the face in order to give the more appealing and womanly look.
Technique We Use:
Lip fillers and lip implants are playing an important role in achieving the expectations of all those women who want to increase the size of lips through the Enlargement of Lips.
The technique of Lip Augmentation:
Lip fillers are also called as Lip injections in Islamabad, Pakistan that are divided into two major groups: collagen fillers and hyaluronic acid (HA) fillers. The most commonly used ones among them are HA fillers that are injected into the lips after applying local anesthesia. Silicone Injections, Autologen, Hylaform, and Restylane, are common examples that aid in achieving cosmetic surgery goals.
Lip Surgery:
This surgical technique introduces comfy implants in the lips. It provides more refinement and permanent results than fillers. Small incisions around the corner of the mouth are created. The surgeon further creates a tunnel-like structure in the lips to accommodate the implant. Following the procedure, he inserts the implant, trims it to the proper length and then threads it through the lip.
Recovery:
You can start your routine activities right after the treatment. Lip Enlargement/Augmentation Injections require a very short recovery period. Redness, swelling, and bruising may arise for 2-3 days which subsides following the post-care program. Patients of dermal filler treatment recover completely within 2 weeks.
Schedule a Free Consultation:
Procedures of Lip Augmentation in Islamabad, Rawalpindi & Pakistan add volume and definition to regular or thin lips for enhanced facial aesthetics. If you are seeking treatment for the same concern, you should approach SKN International Hospital. Fill in the consultation form and book your FREE appointment today.