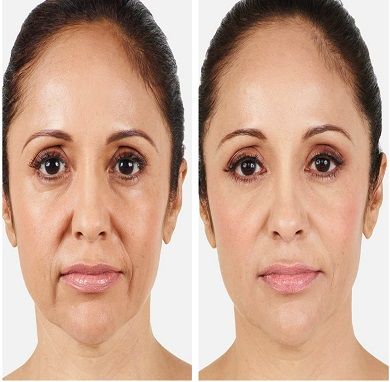 In order to preserve the healthiness and glow of our skin, we must rejuvenate it sometimes and give it the care it deserves by applying the right skincare products and safe non-surgical treatments that can renovate the crucial structure of the skin.
What is Juvederm Volite?
Juvederm Volite fillers in Islamabad, Rawalpindi & Pakistan is an anti-aging injectable product precisely designed to enhance the condition of the skin which can last up to nine months merely with one treatment session. Unlike usual dermal fillers, Volite is a skin conditioning Hyaluronic acid (HA) gel that provides enhancements in skin evenness (absence of fine lines), hydration and elasticity. Juvederm Volite targets to deliver results that last long and eradicate the need for several treatments. It can be inoculated intradermally and is appropriate to treat the face, neck, neckline, and hands of any skin types and ages. By containing the anesthetic lidocaine, the pain is very minimal during and after the treatment.
The Juvederm VoliteTechnology:
Juvederm Volite treatment in Islamabad, Rawalpindi & Pakistan uses VYCROSS technology, which is a unique manufacturing process and state-of-the-art combination of low and high molecular weight Hyaluronic acid to intensify the cross-linking productivity of HA chains. Even though most HA fillers use 100% high molecular weight, but VYCROSS uses only 10% high with 90% less molecular weight HA hence creating an evener injectables fillers and reaching a smoother result. It means that clients are expected to experience less pain and swelling after the treatment and the outcomes are more natural and enduring.
Why is Hyaluronic Acid useful?
Hyaluronic acid is fundamental to smooth, flawless and hydrated skin. Our skin cells naturally produce it in a certain amount to preserve moisture levels and hydration but due to the aging process and ecological effects, it is steadily shrinking. It basically works as a magnet for moisture as a result make your skin feels and appears desirable and healthy. Besides, HA is a great ingredient to moderate your lines and wrinkles as it has the ability to hold up to six liters of water. A great benefit of this treatment is that it is completely safe and works equally well even for sensitive, breakout and oily skin.
The treatment is suitable for:
Face
Neck
Neckline
Back of hands
The results of Juvederm Volite in Pakistan are variable according to person to person and are not permanent so we endorse to repeat the treatment after every 6-9 months.
Is Juvederm Volite safe?
As we stated above, the key element of Juvederm Volite is Hyaluronic acid which is naturally existent in our skin that is why allergy or skin tests are not necessary. Furthermore, HA completely gets broken down by the body roughly in 12 months, leaving behind no hint of the curing. According to this, we can say that it is an absolutely safe treatment but like most medical skin procedures, it must be performed by a qualified aesthetic practitioner which you are ensured to get at SKN Cosmetic Surgery Clinic.
BENEFITS OF JUVEDERM VOLITE
Skin quality and brightness: a unique treatment that deeply infiltrates the skin to refresh and revitalize without negative side effects.
Effective: only one treatment is enough to achieve essential changes and visible results
Long-lasting: one treatment lasts 6 to 9 months after which you can repeat the procedure
Versatility: this treatment is appropriate for face, neck, neckline, and hands of all skin types
Precautions after the procedure:
Almost 95% of patients are able to return to their normal routine one day after the treatment. The small raised areas at the inoculation site will vanish within 1-2 hours after the treatment, while the common bruising, tenderness and redness will resolve in a few days. To accelerate the healing process, you should avoid drinking alcohol and applying makeup for at least 12 hours and limit your extensive activities for 48 hours after the treatment.