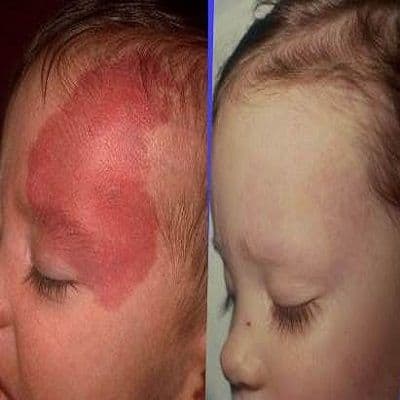 Most of us are affected by birthmarks. They can vary from being a tinny tiny mole to being a full-blown port wine stain. While some kind of marks is present by birth, there are other ones that can develop through the early childhood years. A port-wine stain is one such type of mark. It is usually red or purple in color and is formed as a result of the development of abnormal blood vessels.  For most of the patients, they do not experience any kind of pain or discomfort but for some of us, it can cause serious complications as well. Lucky for you, we live in a day and age where port wine stains treatment in Islamabad can rescue you. Let's dig in a little further:
Are you the right prospect for the treatment?
Before you get super excited for your birthmark removal in Islamabad and want to acquire your clear skin back, you need to look through these points to determine whether it's the right match for you or not:
You must be at last 18 years old or above to undergo the treatment.
If you are breastfeeding, it is not the right time to undergo the treatment.
You cannot undergo the treatment if you are pregnant.
You must not suffer from any skin diseases.
You are looking for non-invasive treatments
Pre-Treatment Care
Pre-Treatment Care is as important as the port wine stains treatment in Islamabad & Rawalpindi itself. Your dermatologist will hand over to you a list of instructions to follow and you must take them seriously. Here are a few things to consider:
Do not scrub your skin for at least a month prior to the treatment.
Avoid waxing, plucking and epilating the treatment site.
Make sure to fill in your prescriptions ahead of time.
Avoid using any creams which contain retinoid in them.
Avoid undergoing any other Cosmetic Treatments for at least a month.
Limit your sun exposure and make sure to use a sunscreen when going out, preferably SPF 50 and above.
The Procedure:
Before looking at the procedure, we need to identify a couple of options for treating port-wine stains. Medications, laser port wine stains treatment In Peshawar, creams, and surgery are amongst the most popular options. Among all these options, laser port wine stains treatment in Rawalpindi is the best one. Here is why;
Laser Treatment for Port Wine Stains:
Lasers Port wine stains treatment in Islamabad offers safe and effective results. Laser treatment is a simple lunch hour treatment that will transform your skin and leave your skin looking spectacular:
This procedure is performed under local anesthesia to make it entirely painless and comfortable for you.
Multiple clinics use different kinds of lasers but the ideal choice is Q-switched ND YAG Laser.
Laser device penetrates deep into the abnormally grown blood vessels and helps the marks fade away with every progressive treatment.
The Laser only targets the affected blood vessels without causing any harm to the surrounding skin.
This concludes the procedure and cooling gels are applied to soothe the skin.
Post-Treatment Care
Post-Treatment Care is as important as the treatment itself. You need to ask your dermatologist what you should and shouldn't do after the Port wine stains treatment.
Stay out of the sun as much as possible.
Apply all the topical medications religiously.
Do not exfoliate your skin for at least two weeks.
Use cold compressions to minimize swelling and redness.
Resist your urge to scratch your skin and let it heal naturally.
Laser Treatment Results:
Results of laser Port wine stains treatment in Islamabad, Rawalpindi & Peshawar are generally quick and instant. You will notice a dramatic improvement in the reduction of the appearance of marks after the first sessions. Multiple sessions might be needed for complete Port Wine Stains Removal. It solely depends on each individual. The port-wine stains will progressively fade out after every laser session and within a few days, they will be a thing of the past.
Benefits of Laser Treatment:
Laser birthmark removal in Islamabad has several advantages. Some of them are stated as under:
It is certainly the most effective of all port wine stains treatments in Rawalpindi.
It is a virtually non-surgical and a non-invasive procedure
There is absolutely no pain and discomfort involved in the treatment.
There is no downtime associated with the port wine stains treatment.
There are no side effects involved with the treatment.
The results produced are permanent.
You won't have to undergo any maintenance treatments to sustain the results.
We hope that we have provided you with enough information regarding the Laser treatment Islamabad. If you still have any queries, let us know and we will get back to you.