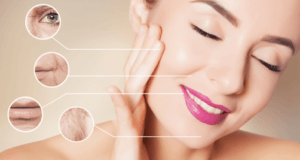 The human body is subject to the natural aging process. Though the biological clock never stops, it has become possible to undo the damage caused by aging. Experts have introduced different techniques to take 5 to 10 years off your age. Mean to say, it has become possible to turn back the clock. This page discusses the latest anti-aging treatments offered by SKN Cosmetics.
Candidates:
Most people with aging signs will be good candidates for this procedure. The signs that define your candidature have been discussed below:
Your skin has become sagging or drooping.
Your skin has become dull/dark due to a change in color.
Your skin has become rough due to a change in its texture.
You have extra fat in the chin, cheeks, and below the eyes area.
Your skin's surface layer has become thin and more transparent.
Preparation:
In general, there is no need to prepare for an anti-aging treatment because such treatment is non-surgical. A typical Anti-Aging Treatment in Islamabad Pakistan takes less than an hour and one can take it during a lunch break.
Procedure:
One of the promising features of this skin rejuvenation method is that it is simple to take.
Skinboosters: Different aging issues can be fixed using Restylane skin boosters.
Dermal Fillers: It is a minimally invasive treatment similar to Botox injections.
Botox: It is a minimally invasive treatment similar to dermal filler injections.
Chemical Peels: It is a minimally invasive treatment for skin cleansing and exfoliation.
Dermabrasion: Similar to chemical peels, this technique also cleanses and exfoliates the skin.
Mesotherapy Treatment: This relatively new technique involves micro-injections to remove extra fats.
IPL (Intense Pulsed Light): This treatment works with the help of high energy light waves.
Radiofrequency Treatment: Radio waves are used in this treatment to remove common aging signs.
Laser Skin Tightening: It is an advanced laser treatment to resurface uneven skin.
Benefits:
Our anti-aging treatments can deliver plenty of benefits to all candidates. Some of the notable advantages have been discussed below:
The treatment delivers skin rejuvenation results quickly.
The treatment does not harm the skin; no recovery time is required.
Most of the anti-aging treatments are non-surgical and minimally invasive.
No major side effects exist and a person can continue routine life after taking it.
The treatments not only deliver superficial changes, but it also stimulates collagen production.
Just mild discomfort will occur during the treatment; skin burns can be avoided through a cooling
Post-Treatment Care:
Most of the anti-aging treatments are non-surgical and minimally invasive. Due to this reason, the skin does not get harmed due to these procedures. That is why no recovery time or downtime exists in this case.
The person who takes an anti-aging treatment will be able to continue routine life. The person may have mild redness, burning sensation, or similar symptoms. Such issues will subside in a few days.
How to Avoid Aging By Dr. Syeda Huma:
Results of Anti Aging Treatment:
These treatments are known for delivering promising skin resurfacing and rejuvenation results in a short time. Most of these treatments are not expensive and take a short time to finish. Please consult one of our experts to learn how you can benefit from such treatments.
Free Online Consultation:
You have read how our latest you can stay become 5 to 10 years young looking by taking our latest Anti Aging treatment in Islamabad, Rawalpindi & Pakistan. After reading the details, you may need more information about your options to look younger.
One of the experts at SKN Cosmetics would love to guide you further. Please book a consultation session by contacting us anytime. You can call our phone number or fill our online form to get in touch with us.