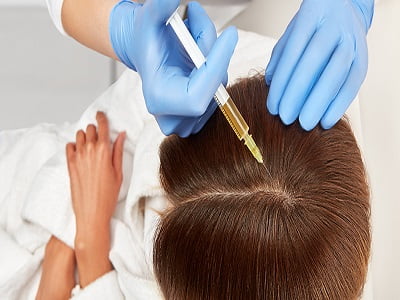 Mesotherapy in Islamabad is a non-invasive, non-surgical solution that restores your hair in a matter of few sessions. They will stop the hair fall and make your hair regrow.  Hair loss is one of the most common issues in this day and age. The hair restoration industry has progressed in recent years and surgeons have come up with the best solutions to baldness. Mesotherapy is one of such amazing innovations. It is an FDA-approved technique that stimulates miniaturized hair follicles and helps your hair regrow. It mainly involves injecting a concoction of vitamins and minerals into the scalp. After a series of injections being administered to the mesoderm, hair fall will stop completely and new hair growth will take place. If used at the right time, it works amazingly well for delaying male pattern baldness.
Are you the right candidate?
Before you get super stokes about Mesotherapy For Hair Loss & Face in Islamabad & Peshawar, it is important to determine whether this treatment will suit you or not. Here are a few things to consider:
You are experiencing hair thinning.
You suffer from patchy hair loss.
You want to conceal baldness.
You must not be pregnant.
You must not be breastfeeding.
You want a non-surgical solution to your baldness.
Pre-Procedural Care:
Before going for Mesotherapy in Rawalpindi, it is important to follow certain pre-procedural care instructions prior to the treatment. Here are a few things to consider:
Avoid any blood-thinning medications for at least 3 days prior to the treatment.
Limit your caffeine intake for at least a week prior to the treatment.
Do not consume alcoholic beverages for a period of three weeks before getting mesotherapy in Islamabad.
Avoid smoking for a week for treatment.
Keep yourself hydrated by drinking at least 8 glasses of water a day to aid the healing process.
Wash your head a day before the treatment region.
The Procedure:
Mesotherapy For Hair Loss & Face is a simple lunch hour procedure that takes about 30 minutes to complete. It comprises of the following key steps:
Local anesthesia is administered to the scalp prior to the treatment.
A cocktail of vitamins, minerals, and enzymes is prepared according to the needs of your scalp.
Microinjections are administered to your scalp at specific angles.
Cooling gel is applied to your scalp to soothe it and it concluded the session of mesotherapy in Islamabad.
The number of sessions can vary from one individual to the other depending upon the extent of hair fall and baldness,

Post-Procedural Care:
Post-Procedural Care is an important aspect of Mesotherapy For Hair Loss & Face in Islamabad, Rawalpindi, Peshawar & Pakistan. It allows your scalp to heal quickly and makes your hair regrow. The following key steps must be followed:
Keep your body hydrated.
Apply all the topical medications on a regular basis.
Avoid direct exposure to sunlight by wearing a hat and limiting exposure with direct sunlight.
Consume all the medications, prescribes by your surgeons on a regular basis.
Get the prescribed number of sessions regularly.
Results:
In a matter of three months, results of Mesotherapy For Hair Loss & Face in Islamabad & Rawalpindi will start to show through. Your hair fall will be completely reduced and new hair follicles will begin to grow and full potential will be seen in a period of 6 months.
Benefits:
Following are the key benefits of Mesotherapy For Hair Loss & Face in Islamabad & Peshawar:
It is a simple, lunch hour technique
It is a pain-free procedure
It involves minimal pre- and post-op care
It does not involve any recovery phase
It works equally well for both men and women
It is suitable for people of all ages.
consultation:
contact us for more info or for booking an appointment at SKN Cosmetic Clinic