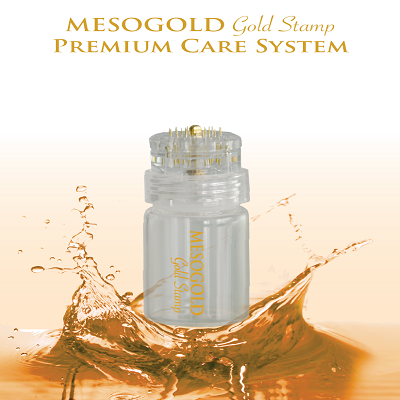 Are you worried about your overworked and dull-looking face? This non-invasive skin rejuvenation treatment MESOGOLD Stamp Therapy in Islamabad, Rawalpindi & Pakistan is the best that you can have for your skin. In this treatment, we use an instrument that is made-up of 24-K gold plated tiny needles. It is the best care practice for the skin as well as a safe and easy procedure that tightens your skin.  A perfect painless process for older age applicants to feel relax and observe outcomes and expected look result.
The Areas That Can Be Treated:
The full face.
Fine lines
The Glabellas region.
Nasolabial fold.
Chin and neck.
Hands.
It is known as a serum injector with hypoallergenic tiny needles. It will make beautiful once it will target the spots.
Results:
The results can be noticed within 4-8 days. It will last according to the quantity of serum applied. The experts will suggest you do again the treatment every month to get the desirable results. It depends on how much you need the process but its results are not permanent.
Who Are The Candidates For It?
It is best for every kind of skin whether it's young or aged. The good and impressive results will be shown on:
Every candidate who have uneven skin tones.
Best for the models.
For those who don't want to look older
To remove post-pregnancy marks.
Getting married soon.
Benefits:
This procedure is highly beneficial for those skins that have lost glow, inflexibility, and are beginning to look dull, dehydrated, and rough in tone, texture, and colour. People must try this treatment once without any fear. There are a lot of benefits to this procedure some are mentioned below:
This Procedure:
is painless
It's non-allergenic because needles are gold plated.
Nourishes the skin by inserting high-nutrient ingredients.
Removes every type of acne scars.
Removes all types of ageing signs
Glows the dull skin
This therapy can also useful for brown spots, some stretch marks on the face, reducing pore size, and even hair renovation.
Preparation for Treatment:
If you want this therapy do visit our Clinic for MESOGOLD Stamp Therapy in Islamabad, Rawalpindi & Pakistan. It's our responsibility to get you ready for this treatment. These are the preparation steps for MESOGOLD stamp therapy:
Apply No make prior treatment
Do not apply any medical care creams.
Mentally prepare yourself.
Inform us about any kind of skin issues (if you have any).
It's Procedure:
First, your doctor or expert will examine your medical history if you have skin issues or allergies then he'll take precautionary measures. He will clear your skin with typical cotton using water. When the procedure will start, the applicator will be filled with the different types of high-quality serums. Different Serums will be used depending upon what kind of treatment you are proceeding on. Let's suppose:
If you want to reduce muscle activities that are leading your face full of wrinkles and fine lines then the container will be filled by a neuromodulator.
If you want some volume and inflexibility to your skin then the applicator will be filled with hyaluronic acid.
It's a simple procedure, the expert will start to pinch the applicator on the targeted areas and the serum will be injected into the skin with very soft hands. After 15 to 25 minutes it will be done.
Aftercare Tips:
After some days, you will love your skin when you observe the results. The outcome will be seen within 4 to 8 days. But the process does not stop here; To maintain these results for a longer-term you should take care of your skin. Do not apply any other medicated lotion or creams for some days. Try to avoid going out in sun for at least 2-3 days.
Recovery:
There's no recovery time for the applicant because it's an enjoyable treatment and you can go home right after the procedure. Maybe for a day, your face might swell just because of pinching but it will be recovered in 24 hours. So after that, you can start your daily routine.
Consulting:
If you wish to consult about MESOGOLD Stamp Therapy in Islamabad, Rawalpindi & Pakistan so come fast and visit our clinic which is SKN Cosmetics. You will be satisfied with our services.