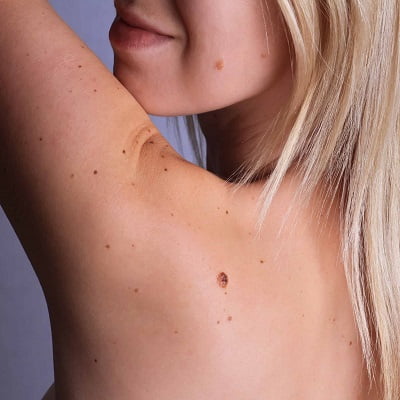 Skin Tags are commonly the small growth or flap of tissue that sticks out from the surface of skin and are found to be very small in size ranging from few mm to few cm but they may grow larger. Normally, people suffering from these tags do not feel any pain or discomfort but when they are subjected to friction by clothing or jewelry it forms blood clot that may result in pain and irritation. If you're bothered by these outgrowths on eyelids, neck, armpits, groin folds, and under breasts, you can go for Skin Tag Removal in Islamabad, Rawalpindi & Pakistan.
Results and Benefits:
Results:
Laser treatment is the best option when it comes to the Removal of Skin Tags. It requires only one treatment for burning the unwanted skin growth through lasers. In rare cases, two sessions are recommended. This treatment results in complete removal of folds of flesh that hang loosely from the skin. These results are instant and are seen immediately.
Benefits:
Removes visible tags from the skin
Gives smooth, tag-free and even skin tone
Boosts self-esteem by improving your looks
The treatment is suitable for all types of the skin such as Mole Removal
Who Is Candidate?
Anyone can be selected for the candidacy of Skin Tag Removal if:
Your skin tags cause social discomfort to you
You have lump that look different from surrounding skin
Your tags are unsightly and have devastating effect on your confidence
Aim Of Treatment:
The major aim of the treatment is to remove skin tags from your body for cosmetic reasons. It will give you smooth and bump-free skin. Skin Tag Removal in Islamabad, Rawalpindi & Pakistan removes such tags through excision, freezing or burning and reduces skin irritation that is associated with them. Once removed, no scars are left behind.
Technique We Use:
The specialist team at Skn clinic is highly trained in skin surgeries and performs all procedures carefully on face and body. Following techniques are usually carried out for removing tags:
Excision:
It is a surgical procedure that cuts out the outgrowths on skin by using scalpel. Before making any cut, skin tag is and surrounding skin is numbed. Excision technique is usually performed on large skin pores. It may result in bit of bleeding. Due to high precision of cuts, resulted scars are very small that fade over time.
Cryotherapy (Freezing):
Cryotherapy works by freezing the skin tags. A dermatologist starts the procedure by dipping cotton swab in extremely cold substance called as cryogen which is normally "liquid nitrogen". It is applied on the skin tag for killing the cells of growth. Depending on the size of affected, this substance can be applied directly by spraying.
ElectroCauterization:
It uses an electrically heated instrument for burning the skin tags. Doctors start the procedure by applying anesthesia over the tags. Following technique, he heats up the needle and put it over the affected skin. This burns its cells and the burnt cells are removed further.
Laser Treatment:
The best technique for removing skin tags involves use of CO2 laser. This laser emits highly focused infrared light that gets vaporized after striking affected area. Dozens of tags can be removed just in one session that takes 15-20 minutes.
Recovery:
You can resume your normal routine right away. Healing after Skin Tag Removal Treatment is relatively fast and easy. Following laser treatment, you get fully healed in about 3-5 days. Your doctor will advise you to clean your area of treatment regularly. For keeping your skin safe, some post-care instructions should be followed for few days.
Schedule a Free Consultation
One area of concern for numerous people is that of unsightly, annoying skin tags and moles. Just fill in our short form to make the first step to a new you. A friendly and experienced member of our highly professional team at Skn Laser Treatment in Islamabad will be in touch with you. During your consultation with our dermatologist he will discuss the various approaches to take for Skin Tag Removal in Islamabad, Rawalpindi.