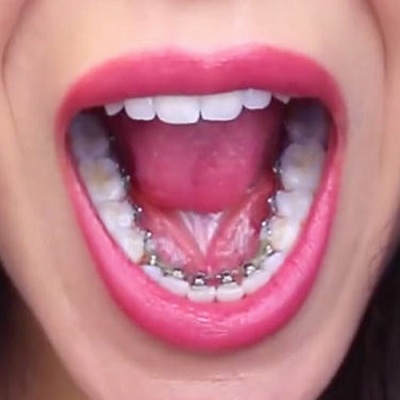 In advanced dentistry surgeries, every type of teeth treatment is available. When a person needs to realign the teeth position, it will be suggested to have braces to make your smile even better. Some people prefer braces in front of their teeth but some of them don't want to show that they have braces. This technology is developing and there are many types of treatments you can choose. Lingual Braces in Islamabad, Rawalpindi & Pakistan are the recent kind of braces that are placed behind the teeth and an Invisible solution of straightening teeth alignment.
About Lingual Braces:
A recent type of orthodontic technique known as lingual braces with the same purpose as normal braces and fixed at the backside of teeth. So, this is the best option for making your teeth aligned without a showing of braces. It is different in few ways from traditional braces, these are custom-made braces. The orthodontist will take an accurate shape or digital scan of the patient's teeth, it will be sent to a dental laboratory and used to create customized wires and that will be fixed along the line of teeth and move according to your desired position. Continues pressure will apply mildly to help them adjust the proper position. This procedure can take up to 16 to 35 months, depending on the position and alignment of the candidate's teeth.
Outcomes:
According to SKN cosmetics, we deliver accurate, effective, and impressive results to our clients. The results also depend upon person to person, few candidates obtained their desire outcomes within 10 to 14 months and some of them got after 15 to 28 months. The results will take several months to achieve and retainers are necessary to wear once the braces have been removed. Before and after photographs will be taken for showing the effectiveness of the results.
The Benefits:
There are a lot of benefits of this type of braces which can be obtained as well as it is the best option for all types of ages. Some of the few benefits are as following:
These are virtually invisible
It will effectively correct bite problems
The confidence will boost up after having invisible braces
No chances of marks
Decalcification on the front of teeth
It corrects the rotation
Eliminate the spaces between teeth
Make perfect dental imperfections
Preparation:
The preparation of this treatment is necessary, you should have to consult with your technician before the treatment. All the guidance related to the procedure will be given to you like, how to prepare yourself mentally and physically, how the procedure will be performed, how long it will take to get desired results, and how you take care of them while having braces.
Procedure:
The procedure of Lingual Braces in Islamabad, Rawalpindi & Pakistan is performed into two main steps. These two procedures are:
Firstly, your technician will take a digital scan of the teeth and send them to the laboratory where it will create customized brackets. This process will take 5 to 6 weeks and when braces are manufactured, the patient will call up for placing them. Some other processes like x-ray will be taken and few permanent teeth may be removed.
Secondly, the process of fixing these braces involves cleaning and polishing the teeth. After that, the technician will use dental cement to fix the brackets on the back sides of the candidate's teeth. Then, arch-wires, rubber bands, and brackets will be placed. This process will take one hour or maybe less and it doesn't need anesthesia.
How To Take Good Care?
It is important to take good care of your teeth before and after the treatment of lingual braces. The aftercare instructions will prescribe you after the treatment and you have to follow them. Some common instructions are as following:
Keep the teeth neat and clean because it is behind your teeth.
Brush twice a day because food gets stuck in the braces and it may cause tooth decay.
Rinse with mouthwash.
You can use dental wax, it will help to reduce irritation to having braces.
It is necessary to visit your orthodontist for cleansing and checking the condition of braces every six months.
You have to follow the diet plan which is prescribed by your technician for protecting braces.
Cost:
The average cost of Lingual Braces in Islamabad, Rawalpindi & Pakistan depends on some factors which can affect the cost, some common factors are as following:
The experienced orthodontist fee
Location and reputation of the clinic
Size of the teeth
The related test like X-rays
Sessions requirements
Further, if someone wants to know more about cost-related information then feel free to contact us for more helpful details.
Schedule an Appointment With Us!
If you want to get these braces through our experts then don't hesitate to consult SKN cosmetics for Lingual Braces in Islamabad. We are here to make your smile even more beautiful through the invisible braces.