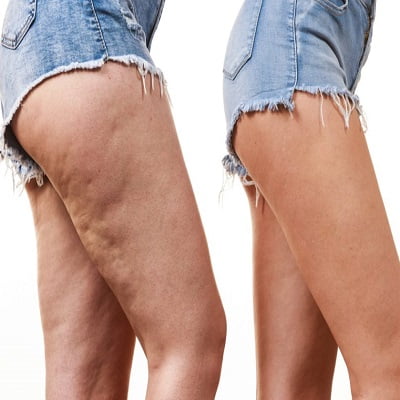 Some people have dented appearance called cellulite on their skin such as thighs, hips, and buttocks. Cellulites are usually formed due to the shrinkage or shortening of fibrous tissue cords and fat pockets that protrude between the layers of connective tissues. The differences in the way how fat cells, muscles, and connective tissues are distributed in men's and women's skin make cellulite more in women than men. This cosmetic problem is treated through Cellulite Removal in Islamabad, Rawalpindi & Pakistan to give skin as smooth as possible.
Results and Benefits:
Results:
The Laser Treatment for Removal of Cellulite in Islamabad gives very natural-looking results. These results usually last for a year or more, however, a bit of dimpling effect usually returns. Results vary from person to person and depend on the skill and experience of a practitioner who performs it. No Guarantee.
Benefits:
Tightens loose hanging skin
Gives smooth, toned and supple skin
Removes toxins by which skin look better
It keeps the stubborn pockets of fats at bay
Minimizes the appearance of unwanted cellulite
Who Is Candidate?
In contrast to men, most of the women face dimpled skin over age and time. Any woman who suffers from problem areas of cellulite can be selected for the candidacy of Cellulite Removal in Islamabad if:
She has a stable body weight
She has good general health
She has dimple like cellulites
She is conscious of how she looks
She wants to substitute a healthy lifestyle
She understands the outcomes of treatment
Aim of Treatment:
The Cellulite Treatment in Islamabad aims to reduce the appearance of cellulite by circumference reduction up to 3cm. It helps in providing a noticeable improvement in the firmness and texture of the skin over treated areas.  You will be happy to know that treatments performed by certified dermatologists or surgeons at SKN Clinic can make your cellulite less noticeable.
Technique We Use:
There are a lot of techniques available at SKN Clinic that claim to make your cellulite totally disappear. Some of them are discussed below:
Plastic Surgery:
It is one of the expensive ways to get rid of cellulite. This is a highly invasive procedure which involves the insertion of foreign substance in the body that can take the procedure in the wrong direction.
Laser Treatment:
This technique uses laser beams emitted by the laser probe that is directed under the skin cells through a small incision. Once penetrated, the laser energy melts the fatty pockets that aid in the reduction of cellulites from the skin. Laser treatment also helps in thickening of skin layer, production of collagen, and improving skin texture and elasticity.
Ultrasound:
This non-invasive procedure targets fats for its destruction. The first step is the liquefaction of fatty deposits. Ultrasound is applied to affected skin to heat up the layers of fat. Once the fat liquefies it is certainly removed from the body. This fat removal significantly helps in minimizing and diminishing the cellulites.
Liposuction:
Liposuction is used for slimming and shaping specific areas of the body. It is done by eradicating fatty material. This is one of the effective treatments to reduce cellulites and to contour body profile.
Recovery:
Initially, most of the patients feel sore and tired. Cellulite Removal in Islamabad requires little downtime due to the bruising effect which is faced by sufferers after getting the treatment. Special topical remedies are recommended to avoid bruising. You are advised to take rest and do nothing for 1-2 days. It will help in better healing and recovery phase.
Schedule a Free Consultation
Before having any cosmetic (not medically necessary) treatment, it's always best to consult a doctor at SKN Clinic who understands and treats the condition. Fill in the consultation form to meet a dermatologist who offers Cellulite Treatment in Islamabad, Rawalpindi can help you decide which treatment may be most effective for you and answer your questions.