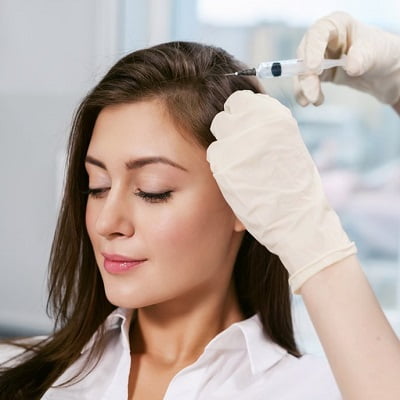 A procedure that will change the appearance and look of a person is performed as Hair Restoration in Islamabad, Rawalpindi & Pakistan. Adding volume to the empty scalp and making a complete feature of your face will lead you to hair restoration and there are many reasons for considering this option. It is necessary to understand the treatment before undergoing any procedure.
Hair restoration is a procedure that always starts with an initial consultation session. In this session, a surgeon will completely examine your hair fall situation, ask you few questions related to your health and hair issue reasons, and need to check few test reports like a blood test, scalp biopsy, or pulling hair test. According to your problem, a surgeon will suggest a suitable option for hair restoration and guide you about the treatment.
Hair Restoration Methods:
According to SKN cosmetics, we offer several types of treatments for hair restoration and suggest methods after understanding the issue of hair fall. The surgeon will always recommend a special and suitable treatment for the growth of your hair. There are several methods of restoring hair in their own ways.
Minoxidil:
A method that is the very first treatment recommended for hair fall. The minoxidil can improve growth and prevent further hair thinning and hair fall. The minoxidil can be in a form of liquid, shampoo, etc. it is necessary to consult your surgeon first and discuss its benefits and side effects.
The candidate who uses these medicines will obtain the outcomes after 4 to 6 months and you have to be patient for it. If this method doesn't work and you observe the same hair fall then you have to ask your practitioner for switching to another option like PRP etc.
PRP Therapy:
A well-known therapy, Platelet-rich plasma method which can be helpful for new and healthy hair strands. The improvements will be observed after this treatment. It is performed as your practitioner will take your blood from your arm and sent it to the centrifuge process. After that, the plasma will be extracted from it and injected into the scalp treating the area. For several candidates, it is also performed in multiple sessions. The outcomes are better and quicker as compare to minoxidil and results will be obtained after 2 to 3 weeks. Both men and women can easily undergo this procedure.

Low-Level Laser Therapy:
For Hair Restoration in Islamabad, Rawalpindi & Pakistan, therapy is known as a low-level laser procedure which can be another option for treating hair loss problems. It is performed with the use of a device that releases red light, it encourages hair growth and safest less invasive method. This treatment is divided into a few sessions which are performed every 3 weeks so it will take time to perform as it is a long-term procedure.
Hair Transplant:
After trying all noninvasive methods for treating hair fall, the best surgical option is known as hair transplant which you can easily consider for your hair fall problem. Complete baldness and continuous hair loss can be treated by this method. The hair transplant is divided into two main techniques which are FUE and FUT where hair follicles or strips can be extracted from the donor area and inserted at the treating area by expert surgeons. The outcomes are long-lasting and effective for this surgical method. It will take 7 to 10 months for obtaining complete noticeable results. It is very important to perform this method by a reputed clinic and experienced hair transplantation surgeon.
The Outcomes:
According to SKN cosmetic, our all hair restoration treatments deliver effective and impressive results and always suggested people according to their needs. Some people obtained their desired results within 2 to 3 months and some of them achieve their desired results after 7 to 9 months so it depends on different methods. The before and after photos may take for showing the satisfying outcomes.
Cost of Hair Restoration:
The average cost of Hair Restoration in Islamabad, Rawalpindi & Pakistan depends on a few factors which are as following:
The method of hair restoration was chosen.
Experienced surgeon fee.
Location and reputation of the clinic.
Anesthesia and other medication requirements.
Session requirements.
Further, if someone wants to know more about cost-related details then feel free to contact us. We will provide you with a rough figure of your expense of treatment. 
Schedule An Appointment With Us!
If you want to solve your hair fall problem through a suitable method then feel free to consult SKN cosmetics for Hair restoration. We will recommend to you the effective and suitable treatment according to your problem and desired goals.