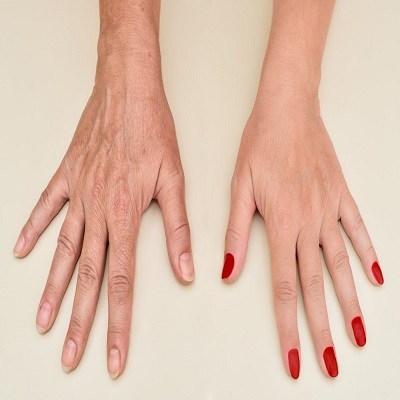 We spend money on our hair, skin and other cosmetic procedure but we neglect our hands where the ageing signs start to show because they receive exposure. Just like our facial skin and care, hands are one of the first parts of the body that are prominent to be observed by others. 
SKN cosmetic clinic offering the effective treatment for hands known as Hand Rejuvenation in Islamabad, Rawalpindi & Pakistan. It is a treatment performed when the hands have a prominent appearance of veins, getting thin and showing wrinkles, having spots and changing tone and colour of the skin. 
Aim of  Treatment:
Many people feel awkward and self-conscious about their hands and wish to have a process that can reduce the signs of ageing. Treatment for Hand rejuvenation is performed to improve the tone and texture of hands through several methods. Hands are the dominating feature that easily can be visible to others. Most candidates are those who lost the volume and skin gets shrink.   
Treatment Options:
According to SKN cosmetics, for hands rejuvenating several methods are used to perform for different purposes like some people need to make their hands colour tone bright and some of them need a volume to their older-look full of veins hands. So, it depends on the issue of the candidate then your practitioner will suggest you suitable treatment. Several treatment methods are used to perform hand renewing. 
Laser Therapy:
Laser Therapy is a process of removing all ageing spots from the hands through laser light beams. Also, fine lines and wrinkles are eliminated through this therapy. It may require local anaesthesia for not feeling any type of pain and irritation. It delivers amazing and perfect outcomes to a candidate.  
Chemical Peel Procedure:
Chemical Peel is performed by applying a mixture of a chemical solution on the hands. By applying this solution, a fresh and new skin surface will be revealed. It will reduce the sunspots and make the skin surface fresh and spotless. It may require multiple session for optimal results. 
Injectable Dermal Fillers:
For making hands more enhanced and want to hide prominent veins from hands, injectable dermal fillers are used. The most popular method performed for hands renewing is dermal fillers. After that, hands will look fresh, youthful and attractive. The results will be immediate and it may require multiple sessions for achieving desired outcomes. 
Fat Transferring Method:
 Another effective method to make your hands more beautiful and youthful is a procedure of fat transferring in your hands. It is a procedure of extracting fats from your own body like, from arms, legs, hips etc. then after a process, it will insert into the treated area/on your hands. In other words, this process is called mini liposuction. It will show immediate results and for the long term.  
These all procedures are performed full of concentration by our expert and experienced dermatologist. We always examine the condition and checked the medical report first and after that recommend a suitable treatment for a candidate. It is considered for all type of skins as well as your medical lab tests should be clear. 
The Outcomes:
According to the SKN clinic, the outcomes of Hand Rejuvenation in Islamabad, Rawalpindi & Pakistan are amazing, the candidate will observe dramatic changes right after the treatment. We try to provide miraculous and effective outcomes. The process of hand rejuvenation can be repeated when a candidate is required again. The skin will get smooth, skin and wrinkle-free hands, and the candidate would love to about their appearance.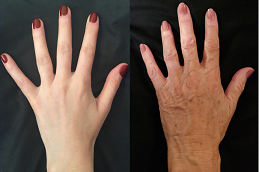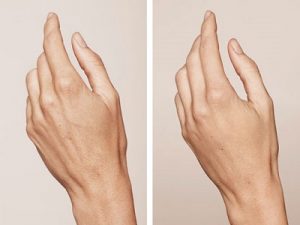 The Benefits:
There are a lot of benefits of Hand rejuvenation and some of the several advantages are as following: 
The hands will look naturally young.

 

An easy and simple process of rejuvenation.

 

No complications and risks.

 

It will restore the volume and fullness.

 

Easily eliminate skin pigmentation issues.

 
Preparation:
There is no specific preparation for this treatment but a candidate must have an initial session before the treatment. The surgeon will guide you about the procedural steps and prescribed you few instructions to follow before it according to your health and skin type. Some common instructions are mentioned below, Such as: 
Keep yourself hydrated, drink 6 to 8 glass at least a day.

 

Avoid blood thinners or painkillers.

 

Safe your skin from direct sunlight.

 

Use prescribed medication.

 
Aftercare:
The aftercare is necessary to follow after the treatment for keeping optimal results. The practitioner will prescribe you few aftercare tips according to your treatment type and health-wise. Some of the common tips are mentioned below: 
Do not work out for few days, it will prevent from sweating.

 

Keep yourself hydrated.

 

If you feel any irritation or swelling then use ice compressions.

 

Avoid strictly blood thinners or other medications.

 

Before going out, use prescribed hand lotion or sunblock.

 
Cost:
The Cost of  Hand rejuvenation depends upon many factors. These are mentioned below: 
The expert practitioner charges.

 

The location and reputation of the clinic.

 

Local Anesthesia, if required in method.

 

The method that is chosen.

 

Medication if require.

 
Further, if someone wants to know more about cost-related queries then feel free to contact us for more details. 
Schedule an Appointment With Us: 
If you want to undergo an easy, effective and safest treatment then don't hesitate to consult SKN cosmetics for Hand rejuvenation in Islamabad, Rawalpindi & Pakistan. We will provide the most amazing results and you will observe in just one session.