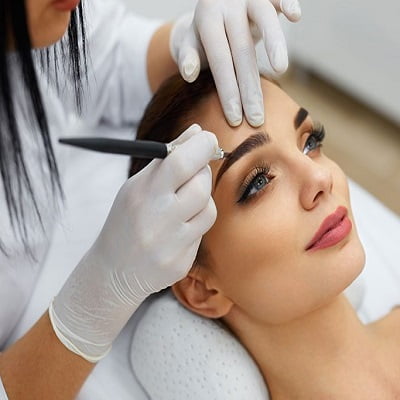 Getting tired of filling eyebrows on daily basis? Let's talk about Microblading in Islamabad, Rawalpindi & Pakistan. It is a kind of giving architecture or dark texture to brows shape of the face which is usually used by eyebrows doctors. The procedure is very short in time and done by pen type of tool. The effort is done by some tiny needles with light-weighted tools and some natural hair strokes. In other words, we can say it's a kind of getting tattooed on face features to give a complete look of the face. This idea may scare you but getting this may look prettier than you think.
 Who Are The Candidates?
The candidates who are willing to experience this non-invasive procedure are some of them whose face features are getting low and boring. Giving the texture makes the look of the face perfect. Some of the candidates are as follows:
The patients who want to wear fewer makeups in their daily routine.
The clients who have light volume hair in brows.
The patients of Alopecia and chemotherapy who lose hair.
The people who faced trauma or injury.
These are some of them who need the micro-blading and the list is going on and on.
Some Benefits:
To have natural and waterproof results of eyebrows.
It is a virtually painless process and an easy way of thick eyebrows.
It's a safe kind of responsiveness and not getting red or grey.
This non-invasive process has long-lasting results.
Hello, new eyebrows in just 2 to 3 hours.
 Results:
The upshot of receiving micro-blading mostly lasts about 17 to 27 months and the patient will need to retouch every 10 to 16 months. The total number of sessions depends on the look you desire. All retouch session includes healing time which is best for you. It'll impress you with the goof look and beauty of your face.
What to be expecting after the Microblading in Islamabad, Rawalpindi & Pakistan process and after 7 days the person's eyebrows may become out darker or unlighted. It might get sharper after healing. It is also to experience reddishness and swelling of the face.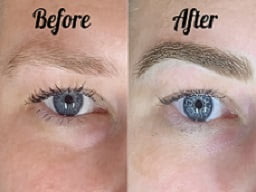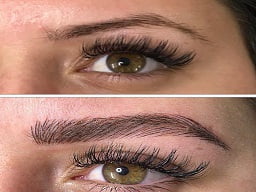 Process:
It is a sort of cosmetic tinting eyebrows that fill up and produce eyebrows that look thicker. This method is known by these names as well:
3D brows embroidery.
Micro stroking.
Semi-permanent makeup looks.
During this non-invasive process, experts use good and quality tools to make tiny cuts on the eyebrow's skin. Tools may consist of different needles linked to a handle which is like a pen. It injects colour into the cuts and manufactures the form of eyebrow hairs and the tint use will depend on the patient's preference.
If someone facing of problem-related to brows, it is the most excellent choice. It's just like a gel on eyebrows. People must try this microblading method if they lost eyebrow hairs cause of some reason.
 Aftercare:
Following treatment, you need to take good care of the treated area. Its pigment will immediately come out darker and the skin gets red from depth. Later after 2 hours of microblading, the dipped cotton of sterilized water will be used over that area. It keeps infertile in the area. It probably takes 8 to 16 days of skin to cure and its shade of the brows will fade to its routine shade.
Some of the following tips will probably help you in recovering fast
Try to avoid the area being wet for 12 days almost and try to keep your face dried out during taking a bath
Try to avoid a makeup routine for at least five days because the color still wants to settle itself
Try to avoid going to the gym, swimming, and too much rate of sweating until that area should totally be healed
Try to keep the hair missing from the eyebrow line
To apply any recommended medicated balm or lotion
 Recovery:
As we are familiar with this treatment is changing people's life by creating their complete features and build confidence. After that, it's our responsibility to maintain the look and check and balance day by day. It may look heavy and thick with a small bit of redness but it will show you a completely different person. The eyebrows will look bold and dark in colour. Don't sneeze because brows will be sensitive for a few days. Try to notice from preceding days, if anything or pain occurs it will slightly get over by time.
On the 5th day, it will be a revolving point in the curing procedure and the brows will be prickly, and avoid scratching them. Try to not touch them or wash them for at least 16 to 20 days. But because the tinted area has not absolutely repaired it back together. The color and shade of strokes will come back at some point. Within a month, the skin is fully healed and the shade color will look great. It will look soft and natural. After recovery, you will certainly love yourself.
Consultation:
If you desire to consult about Microblading in Islamabad, Rawalpindi & Pakistan do visit our clinic which is SKN cosmetics.