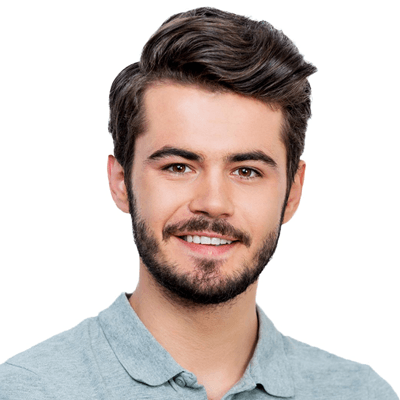 People lost their confidence as soon as bald spots appear on their head. Life seems hard when this happens. What if you could start life all over again by restoring natural hair growth? Please note baldness is curable; thanks to our latest Hair Transplant in Islamabad, Rawalpindi & Pakistan. It regrows hair naturally and you start looking great again.
This page discusses hair transplant benefits, procedures, side effects, recovery, and cost.
If you have thin or bald spots on the scalp, this explains how you can restore hair growth naturally.
Candidates:
This Hair Transplant procedure is surgical and you should visit a hair restoration surgeon to know if you are a good candidate or not. You must fulfill the criteria given below to restore hair grow using this method for Hair Transplant:
You should preferably have donor hair supply.
Your hair loss must have stopped or minimized.
You can have a body hair transplant through FUE.
You may not be able to take FUT is your scalp is tight.
You have realistic expectations of the treatment outcomes.
Some of our Best Results Here:



Frequently Asked Questions (FAQs)
Pre-operative Care:
Your doctor will ask you to take care of things including but not limited to the following:
Minimize taking items with caffeine.
Stop smoking cigarettes 3 weeks before the surgery.
Stop drinking alcohol at least 3-5 days before a hair transplant.
Discontinue taking blood-thinners 2 weeks before treatment.
To take proper rest after the procedure, buy your medicines a week earlier.
The Procedure for Hair Transplant:
This minimally surgical treatment can be used to naturally grow hair on the scalp, eyelashes, eyebrows, beard, and any other area of the body. It is good if the same person can donate hair grafts to harvest in another area.
Either FUT (follicular unit transplantation) or FUE (follicular unit extraction) technique is used to perform Best hair transplant in Islamabad. FUE is the latest option and costs a bit more than FUT. Let's discuss the steps involved in performing FUE.
The following short steps are used to perform this amazing treatment:
Step 1 – Donor area will be prepared.
Step 2 –Local donor anaesthesia will be administered.
Step 3 – Hair grafts will be extracted from the donor site.
Step 4 – The extracted grafts will be prepared for a Hair Transplant.
Step 5 – Local anaesthesia to recipient site will be administered.
Step 6 – Recipient area will now be prepared for grafts insertion.
Step 7 – Hair grafts will now be inserted into the recipient area incisions.
Celebrities Hair Transplantation:
Post-Treatment Care:
Observe the following instructions after taking Hair Transplant Islamabad Pakistan:
Stay away from sunlight and tanning beds.
Do not smoke and drink for at least 7 days.
Do not use blood-thinners for two weeks at least.
It is common for the scalp to be sore for some time.
You can use cold compressions to deal with bruising and swelling.
You will have to sleep in an upright position for one to four nights.
You can combat pain and discomfort by taking prescribed pain medication.
You may have to scratch due to the scalp itching but you should not touch.
Benefits of Hair Transplant:
This state-of-the-art treatment makes sure you start growing hair without suffering from big scalp damage. You need not worry when you undergo this procedure because the side effects will last for a short time but the hair growth will last for a long time.
You can expect the following benefits from this hair restoration:
It regrows a required number of hairs.
If you are losing your hair then PRP in Islamabad is Best.
The downtime after this surgery is not too much.
It fixes bald areas and makes you look great again.
It causes minimal side effects that do not last long.
It boosts your confidence and improves your body image.
Cost of Hair Transplant Islamabad Pakistan:
The average Hair Transplant Cost in Islamabad Pakistan range around from 70,000 PKR to 400,000 PKR. This typically relies upon the number of implanted grafts, as well as the surgeons' expertise. Since every person is different so cost is calculated accordingly. Besides, hair transplants are effortlessly affordable in Pakistan due to currency differences.
Please check out some other factors that can greatly affect the actual treatment charges,
Extent of baldness
Technique type
Procedure complexity
Other expenses (medical or lab tests etc.)
| No. of Grafts | Minimum Price | Maximum Price | No. of Hairs |
| --- | --- | --- | --- |
| 2000 | 70,000 PKR | 130,000 PKR | Approx. 60000 Hairs |
| 2500 | 90,000 PKR | 150,000 PKR | Approx. 7500 Hairs |
| 3000 | 100,000 PKR | 170,000 PKR | Approx. 9000 Hairs |
| 4000 | 120,000 PKR | 200,000 PKR | Approx. 12,000 Hairs |
| 5000 | 150,000 PKR | 250,000 PKR | Approx. 15,000 Hairs |
Consult a Hair Transplant Surgeon:
You have read the main aspects of this remarkable method of hair restoration in Islamabad Pakistan. If you want to try it to regrow hair naturally, please feel free to consult one of our hair transplant surgeons to know how it can benefit you.