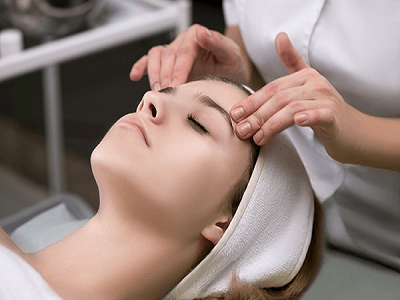 There are mainly two major types of Facial Treatments in Islamabad Pakistan that are on offer in Islamabad these days. These are Hydra Facial Treatment and Oxygen Facial treatment.
HydraFacial Treatment:
Hydrafacial advertises itself as medical-grade facial reconstruction that cleanses, detoxifies, exfoliates, extracts, and hydrates in one treatment that is appropriate for all skin types, normal, oily, sensitive, aging, etc. It is also helpful in reducing fine lines and wrinkles, pore size, and hyperpigmentation.
How Does a HydraFacial Work?
The Hydrafacial in Islamabad is a machine with a handheld device that uses four different HydroPeel tips and various skincare solutions (chemical exfoliants, antioxidants, and hydrating serums) to achieve its results.
A Hydrafacial can be explained in Four Steps:
1) Cleansing
The esthetician starts the Hydrafacial procedure with a quick manual cleansing of the skin, followed by the Vortex Fusion treatment. This combines exfoliating lactic acid and glucosamine HCI with anti-oxidant-rich algae, softens, and conditions the skin.
2) Deeper Exfoliation
To give the skin a deeper scale off, two different tips are available, one more aggressive than the other. The combination of physical exfoliation from the tip and chemical exfoliation from the peels gives a good result quickly, without the wait and tickling that you might experience with a traditional peel method.
3) Extractions
This step utilizes a different tip and Beta-HD to soften the sebum with salicylic acid and take away blackheads and sebum from the open pores.
4) Serums
Your cleansed, extracted, exfoliated skin Whitening Islamabad is now ready for fermentation of antioxidants (horse chestnut seed and green tea extracts), peptides (copper, magnesium, and zinc), and hyaluronic acid, which helps the skin to keep it hydrated and plump. The proprietary blend called Antiox also has arnica flower extracts to compose and soothe the skin, and red algae extract is used to revitalize the skin.
 
The Bottom Line:
This is a great treatment for brides or anyone who wants to look fresh. It is also beneficial for people with acne. Facial Treatments in Islamabad Pakistan is a very good anti-aging treatment because of the peels and antioxidants used in it, but because it involves expensive equipment, therefore more expensive than the traditional procedures.
What is an Oxygen Facial?
Oxygen facial is a "nonmedical" procedure because in this procedure nothing is injected into the body and no chemicals are used.
How Does it Work?
The body needs oxygen to blossom, and that is why we breathe. The theory behind oxygen facials (though it is not scientifically proven) is that skin cells that are fully oxygenated via oxygen facial will look bright and healthy.
The Procedure
During the procedure, an aesthetician will first cleanse your face. Every aesthetician has its own process of administering an oxygen facial, but typically, a rod is used to deliver a stream of high-pressurized oxygen onto the skin's surface.
Serums, usually containing hyaluronic acid which is known to plump the skin, are also applied to the face with the rod or after the oxygen portion of the facial.
Duration of treatment:
The duration of oxygen facials in Islamabad Pakistan varies, but you can expect the treatment to take at least 30 minutes to an hour.
Recovery time
Contrasting more invasive procedures, there is no downtime or healing after oxygen facial in Islamabad. You can even apply makeup right after the procedure.
Benefits of Oxygen Facials
Added glow. The main benefit of oxygen facials is that they allow the pores to easily absorb hyaluronic acid and other powerhouse ingredients from the serums.
Hydrated skin. Oxygen helps infuse the serums into the skin. Your skin will likely look and feel hydrated, especially if hyaluronic acid is a major component.
More even skin tone. Oxygen facials tend to deliver a large number of vitamins or botanical ingredients to your skin, which can provide bright and glowing skin.
Lessening in fine lines. Oxygen facials are believed to help improve blood circulation to the face, which can help to reduce fine lines and wrinkles.
Calming of acne. Oxygen is known to accelerate wound healing and may also eradicate bacteria that cause certain types of acne.
Potential Side Effects and Precautions of Oxygen Facials:
Potential side effects of oxygen facials might include:
Temporary skin redness. If you have sensitive skin, the serum and the oxygen may cause redness to your skin for a few hours after the procedure.
Facial swelling. Oxygen facials can cause inflammation because of the forceful gusts of oxygen to the face. This can cause the skin to look swollen.
Allergic reaction to a serum. If you know you are allergic to any skin care ingredients, then you must discuss this with your aesthetician in order to avoid that ingredient during the procedure.