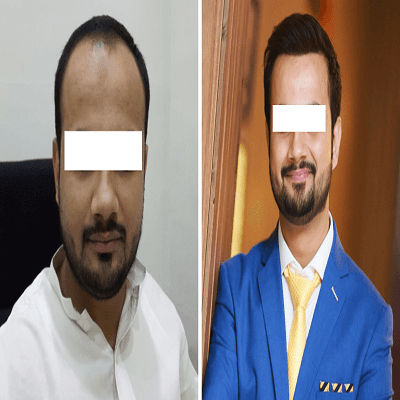 Hair is one of the most noticeable parts of humans' personality but the majority of the people face baldness problems and hair loss which results in the popularity of Hair Transplants. Men and women both suffer from these concerns but most of the men are affected by it. However, there is no need to worry about it, the solution to this problem is easily available in all cities of Pakistan and all around the world so you can get the best Male Hair Transplants in the most comfortable environment by visiting us.
Male hair transplant Islamabad, Rawalpindi & Pakistan is the surgical procedure that can prevent your head from balding by using FUE (follicular unit extraction) technique. This process is done by experienced surgeons who extract the hair from the donor area and place it on the bald part to acquire a head full of hair. Although this process isn't much painful as (FUT) technique or other practices. People who are having a good beard can also get this hair transplant without any extra effort because beard hair is thick which makes your scalp hair look natural and dense. In some extreme hair complications, pubic hair can also be used for hair transplantation.
Techniques for Hair Transplant:
There are two main techniques which help to get hair follicles:
FUT:
Follicular unit transplantation is the procedure in which surgeons target the area having good hair growth. They use a tool to remove the skin to get the skin graft. After getting grafts, the treatment area is closed with stitching and then the surgeon will split these grafts into small pieces to implant them on the bald area where the hair is supposed to grow.
FUE:
The follicular unit extraction technique is quite different from (FUT). Surgeons start the process by making small holes in the scalp to implant the hair follicles which can be extracted from the backside of the head. Once implanted, surgeons cover the area with a bandage, so it heals within some time.
The candidacy of Treatment:
Men who suffer from excessive hair loss or baldness problems are the right ones to get this surgery. There is no age barrier but the ideal age to get this transplant is from 25-60 years. We see many youngsters having hair fall problems these days but this isn't something which can't be cured. It's best to get the treatment when:
You feel too much hair fall problems which affect your social and professional life
Your head becomes bald and patchy
You're willing to get your hair back
You're ashamed of your hair-appearance
Preparation before Treatment:
No matter how much experienced surgeons perform your transplant, it won't be much successful until you follow the preparation instructions before treatment. The doctor may advise some specific ones according to the health condition of the patient but some general ones must be followed by every person who is supposed to get the transplant:
Don't use sprays or gels
Avoid wearing hair extensions a few days before transplant
Don't cut your hair before surgery
It's better to massage the scalp
Avoid intake of smoke and alcohol for a few days
Stop taking aspirin or other medications that cause blood thinning, discuss with your doctor or surgeon so they can provide you a list of medications you can't take.

What happens during Hair Transplant?
Male hair transplant Islamabad can be done through (FUE) or (FUT) technique. Both procedures are complex requires extra care, must be done by board-certified surgeons to avoid risks and complications. The whole process can take 6-8 hours depending upon the number of hair grafts to be placed.
Surgeons start the procedure by giving local anesthesia to numb the donor area so the patient won't feel any discomfort while extracting the hair follicles.
In FUT practice, a strip of skin is removed from the donor area to extract the follicles and these hair follicles are implanted on the area where the hair is supposed to develop. Although, Incisions are closed with stitching.
In the FUE technique, surgeons get the hair follicles from the donor area by making a tiny incision and the extracted follicles are prepared of the desired size. Surgeons make small holes on the scalp and extracted follicles are placed in it.
After placing the follicles, surgeons cover every single graft with some dressing that helps in quick soothing.
The patient is allowed to go back home after some time of treatment with some post-recovery instructions.
Aftercare & Recovery:
The recovery process of the FUE technique is more rapid and simpler because it doesn't involve any stitches. The affected area is covered from bandages so it will help in boosting the healing process. However, most people return to work after a few days of treatment and the hair will start emerging out within 2-3 weeks of surgery. Doctors prescribe some aftercare instructions and certain medications to enrich the hair- health and encourage the growth of new hair follicles. Some prominent instructions include:
Avoid touching the treatment area for a few days
The patient is allowed to take a shower, but avoid the contact of water on the area where grafts are placed
Don't take any products which contain aspirin
Follow the medications or topical ointments properly, if prescribed
Avoid exercises for at least 7-days
Stop wearing caps or hats which can cause sweating on your scalp, you can discuss with your doctor
Results & Benefits:
The results of the best hair transplants are amazing and wonderful. You can get the natural-looking hair that will last permanently. There is no limitation, you are free to cut and trim your hair according to the desires. However, the maximum growth of hairs can be seen after almost 8-months of the procedure. Some prominent comforts which can be acquired after getting this treatment:
It's the less invasive approach
The patient won't face hair loss on the transplanted area
There is no scar left, in FUE technique
No long recovery periods and downtime
How much Male Hair Transplant Cost?
The cost of Male Hair Transplant in Islamabad, Rawalpindi & Pakistan varies from patient to patient. There are a lot of factors on which cost depends:
Condition of bald area
Number of grafts
Technique used
Experience of surgeon
Location of clinic
Why choose us?
Are you suffering from hair baldness problems? Or you want to get rid of hair loss concerns? No problem. You can resolve these issues by having Hair Transplants at our clinic. So if you want to improve your confidence level by regenerating the hair growth, you can feel free to consult SKN Cosmetics & Plastic Surgery Clinic to get the finest Male Hair Transplants in Islamabad, Rawalpindi & Pakistan.