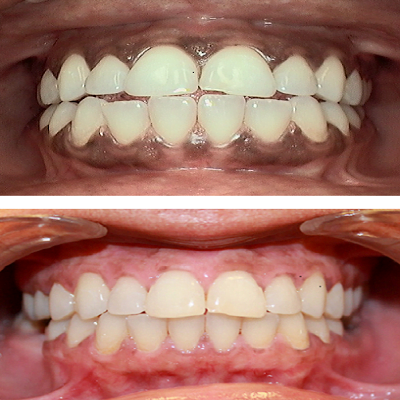 Many people experience several dental cosmetics issues which affect their confidence and quality of life. There is an issue that most young men and women experienced, their gums change color from pink to black or sometimes brown which is a result of melanin concentration. It happens due to many causes like genetics and other daily life activities.
If you are one of them who is experiencing this dental cosmetic issue then don't be worried about it because SKN cosmetics is offering an effective procedure that will remove the appearance of such dark gums and make them pinkish again, known as Gum Depigmentation Treatment in Islamabad, Rawalpindi & Pakistan. On this page, you will learn about its results, causes, benefits, procedure, and more. Keep reading!
An Overview:
It is a common issue that some people experience, their gums appear dark with white teeth and that looks very unattractive. Such problems with gums are fixed by cosmetic dental procedures that are performed as a gum bleaching process with laser. Yes, it is a treatment of laser that will make your gums pinkish again. A non-surgical method is performed for removing the pigmentation of gums without any pain and possibilities of risks. Some common aims of this treatment are mentioned below:
To make your gums brighter and pink.
Keep the gums and teeth protected.
Delivering whitening outcomes of gums.
Causes of Depigmentation:
There are some common and most noticeable causes of gum depigmentation, a few of them are mentioned below:
Due to Genetics.
Smoking habits.
Amalgam filling on the gums.
Different Medications Reactions.
Gum diseases due to poor dental hygiene.
Increased production of melanin.
What Are The Benefits?
When you get a treatment of gum depigmentation, you will get a lot of benefits as compared to other treatments. Some common benefits are mentioned below:
Non-surgical and less invasive process.
Painless, effective, and safest method.
Long-lasting and amazing natural color results.
No recovery time and major side effects.
It is the quickest procedure.
Your smile will be improved.
It will not affect your teeth.
Ideal Candidates:
Generally, when you consult your expert dental practitioners, they always require to take an assessment test to check they are a good candidate or not. Most people choose this treatment because of aesthetic preferences but it is important to fulfill the candidacy criteria. You will be a good candidate if you:
Having brown, dark, or black gums.
Want to improve your smile appearance.
It will be good if you are not suffering from oral diseases.
If your gums are a dark cause of periodontal diseases.
Better to not have thin gum skin.
You will be ideal if you have healthy gums.
Expected Results:
According to SKN cosmetics, the results of Gum Depigmentation Treatment in Islamabad, Rawalpindi & Pakistan are long-lasting and make your gums bright after a single session. A candidate will notice the differences in color of gums and those dark spots will disappear forever. Its results will last more than 20 years and if you take good care of your gums then the results will be for a lifetime. So, it is better to choose a professional practitioner who performed your treatment accurately.
How to Prepare?
For gum depigmentation treatment, it is important to follow the prescribed instructions of your dental practitioner to get the procedure done successfully and safely. In an initial consultation session, your practitioner will examine the health and prescribed you few common instructions, these are mentioned below:
Do not smoke at least a week before treatment.
Try to avoid drinking alcohol.
Avoid taking any blood thinner medications.
Brush your teeth 2 times of the day.
Procedure:
At our clinic, the procedure will be performed by an expert dental practitioner, and the simple procedural steps of gum depigmentation treatment is mentioned below:
The dental practitioner will inject local anesthesia for avoiding discomfort and pain during the procedure.
Then the practitioner will perform the procedure with laser and the heat of the laser will remove the upper layer tissues of gums.
In the end, the new layer of skin will be revealed in pink color after the procedure.
Therefore, it may take 25 to 55 minutes for bleaching the gum and after that, you can go home safely. Moreover, it may require multiple sessions if the candidate get accurate results.
Aftercare Instructions:
After the procedure, the practitioner will prescribe you some post-care instructions which you have to follow during the healing process. The recovery period is short but must require to take care of. Some common instructions are mentioned below:
Do not drink alcohol.
Keep yourself away from smoking or tobacco.
Take a healthy diet according to instructions.
Brush your teeth and use mouth wash daily.
Try to avoid such meals which affect your mouth or gums.
It may require regular checkups every after 3 months.
The Cost:
The cost of Gum Depigmentation Treatment in Islamabad, Rawalpindi & Pakistan ranges between 15,000 PKR to 60,000 PKR. Moreover, there are some cost factors that can affect the actual price of the treatment. These are mentioned below:
The professional dental practitioner's fee.
Clinical location and reputation.
Session requirements after reviewing condition.
Other supporting charges.
Furthermore, to know the exact figure of cost according to your concern then you can contact us anytime. These factors will be discussed in initial consultation sessions.
Schedule an Appointment with Us!
If you are losing your confidence and smile attraction and want to undergo an effective and safest method without feeling pain then you need to consult SKN cosmetics for gum bleaching treatment. We are offering this amazing treatment at affordable rates and provide you with satisfying results. We are looking forward to you!