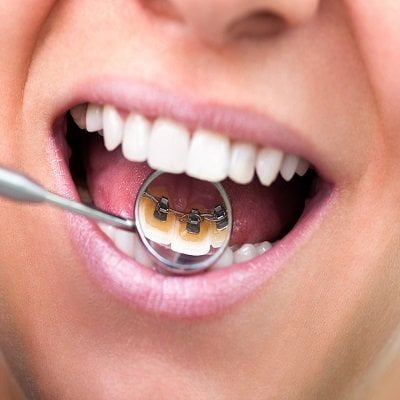 Everyone wants a refreshing smile, but it cannot come from a mouth full of unappealing wire and bracket braces. Some people can manage noticeable results but some of them don't want to show up with their braces. That is why dentistry is becoming more advanced and introducing new techniques even in braces.
However, if you want to hide your braces then Invisible Braces in Islamabad, Rawalpindi & Pakistan is the best solution for you. On this page, you will learn all about its procedure, results, benefits and cost. So, keep reading!
About Invisible Braces:
Dental Braces are used to insert for straightening misaligned and overcrowded teeth as well as fills the gaps between the teeth. It is ideally suitable for the people who want their teeth to be straightened but at the same time, they are also conscious about their appearance and do not want wires on their teeth all the time.
Invisible braces can straighten your crooked teeth without the use of metal, ceramic, wires or any brackets. Working with these invisible braces is just like the conventional ones. Adults who do not desire to compromise with their looks can opt for this relatively expensive procedure. This treatment is painless and does not require anesthesia or any hospital stay.
How Does It Work?
According to SKN Cosmetics, the orthodontist will take a full x-ray of your teeth and jaw along with the impressions of teeth. To manufacture these braces from clear plastic or acrylic material, may take about a few weeks. The first set of these clear braces/aligners are then placed in your mouth. These braces are detachable but must be worn throughout the day with the exemption of the time when you are eating brushing. The set must be in place for two or three weeks before it is substituted by the next set. To keep a check on the progress, you must keep making regular appointments with your orthodontist.
Quick Facts:
Generally, to know all about invisible braces treatment, there are a few quick facts that are must to know before considering the treatment. Common facts are mentioned below:
Invisible braces Inserted behind the teeth.
Two session requirements.
Anesthesia may require during the procedure.
Placement of Braces – 15 to 28 months.
It is suitable for children, teenagers and adults.
Recovery time is a few weeks.
You can take only a liquid diet.
Fewer complications and no side effects.
Top Benefits:
There are huge numbers of benefits if you are going to choose invisible braces. However, the common benefits are listed below:
Hidden braces can give you an attractive smile.
Safest, effective and satisfying procedure.
Problems like over-biting, gaps and misaligned teeth will improve.
Braces put little pressure to change the position.
There are no side effects and complications in it.
Eating habits will be improved.
Your self-confidence and self-esteem will be enhanced.
Final Results:
The results may depend upon person to person as the average duration of the braces are 14 to 28 months. Some people need to wear braces for 12 months and some of them wear them for more than 28 months for getting desirable outcomes. It might take almost a year to get your teeth modified with the use of invisible braces.
If you are going to consider Invisible Braces in Islamabad, Rawalpindi & Pakistan then you need to choose an expert orthodontist for perfect performance. Moreover, you need to take care of your braces and teeth for accurate results.  
Who is a Suitable Candidate?
At SKN cosmetics, it is necessary to fulfill the candidacy criteria before considering the procedure. However, it is suitable for people who are facing situations like spacing in between the teeth, crowding of teeth, overbite, underbite, deep bite, and open bite situations. the eligibility is mentioned below:
A candidate can be a child, teenage or adult.
To have gaps between teeth.
Misaligned, overcrowded and crooked correction.
You should be fit mentally and physically.
For enhancing the appearance of your smile.
Moreover, invisible braces are not suitable for some specific and severe misalignment cases that are better addressed by conventional methods. However, only your dentist or orthodontist can decide if you are a suitable candidate.
How To Prepare?
Before the insertion of braces, your orthodontist will examine your full mouth condition and ask you about your expectations. Also, the orthodontist will prescribe you a few precautions that are important to follow before the braces. Such as:
Avoid taking blood thinners.
Do not smoke tobacco or drink alcohol.
Brush your teeth twice a day.
Make a habit of flossing by using the best mouthwash.
If you have other problems with teeth then treat them first.
Be prepared mentally and physically.
The Procedure:
The procedure will be performed by the professional orthodontist in two sessions. The procedural steps are mentioned below with some details.
Firstly, the orthodontist requires a digital scan of teeth for examination.
The sample will be sent to a dental lab for manufacturing the braces materials.
This process will take 3 to 5 weeks for completing the invisible braces.
If the candidate needs to extract the extra tooth then it will perform.
After that, when your braces material is ready, you will call up for insertion.
Your orthodontist will clean your teeth deeply.
Then, the braces will be inserted by placing brackets, wires, rubber bands etc.
Therefore, the total duration of the procedure will be 1 to 2 hours as it depends on the complications and other dental treatments requirements. You can go home after the placement.
Aftercare Instructions:
After the insertion of braces, it will feel like you have a lot of pressure on your teeth and they will feel like tight. It might be difficult for you to speak and eat properly. Therefore, the orthodontist will suggest a few aftercare guidelines and tips to face such complications easily. Such as:
If you feel pain then use prescribed pain killers.
Make sure your teeth clean properly, food particles stuck in braces and become cavities or bacteria that can harm you later.
Brush your teeth after every meal in a day and properly.
Use recommended mouth wash for flossing.
Attend your regular and monthly checkups.
Follow the prescribed diet.
Avoid taking blood thinners as they can cause bleeding.
Stop smoking tobacco or drinking alcohol.
Invisible Braces Cost at SKN Cosmetics:
At SKN Cosmetics, the cost of Invisible Braces in Islamabad, Rawalpindi & Pakistan ranges between 200,000 PKR to 290,000 PKR. Also, you should understand that there are a few factors that can affect the cost of treatment. A few common factors are mentioned below: 
Choosing a professional Orthodontist.
Location and Reputation of the clinic.
Length of the invisible braces.
Other dental treatments (if required).
Further additional charges.
Moreover, this is the exact range of the treatment and possible factors are mentioned above, if you want to know related information according to your concerns then contact us or visit SKN clinic anytime.
Schedule an Appointment with Us!
Invisible braces can make your appearance of a smile perfect and straighten your teeth secretively. Therefore, if you are planning to have these braces then feels free to consult SKN cosmetics, one of the trustworthy and best clinics for dental procedures. We are here to give you amazing and satisfying services. It will be your memorable experience!