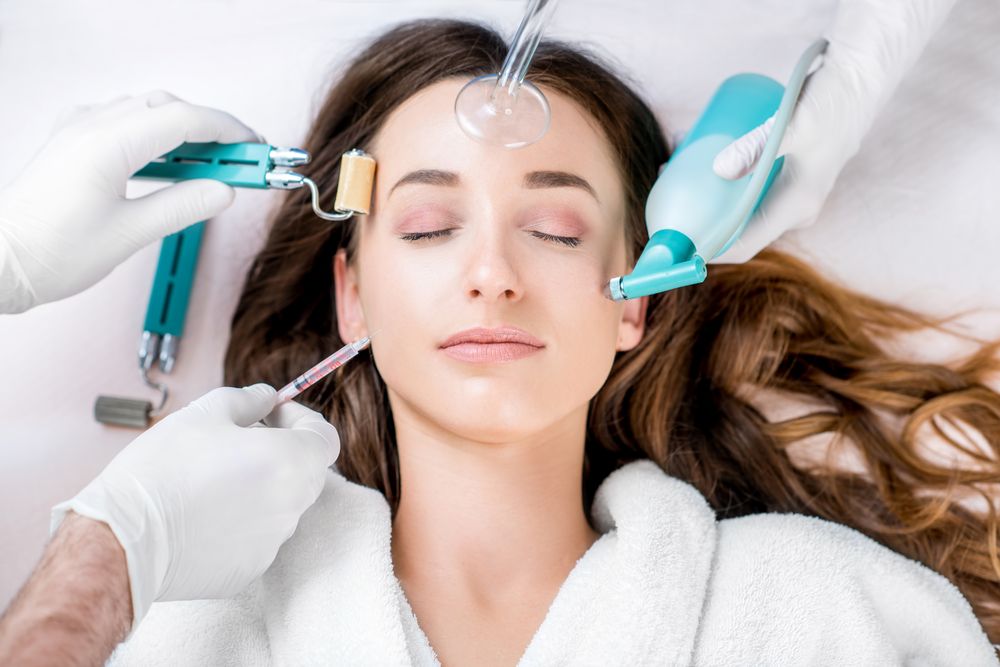 A cosmetologist is a person that makes patients feel and look best in appearance by providing services to nails, hairstyles, hair removal, and cosmetic surgery. The cosmetologist of a common salon is usually specialized in a single area with specific services but at SKN Clinic, our Cosmetologist in Islamabad. Pakistan has proven their-selves to be multi-talented. SKN takes eminent pride in affording cosmetic surgery and cosmetic dermatology facilities combating the most excellent that is ready to use in predominant aesthetic care presently. Our team resides finest doctors and expert surgeons who have professional specializations in skincare and plastic surgery. We offer custom-built skincare quick fix in order to help you in enhancing and improving your intrinsic beauty because the maintenance of beauty has been concern for both men and women for ages.
Skills and Requirements of a Cosmetologist:
Education:
Most sophisticated clinics demand education for every position from stylist to shampooers whereas local salons only require training programs. Most occupational centers and trade schools for cosmetology offer training of personal appearance that lasts for nine months. These systems also give job and internship opportunities to their talented resources.
Aesthetic sense:
A good cosmetologist should have an eager sense of what looks good on every individual person. Administering the desires of clients and to produce outcomes accordingly is the key. Our Cosmetologists in Islamabad apply their aesthetic skills and creativity to make people happy.
Customer Service:
It is important to know what looks good on the client. Our cosmetologists always have a variety of options according to the clients' needs that help them in making the right decision. They always make a balance when applying services to keep you happy. 'Customer Service' is the dominant element that cosmetologists do.
Endurance:
Always wear comfortable clothing and shoes, so nothing can restrict you while performing the procedure. Whether you have to be on feet all day because you are stylish or you have to sit on a chair because you are a manicurist, be sure to prefer comfy wearing.
Time-management skills:
Time management skills should be present in every cosmetologist that is important in scheduling appointments.
What a Cosmetologist Can Do?
Beauty never always comes naturally. Sometimes people have to undergo changes to achieve aesthetic goals. For this concern, cosmetologists use beauty products to give glowing skin, disguise puffy eyes and compliant fractious hair. Cosmetologist uses professional skills and practice to beautify face, nails or hair. We are having Cosmetologists who are well-trained in skincare and make-up. They have variety of duties including hair styling, make-up design, making skin shine and beauty consultant /product developer. As the opportunities are limitless in style and fashion industries, so they are always in demand. Skin is the largest part of the body that needs most of the care. If you have healthy skin it means you are having a healthy life. Skin allergies, wrinkling and ageing are the common problems that people are facing throughout the world.
Our Cosmetologists in Islamabad & Rawalpindi address several unwanted skin conditions. We offer multiple techniques including laser hair removal, skin rejuvenation, chemical peels, Botox, tummy tuck, hair transplant, liposuction, forehead lift, facelift, mole removal, dimple creation, eyelid surgery, rhinoplasty, double chin removal, waist sculpting, lip augmentation, brow lift, neck lift, buttock lift, arm/thigh lift, vampire/liquid facelift and number of others.
Qualities of a Good Cosmetologist:
A good cosmetologist always helps in changing your entire look and physical appearance through coloring & styling hairs, makeup and other cosmetic techniques. People have confidence on their practitioners in helping to get the look they want. Now you have a better idea of what cosmetologists are doing at SKN Cosmetic Surgery. We offer effective procedures of skin, hair and body reshaping through medically proven technologies. Our cosmetic surgery specialists and our cosmetic dermatology specialists have years of medical experience and expertise for grasping your skin type, condition and requirements. Now you have a better idea of what cosmetologists are doing at SKN CLINIC. Our certified and licensed Best Cosmetologists in Islamabad, Pakistan possess the following characteristics that give them an outline in the industry.
Good grooming habits
Good manual aptitude
Ability to visualize ideas
Skilled at customer service
Color and style perception
Adaptability and creativity
Knowledgeable of standards
Our skin specialists and surgeons can help you in changing the way you
see yourself and the way others see you through cosmetic surgery and dermatology.
Contact us we will help you in every possible way.