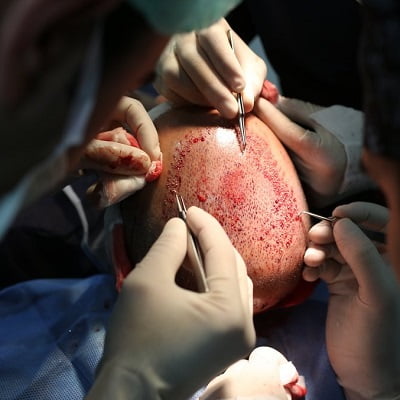 Who doesn't love a head full of luscious locks or beautiful beach waves? Unfortunately for some people, that is not possible at all. They just cannot seem to grow out their locks, be it genetics or a medical condition. But is there a cure for it? Well, of course, there is! With advancements in the medical field, you can now get a transplant to recover your lost hair. There are many types of transplants available on the market, and the Hybrid Hair Treatment is one of them.
 What is This Treatment About?
As the name says, hybrid flocking is a combination of two transplant grafting techniques. The two most commonly used hair transplantation techniques are follicular unit transplantation (FUT) and follicular unit extraction (FUE). Hybrid flocking combines these two technologies.
This means that FUT and FUE hair transplant will run in the same session. This is done to extract the maximum number of grafts. The results of this hybrid transplant are impressive as they are almost indistinguishable from the natural hairline. The procedure is invasive, but the results are worth it.
The Need for This Cosmetic Procedure:
Everything develops over time. Just as human bodies evolve and adapt to new climates, so do their diseases. Therefore, hair loss in some people can be treated using traditional methods. However, some people need a more sophisticated solution to their hair loss problem. This is why hybrid transplants are required. Those who want to minimize scarring and maximize the number of grafts need a hybrid graft. The most common reasons for needing mixed flocking are:
Notable baldness
Availability of low-density donor areas
Minimum number of grafts available
If a person has one of these problems, they will benefit more from a hybrid transplant than a conventional transplant.
The Transplant Procedure:
Hybrid flocking combines FUT and FUE technologies. First, perform FUT to extract hair follicles into strips. The donor area (usually the occipital area) is then closed using a Trichophyton closure. After the FUT is complete, the surgeon will perform the FUE. Using this technique, hair follicles are extracted individually from the donor area.
After the hair follicles have been extracted using FUT and FUE techniques, an FUE beard or FUE chest hair transplant can be performed if more grafts are required. The whole process takes less than a day. Beard and chest hair transplants are optional and can be done the next day. Using the hybrid technique, more than 6000 hair follicles can be extracted and transplanted in one day.
Choosing the Right Surgeon:
Hybrid flocking is uncommon these days. This means that not all clinics offer it, and not all surgeons are qualified to perform the procedure. Also, the blending technique is used as a last resort for hair growth. Advice is only given when the patient has no other options. Therefore, a qualified surgeon is very important for this transplant. The right surgeon is the key to a successful transplant.
Transplantation is highly invasive in nature and requires skilled expertise. Therefore, thorough research is required before for clinics and surgeons who perform this procedure. Some clinics may have a team of specialist surgeons who will be successful in a hybrid transplant. Please fill out the form below to make an appointment with one of our specialist surgeons.
Determining the Eligibility:
Candidates for hybrid flocking are determined by the surgeon. This is due to the highly invasive nature of the procedure. Even if a person has thinning hair or is bald, a hybrid transplant is not always the answer. Hybrid flocking is considered a last resort for hair restoration. Not all surgeons recommend this transplant to their patients. However, the following individuals are eligible for a cross transplant:
Healthy person.
People with Norwood Class V, VI, or VII Baldness.
Individuals wishing to maximize the number of hair transplants.
People who don't care about visible scars and seams (at least a month).
People who have exhausted all other hair growth options.
Individuals with realistic expectations for the program.
These people may be ideal candidates for a hybrid flocking program, but they're not the only ones. Talk to a professional who excels in this field. They will help you decide your candidacy.
Estimated Cost:
The cost of hybrid flocking varies by patient. Also, the cost varies from clinic to clinic. Several factors contribute to cost determination, including:
Clinic location.
Physician expertise.
The number of sessions required.
Individual patient requirements.
Other relevant aspects.
Collectively, this treatment should cost you around 60,000 PKR to 400,000 PKR
Benefits of This Transplant:
In recent years, hybrid flocking has been shown to be beneficial for those who are thin or bald. Some advantages of this technique are:
You can treat all hair loss areas at once.
Many hair follicles can be extracted and transplanted in one session. It is estimated that about 4000 to 6000 grafts can be extracted from a single hybrid flocking.
This procedure is reliable because it minimizes the chance that the hair will not grow after the transplant.
The procedure is safe and performed under local anesthesia.
The end result looks natural. After surgery, it can be challenging to differentiate between transplanted hair and natural hair.
With proper maintenance and care, transplanted hair can stay the same for a long time.
The procedure is invasive, but the results are worth it if the right surgeon is chosen to do the job.
If transplanted properly, there is no chance of infection or complications after transplant.
Natural-looking hair has a positive effect on patients' self-esteem.
Results:
Due to the complex nature of this beauty treatment, the results vary from person to person. Most people will start showing visible results within a month of this treatment, while others might have to wait for about two months before the results are visible.
Three weeks after the procedure, your scabs will fall off, and new hair will grow in its place. The growth will be identical to you growing your hair naturally; this means that it will be a slow process rather than being an instant solution. But despite the wait and recovery time, you are guaranteed a head full of beautiful strands.
Are There Any Side Effects?
Chances of going through side effects for this treatment are rare. At most, the patient will experience mild bleeding during the procedure and some minor swelling after the grafts have been planted. Other than this, it is rare that patients experience any after-effects. It is a safe and secure procedure with nothing to worry about.
Why pick us?
Although there are several clinics out there that offer this cosmetic treatment, SKN Cosmetics offers the best Hybrid Hair Transplant in all of Islamabad! So why wait? Sign up today to receive a complimentary consultation session with the most highly qualified professionals in the capital!