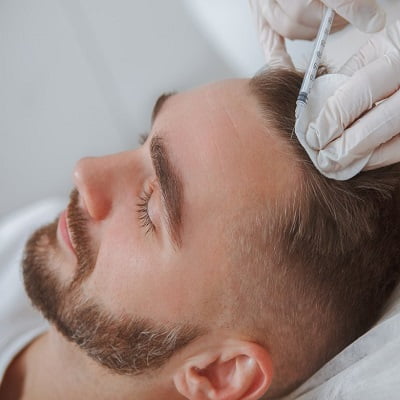 Nowadays, every young or old person is experiencing hair fall problems from light to extreme levels whether it's men or women. It can be reversed by effective hair loss treatments that can change your overall appearance. However, there are several hair restoration treatments that are workable solutions for giving you natural hair without experiencing any complications. One of the advanced injectable techniques is GFC Therapy.
On this page, you will learn all about GFC Treatment for Hair in Islamabad, Rawalpindi & Pakistan including its process, results, benefits, cost and many more. So, keep reading!
Quick Facts:
Injectable Treatment.
Use your own blood's growth factors.
Duration of the procedure is 30 to 40 minutes.
Required Local Anesthesia (if required).
Sessions requirements – 3 to 4.
Results will last for a long time.
Recovery period is minimal.
Low Maintenance.
Affordable Cost Ranges.
To Know About GFC Treatment:
GFC – it stands for "Growth Factor Concentrate" which is an injectable treatment that is a highly concentrated growth factor in hair from your own blood. These injections will inject directly into the scalp of your own growth factors for delivering high concentrations. It will reduce and stop hair fall and improve the texture of weak hair. This therapy will take your blood approximately 16 ml for the process of this procedure. It will stimulate the hair follicles for reversing hair growth. This procedure is performed in multiple sessions so a candidate will need at least 3 to 4 sessions only for noticeable growth of hair. Also, it is known as the safest and most effective therapy for all types of candidates who expect highly satisfying results.
Our Best Results:
After getting the treatment, the results will be effective, satisfying and long-lasting. You will observe the growth of your hair after 3 to 4 weeks and maintain the natural growth of your hair then get the next session after 6 months to 1 year. Moreover, it is very important to choose an expert hair specialist/practitioner who performs your treatment accurately and prescribes you care instructions for how to take care of your hair after the treatment.
Who Are Suitable Candidates?
According to SKN Cosmetics, it is necessary to fulfill the candidacy criteria for becoming an ideal candidate. For this Treatment, a person who is experiencing imbalanced hormonal issues or due to hereditary hair fall then he/she is a suitable candidate for this hair restoration treatment. However, the criteria are mentioned below:
You should be above age 20.
A person who has thinning hair issues.
Physically perfect person is a good candidate for it.
People who are suffering from extreme hair fall.
Suitable for every man and woman.
Important Note: People who are completely bald, diabetes patients and those who have allergic problems aren't good candidates but if you properly consult with our best surgeons then they will recommend you another suitable hair restoration treatment.
Top Benefits:
Generally, there are a lot of benefits if you choose GFC Treatment for Hair in Islamabad, Rawalpindi & Pakistan as a hair fall solution. However, common benefits are listed below:
Completely painless treatment.
Long-lasting and effective outcomes.
Improves the growth of hair.
Reduce hair fall perfectly.
There is no use of any artificial product.
No complications or risks in it.
Quick recovery period.
Safest and satisfying performance.
Improves the quality of your life.
How To Prepare?
Before undergoing the procedure, the practitioner will prescribe you a few precautions that are important to follow for preventing from during and after the treatment. Somehow, there are some common precautions to follow, such as:
Avoid taking blood-thinning medicines like aspirin.
Maintain your healthy diet and stay hydrated.
If you have any type of scalp allergies then fix it first.
Your medical and test reports are necessary to check.
Be prepared for the treatment.
The Procedure:
The procedure of GFC hair treatment is performed by an expert hair practitioner and at the clinic. The process is simple so the procedural steps are mentioned below:
Firstly, the practitioner will take your blood and put it into specific tubes.
Then, the tube will be put into the centrifuge for the spinning and activation process. It will separate the blood elements like cells, plasma and growth factors.
The extracted growth factors will inject into the scalp directly. The number of injections depends upon the requirements and desired results of candidates.
Next session will be scheduled with a gap of 6 months or according to the condition of the scalp.
Therefore, the total duration of the procedure will be 30 to 40 minutes as it depends on the number of injections. After that, you can go home.
Aftercare Instructions:
After the procedure, the practitioner will prescribe you a few aftercare instructions for taking good care of your hair in future. It is necessary to follow the instructions of your practitioner for getting desirable results. Common instructions are:
You can resume your daily and physical activities.
Wash your hair slightly and with prescribed shampoo.
Do not use any hair product like hair dye, spray and gels etc.
Avoid smoking tobacco or drinking alcohol.
Use prescribed medication like supplements like calcium, iron and vitamins.
Don't take blood thinners like aspirin for at least 2 weeks.
If you feel severe irritation or pain, inform your practitioner immediately.
The Cost at SKN Cosmetics:
The average cost of GFC Treatment for Hair in Islamabad, Rawalpindi & Pakistan ranges between 12.000 PKR to 20,000 PKR. Also, there are a few factors that can affect the cost of the treatment. Common pricing factors are mentioned below:
By choosing an Expert Practitioner.
Location & Reputation of the clinic.
Number of injections.
Anesthesia & medication fee.
Other additional charges.
Furthermore, if you are going to consider this treatment and want to know about the cost according to your concerns then contact us or visit our clinic anytime.
Which Is Better GFC or PRP?
Apparently, the GFC is a more effective option as compared to PRP therapy. In some concerns, both injectable treatments are effective and workable for those candidates who are experiencing hair fall. If we talk about the results and success rate then Gfc will give you more effective and long-lasting results. However, it would be best if you properly consult with our hair specialists, they will let you know about the suitable treatment.
Schedule An Appointment With Us!
Therefore, this treatment is a suitable solution for every man and woman for giving them effective results. If you want to stop your hair fall without undergoing any surgical procedure then feel free to consult SKN Cosmetics for the amazing treatment. We are here to give you satisfying services and memorable experiences. So, don't wait and visit us!