Generally, crowns are used for teeth covering, and they hide the defects of the teeth. However, if a person has cracked, chipped, and broken teeth with a discolored appearance, the teeth need to have a cap covering them. A variety of caps are used to choose from, but the ideal one is the Zirconia Crown In Islamabad, Rawalpindi & Pakistan. It will be made up of a specific computerized form that will provide perfect outcomes.
If you need to fix your affected teeth through these crowns, then consult SKN cosmetics dental experts; they will guide you best. On this page, you will learn about its procedure, results, and benefits. Keep reading!
An Overview:
The dental crowns are used for covering the faulty teeth or used as dental implants. These are recommended for supporting broken, misshaped or weak teeth. These are also used to fix the discoloration of teeth, restore a damaged tooth, and prevent extreme filling or root canal. Moreover, these crowns can be used in conjunction with a bridge to support multiple teeth.
The crowns are made up of different materials like ceramic or metal. But the advanced option is available now, and that is, Zirconia is more robust than other crown materials. It is made up of zirconium dioxide, which is a more durable metal.
The Expected Results:
According to SKN cosmetics, the outcomes of these crowns are immediate and ready to show up. There will be no temporariness and no waiting period. Our undergoing candidates are always satisfied and get effective results. So, choose an expert and professional dental specialist who performed your procedure accurately and flawlessly.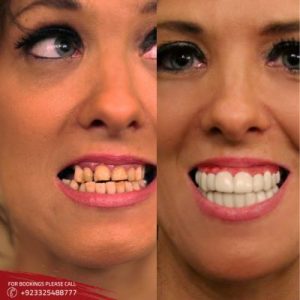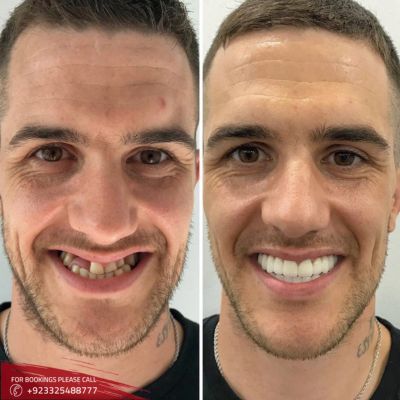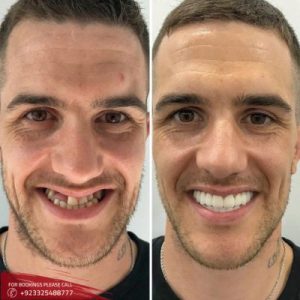 The Benefits:
There are a lot of benefits if a candidate chooses zirconia crowns; a few of them are mentioned below:
They are durable and robust materials.
Appear as natural tooth preservation.
Stain resistance.
They will look natural and accurate.
It is 100% biocompatible.
These crowns are easy to modify.
Long-lasting outcomes.
It is suitable for those who are allergenic of metal.
They can hold grinding pressure.
Procedure:
The procedure of Zirconia Crown In Islamabad, Rawalpindi & Pakistan can be performed with two effective techniques at SKN cosmetics. It can be completed entirely in a single day or in two sessions. The procedural steps of both methods are mentioned below:
Single-Day Process:
The dental specialist will prepare the zirconia crowns in the clinic according to desired shape and size of the candidate.
After that, the cement will be applied on crowns into the candidate's mouth on the same day.
This process will take only an hour or more to complete.
Multiple Visit Process:
First Visit:
The team of dental specialists will take the candidate's X-rays of teeth and prepare for the procedure.
Local anesthesia will be given for the pain-free and comfortable process.
The specialist will take an impression of the candidate's teeth and send it to a dental lab to manufacture an original crown.
The dental specialist will place a temporary crown to protect the tooth and until the original will be ready.
Second Visit:
The specialist will call you after a few weeks and start placing an actual crown in the second visit.
The zirconia crown will be fixed accurately and perfectly.
It might require minor adjustments if needed; otherwise, the crowned teeth are ready.
A Note to Remember: The procedure will be different, and the duration will be different because first, the dental surgeon will examine your situation and handle your case accordingly. It is essential to discuss all the concerns with your dental specialist.
Aftercare Instructions:
Aftercare is essential to follow for the protection of your dental crowns in the future. Your dental specialist will prescribe you few aftercare instructions which are necessary to follow. These are mentioned below:
A candidate may feel numbed on the treated area; try to avoid chewing on lips.
Do not chew hard things and avoid eating sticky foods for few weeks until crowns get settle.
Your new implanted crown will feel strange, but once it gets adjusted, it will be perfect.
Brush your teeth regularly and use a prescribed mouth wash.
If you feel any discomfort in the first few days, you need to visit your dental specialist.
Do not smoke or drink alcohol.
Complications:
After the procedure, a candidate may experience some common complications in the dental crown procedure. These are mentioned below:
Minor pain.
Some allergic reactions.
Chances of losing or falling off the crown.
Do not feel worried because these complications are rare, and these may be experienced when you choose an unprofessional dental specialist. However, if you feel any discomfort, then you can visit your specialist anytime.
The Cost:
The cost of the Zirconia crown depends from person to person. There are some cost factors that can affect the actual price of the treatment. These are:
The expert dental specialist's fee.
Location and reputation of the clinic.
Method chosen.
A number of teeth get crowns.
Other supporting charges.
Further, if someone wants to know more about cost-related information, then contact us anytime.
Schedule An Appointment With Us!
So, Zirconia Crowns are effective and safest that provides long-lasting and satisfying results. If you want to get this fantastic treatment, then feel free to consult SKN cosmetics for fixing your cosmetic dental issues. We will provide you with satisfying services and outclass outcomes.