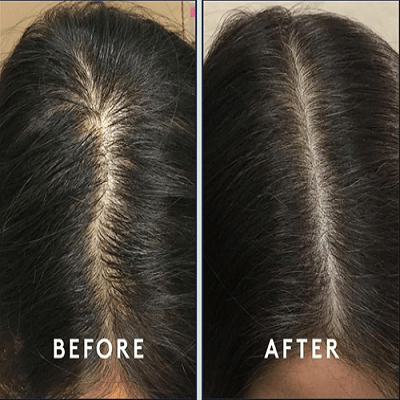 Everybody wants to look perfect with healthy hair but a lot of reasons can eradicate their dreams. The most common cause is baldness which is the complete hair loss and can be found anywhere on the body but most commonly affects the scalp. However, it's not a disease, can be due to different health conditions of the patient, aging sign, and hormonal variations. People all around the world are struggling to get these issue resolved without an invasive approach because the majority prefers non-surgical procedures over surgical ones. You can tackle this problem by having Hair Fillers for Baldness in Islamabad, Rawalpindi & Pakistan.
Hair fillers adapt to the needs of people by providing a non-invasive approach to get baldness concerns resolved without any risks and complications because it's the safest treatment anyone can get. People who don't have enough hair follicles to get the hair transplant are the right ones to acquire these Fillers to overcome baldness problems. As a result of this treatment, you will get strong, natural & shiny hair, doctors usually prefer these fillers to even those who have enough hair growth for the betterment of hair-health.
What are the symptoms?
When you start observing excessive hair loss on your scalp, don't take it normally. Although, some common indications can be seen by the patient before complete baldness:
Patchy spots
Unexpected losing excessive hair
Receding hairline
Results & Benefits:
As a result of Hair Fillers for Baldness in Islamabad, Rawalpindi & Pakistan you will get a dreamy look with strong & natural hair without any side-effects. It is focused on the bald area to fills the hair gaps on the scalp without damaging the other growing follicles. The hair will start emerging out after a few weeks of treatment and complete outcomes can't be seen instantly, it will take some time. However, patients are advised to follow post-sessions regularly for enduring outcomes. People prefer this treatment because of its tremendous benefits:
Non-invasive practice
Boosts the hair-growth
Suitable for both men and women
Encourages blood circulation
Prevents hair loss concerns
The bald area will be covered with hair
Increases thickness of hair
Natural results
There is no need to face embarrassments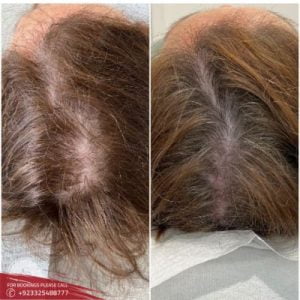 Are you the Right Candidate?
The patients are advised to visit the clinic to make sure that they are the right candidate or not, but some points may help you in deciding:
You're facing baldness
You're physically and mentally healthy
Make sure that you're 20 years old
You're willing to improve your look
You want a non-invasive approach
You're becoming self-conscious about your appearance
Preparation:
Before going for the treatment, your doctor may suggest you some specific preparation steps according to your health condition but some common ones should be followed by every patient to avoid discomfort during treatment:
Avoid taking Aspirin, vitamin E, Ibuprofen a few days before the procedure
Stop the intake of smoke and alcohol
Stop eating seafood, one week before getting fillers
What happens during treatment?
It's not a complex procedure but the expertise of doctor matters in this situation too. Practitioners start the process by accessing the bald area and topical anesthetic ointment is applied on the scalp to avoid the discomfort caused by injecting needles. Once it's done, Hair fillers will be injected on the specified area to enhance the growth of hair follicles. The patient will be needing 3-4 sessions within a month, depending upon doctors' recommendations.
Aftercare & Recovery:
After getting Hair Fillers, you can notice some redness or bruise on your scalp which is temporary and will go away within 2-3 days of treatment. However, you can get back to work the next day after treatment because some aftercare instructions must be followed to speed up the healing process:
Use cold packs to get off swelling and redness
Don't rub or put pressure on injected site
Take healthy diet and enough protein
Cost of Hair Fillers:
The cost of Hair Fillers for Baldness in Islamabad, Rawalpindi & Pakistan varies from person to person because each faces different hair conditions. The SKN Cosmetics & Plastic Surgery Clinic provides the best Hair Fillers at affordable rates. Some major factors on which cost depends:
Bald area
Scalp condition
Number of sessions
Experience of practitioner
Clinic Location
Why choose us?
Baldness is a serious concern for those who're very touchy about their appearance. Men and women both suffer from this problem but the majority of the men are affected by it. You can overcome this problem by having Hair Fillers treatment, so if you want to resolve baldness problems without an invasive approach you can feel free to consult SKN Cosmetics & Plastic Surgery Clinic to consider the best Hair Fillers for Baldness in Islamabad, Rawalpindi & Pakistan.