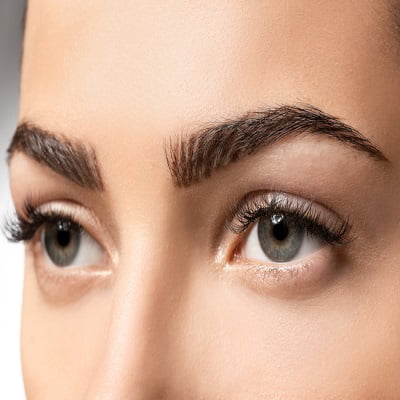 Long have gone the days when thin and arched brows were in. Body hair transplant is considered to be a best solution for getting rid of hair loss. Celebrities like Cara Delavigne have redefined the definition of perfect brows for us. Now a perfect brow means, thick and natural-looking brows, not to be confused with bushy ones. If you have been a victim of the fashion of early days or you have naturally thin brow hair or you are tired of spending at least an hour a day to have thick, luscious brows with a gazillion products.  Eyebrow hair transplant in Islamabad Pakistan is the right procedure for you.
Eyebrow Hair Transplant in Islamabad & Rawalpindi is a minimally invasive procedure that will transplant hair from the donor region to the eyebrow area in a shape, which suits your face perfectly. Eyebrows frame your face and you don't want your frame to be sparse, do you? If you have lost all your eyebrow hair, full hair restoration during hair transplant requires 200 hair follicles. However, subtle reshaping requires 50 to 100 eyebrow hairs.
Pre-Surgical Care:
Like any other medical or surgical procedure, an Eyebrow hair transplant a list of certain pre-procedural care instructions that must be followed religiously in order to maximize the results of the surgery. The surgeon will guide you better in this regards. Here are a few general things to consider:
Avoid blood-thinning medications for at least a week.
Do not take any kind of supplement especially vitamin E.
Alcohol consumption and smoking is strictly prohibited for two weeks prior to the procedure.
Drink at least 8 glasses of water to aid the healing process of your skin.
Limit your caffeine intake.
Procedure:
Eyebrow Hair Transplant in Rawalpindi & Peshawar is a simple lunch hour procedure. It comprises of the following key steps:
Donor area is numbed with the help of local anesthesia.
Hair in the donor region is shaved prior to the extraction.
Hair is extracted with the help of a punching tool.
The area surrounds the eyebrows is numbed.
The desired eyebrow shape is drawn on your face for added precision.
Tiny incisions are made in the shape of the desired brows.
Grafts are inserted into these incisions at a specific angle which concluded the surgery.
Post Procedural Care:
In order to ensure that the recovery period is uneventful, you must follow certain care measures as directed by your surgeon. Here are a few general precautions:
Start taking medications immediately after the Hair Transplant.
Avoid consuming any blood thinners for a few weeks after the surgery.
Refrain from smoking for a few days.
Do not massage the area around your eyebrows.
Do not pluck your brows until your skin heals completely.
Avoid picking at your eyebrows.
 
Recovery Period:
The recovery period of Eyebrow Hair Transplant in Islamabad, Rawalpindi, Peshawar & Pakistan is quick and uneventful. You can return immediately back to work the day after the treatment. However, you need to follow all the post-procedural care instructions religiously. The skin will heal in a week.
Results:
Results of Eyebrow Hair Transplant in Islamabad & Rawalpindi are mind-blowing. If people confuse you with Cara Delavigne, don't be surprised. You will be blessed with a full set of brows in a matter of two months. Yes, it's too. Say no to thin, limo brows and welcome thick brows.