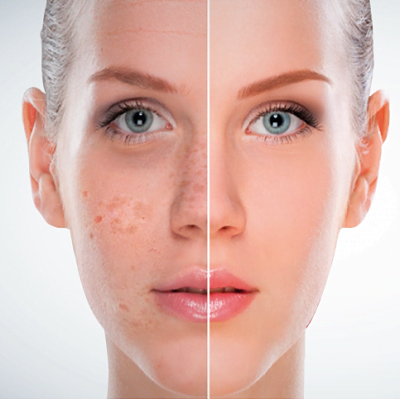 Over 10 years, SKN Cosmetic Surgery Clinic has been successfully treating all types of skin pigmentations including freckles, sun spots, age spots, birthmarks, and hyperpigmentation on facial and body areas. Laser Pigmentation Treatment in Islamabad, Rawalpindi & Pakistan is gaining immense popularity. This non-invasive technique involves the use of lasers when targeted these are absorbed only by the cells containing excessive concentrations of pigment thus giving clear smooth skin.
Results and Benefits:
Results:
After getting 3 sessions of Laser Pigmentation Treatment you will achieve the final results you desired of. The treatments we offer give natural, clean, and spotless skin. These results increase your attractiveness as well as your self-confidence. Results vary among individuals. No guarantee.
Benefits:
Requires minimal recovery time
Minimizes the appearance of pigmentation
Treats hands, face and other body areas
Allows women to wear make-up after treatment
Uses laser that does not target any surrounding tissue
Who Is Candidate?
SKN is offering laser treatment to men and women for eradicating pigmentation from the face and body. You can be selected for the candidacy of Pigmentation Treatment in Islamabad & Pakistan if:
You don't have any allergic reactions
Excessive sun exposure has caused you sunspots
You have damaged skin that is resulted due to injury
Improper hair removal has left you with the pigmentation
Hormonal changes have given rise to the hyper-pigmentation
Technique We Use:
It is true that most of the time pigmentation goes away on its own but some discolored skin pigmentations require cosmetic treatment. The treatments we offer take about 15-30 minutes for performing the procedures depending on the size of the treatment area.
Microdermabrasion:
It is one of the progressive rather than aggressive treatments. Microdermabrasion is performed on those patients who want to minimize the darkness of pigmentation. The upper damaged layer of skin cells is removed by applying tiny crystals. It exfoliates the surface of the skin to reveal a layer of new skin cells.
Chemical Peels:
Depending on the type and severity of pigmentation, chemical peels are used for stubborn spots. The most common salicylic acid, glycolic acid, and TCA chemical peels are widely reducing the appearance by playing their role. Research has shown that they are powerful at speeding up the results and removing the deeper pigment.
Intense Pulsed Light (IPL) Therapy:
IPL targets sun-induced discolorations by utilizing light-based energy. Light energy simultaneously targets blood vessels of the affected skin by seeking out the discoloration to lift it up and out. Often, IPL therapy is carried out after two sessions of laser treatment for permanently cleaning up the skin.
Laser Treatment for Pigmentation:
Fractional laser treatment works best for eradicating the stubborn pigmentations. Laser beams create safe and controlled micro-injuries in the skin that in turn generates natural collagen and elastin fibers. This stimulates the natural healing process. No results are seen after one treatment. Therefore, multiple sessions are required for generating fresh and healthy skin.
Recovery:
Redness and swelling are normal. Both of these minor side effects get normalize within 2 days. Right after the treatment, the treated area becomes darker but gradually the pigmentation Treatment Islamabad is minimized up to the desired level. You can go with your activities right after the next day.
Schedule a Free Consultation:
Using only the latest technology available, we pride ourselves in offering you the best possible treatments available at SKN Cosmetic Surgery Islamabad. Our highly trained nurses and therapists are experienced in treating hyperpigmentation through an advanced range of Skin Pigmentation Treatment in Islamabad, Rawalpindi & Pakistan. We can guarantee you the level of service that you deserve. So fill in the form and book a FREE appointment today.