It is an advanced cosmetic treatment that fixes various skin abnormalities to deliver flawless skin. As a result, the overall appearance of the person gets enhanced. By fixing different skin issues, it makes skin healthy and younger. This safe and effective treatment causes no side effects and has downtime.
Hydrafacial in Islamabad:
Everyone is conscious about their skin and doesn't want to make the skin dull and not attractive. The face is the most prominent feature of any personality and everyone always wants to look beautiful with fresh glowing and clear skin. SKN cosmetic is offering Hydrafacial in Islamabad Pakistan. whereas, it is not only effective for enhancing and improving the skin but it can also be treated for skin tone and texture, fine lines or wrinkles and pores etc. so, have a look at the treatment procedure and its benefits with long-lasting outcomes.
How Does Hydrafacial Work:
According to SKN cosmetics, this is a process of six simple and effective steps having cleansing, exfoliates and removes impurities and dead skin cells from the face. It also includes antioxidants and hyaluronic acid. It is a great option for all skin types and both men and women. It effectively reduces the atmospheric damage, decreases the visibility of wrinkles and make the skin even firmer for a long time.
Who are Candidates for Hydrafacial:
For undergoing this treatment, a person needs to fulfil the candidacy criteria before the procedure. Common criteria is mentioned below for a person who will be:
Above 18 age.
A person who have wrinkles and fine lines.
It will solve skin discolourations.
Rejuvenate the skin surface.
Best for those who have skin damaged issues.
Accurate for sensitive skins as well.
Results of Hydrafacial:
This treatment is known for delivering promising results to everyone. The success rate of this treatment is very high. The people who have tried it loved the outcomes. Here are some notable benefits you should expect from it:
The Benefits:
There are a lot of advantages to having Hydrafacial Treatment in Islamabad & Pakistan, few of the benefits are as follows:
 It soothes dry skin.
Unclog the abnormal pores.
Using serums makes skin fresh.
Reduces the sunspots.
Gives a clear complexion.
Brighter the skin tones and texture.
Enhanced the beauty of a face.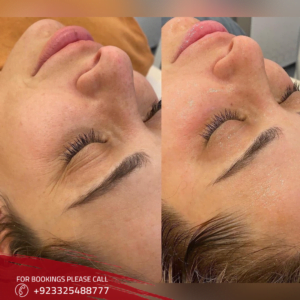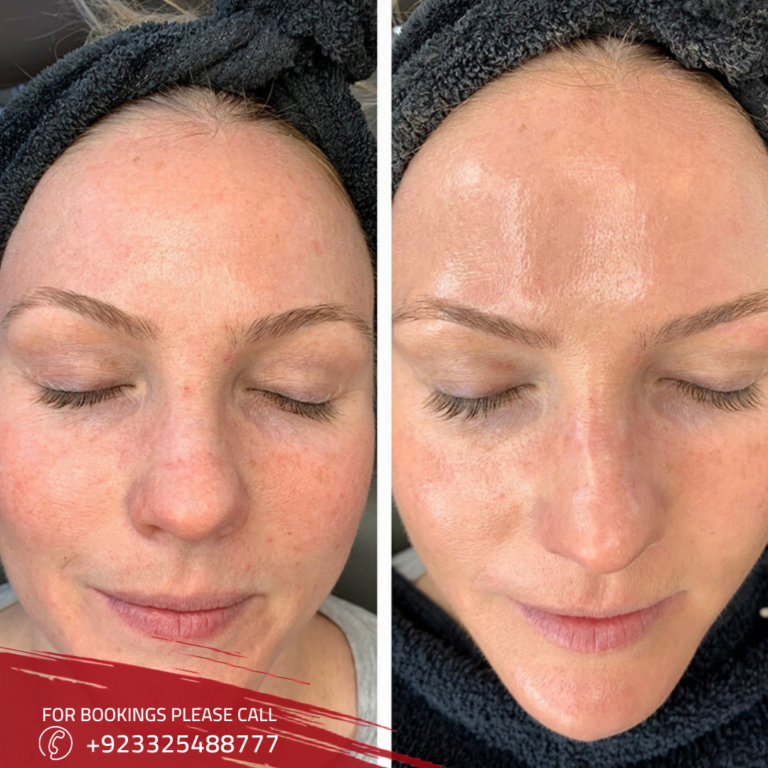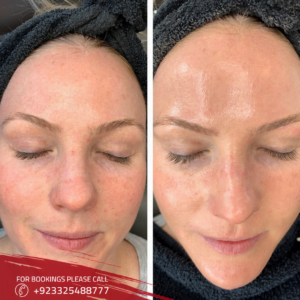 What Will You Get After this Facial?
In the results, immediate and effective outcomes will be obtained after the treatment. It will fix different skin issues which involve oily skin, dark spots and sunspots, large pores and pigmentation. The skin will be new and enhanced. Keeping the results for a long time, do take care of the skin according to the prescription of your practitioner.
Preparation Before Getting Hydrafacial:
The preparation of Hydrafacial is necessary before the procedure. A candidate should follow few instructions which will be prescribed to get the high rate results of the process. Some common instructions of them are as following:
Do not take any medications week before the procedure.
A candidate should not have a treatment of laser before a month of this process.
Avoid waxing the face.
You should discuss all the health condition like allergies or disabilities with your practitioner.
How Does Hydrafacial Works:
Performing it is simple and four short steps make your skin wonderful. Here are the steps to perform Hydrafacial in Islamabad, Rawalpindi & Pakistan:
Step 1:Cleansing: In the beginning, the professional will clean the treatment site to remove dirt, makeup, and germs.
Step 2:Steaming: Now in step 2 is about steaming. The skin will be exposed to steam to open pores.
Step 3:Unclogging and Extracting: It is now time to unclog pores and extract all impurities (excess oils, dirt, bacteria, etc.) through suction.
Step 4:Hydrating Mask: Now, the hydrating mask will be placed on the face to hydrate the skin. It will stay for half an hour and then the face will be cleansed.
Benefits of Hydrafacial:
This treatment brings great benefits without causing big problems. Some notable advantages have been enlisted below;
facials tighten large pores.
It is non-surgical and non-invasive.
The treatment makes the skin smooth and radiant.
It is smooth, simple, short, and does not cost much.
This procedure reduces acne-prone and oily appearance.
This method is good at correcting wrinkles and fine lines.
It does not cause side effects and downtime is quite short.
This technique minimizes brown spots and hyperpigmentation.
Aftercare Tips:
The aftercare is necessary to follow after the treatment. Your practitioner will instruct you on a few important points which you should follow to keep the skin and outcomes effective. Some common instructions are as following:
Avoid cleansing skin immediately.
Do not go out in direct sunlight, it will damage your skin.
Use prescribed sunblock for protection.
Avoid face waxing.
Use cold water for washing the face or during the shower.
No makeup at least for a few days.
If you feel any discomfort in two days continuously then visit your practitioner.
Follow the aftercare instructions timely.
Cost of Hydrafacial in Islamabad:
The Average Cost of Hydrafacial in Islamabad Pakistan ranges between 5000 PKR to 30000 PKR. It also depends on several factors which can affect the cost. These are:
The skillful practitioner fee
The location and reputation of the clinic.
Multiple session's requirements.
Further, if someone wants to know more about its cost-related information then contact our team for more updates.
Schedule an appointment with us!
Frequently Asked Questions (FAQs):
Schedule an Appointment with us!
If you want to make your skin brighter, impressive and smooth through a trustworthy clinic then feel free to consult SKN for Hydrafacial. We are providing the best and most effective services to our candidates with impressive outcomes. Looking forward to you.