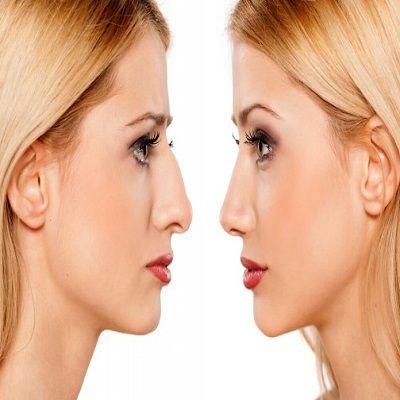 The nose is the most visible part of your face, the majority of individuals suffer from embarrassments due to their uneven-shaped nose tip. Anyone can be a victim of this concern. So are you suffering from a fat nose? Or do you want to improve your nose tip appearance according to your desires? No issue. You can sort out these matters by having Nose Tip Plasty in Islamabad, Rawalpindi & Pakistan because it's a wonderful solution for the deformities of the nose.
Nose Tip Plasty is the type of Rhinoplasty that enriches the tip appearance without affecting other nasal areas. A long or fat nose tip may make your facial appearance dull and unattractive so it's better to acquire this treatment to get off from these concerns. People who aren't comfortable with their nose shape or size can be a good candidates for this procedure. However, it's the most popular surgical practice which results in the safest outcomes.
Treatment Options:
Different treatment options are available for Nose Tip Plasty and it's decided by the surgeon according to the nose condition of the patient. The dominant ways for tip plasty include:
1.      Alar reduction:
In this procedure, excess skin is removed from the alar by making an incision in the lower part of nostrils. However, this type of reduction is recommended for those who face wide nostrils.
2.      Cartilage:
The most widely used practice is chosen by the people who have already pointed tip nose but they want to enhance it more. Somehow, cartilage will be trimmed or removed according to the surgeon's decision and the patient's demand.
How Much Nose Tip Plasty Cost?
Nasal Tip Rhinoplasty or Nose Tip Plasty in Islamabad Pakistan can cost you on average about 75,000 PKR to 125,000 PKR. The procedure requires anesthesia, as well as the skills of the practitioner and their expertise. The cost, although, might be slightly lesser than an extensive session of rhinoplasty.
varies individually, depending upon different factors:
Nose tip condition
Surgery-related payments
Expertise of Surgeon
Clinic market price
Results & Benefits:
Nose Tip Plasty surgery Islamabad Pakistan results in the safest outcomes when performed by a certified-plastic surgeon. However, you will notice a significant change in your nose as you wanted! It's preferred by most experts because it can alter your nose tip appearance permanently without any risks and complications. It has a lot of benefits, some common ones include:
Your nose tip will be improved
Resolves the aging concerns
All deformities of the nose are fixed
It will make your over-all look attractive and contoured
There is no need to get post-sessions, one sitting would be enough
     

Are you Right Candidate?
Before you go for this treatment, make sure that you're the right one to get this surgery. People who face nose tip issues can be a good candidate for this procedure. Some certain conditions must be agreed before the treatment i.e. your doctor may suggest to some test to ensure good health. However, you're a good applicant for Tip Plasty if:
Your age is 20 or above
Your nose tip is uneven, long, short, fat or blunt, etc.
You face embarrassments due to extra-wide nose
Your test report is satisfactory
You don't suffer from allergic reactions
You're willing to improve your nose tip appearance
Preparation:
Before getting Tip Plasty, doctors highly recommend preparing for surgery to attain the finest outcomes and rapid recovery. Preparation guidelines will be suggested by the doctor according to the medical history of the patient. Some common ones include:
Avoid smoking and other drugs before 4-5 days of surgery
Stop taking blood thinners
Don't use any cosmetics on your nose before surgery
Avoid eating extra before surgery, you can take some snacks and drinks
It's better to stop daily routine pills because all medications must be taken with doctors' prescription
What is Expected During Treatment?
Nose Tip Plasty surgery is a quick procedure that can be completed within one hour because it's less complex than Rhinoplasty. This procedure involves the addition of cartilage which is usually drawn from the backside of ears but new technology has also introduced FDA-approved silicon for this purpose. It's highly recommended to get this treatment from a professional surgeon to avoid risks and complications Surgery steps are listed:
Surgeons start the process by giving local anesthesia which numbs the nose tip for patients' comfort.
An incision is made by the surgeon inside the nose to access the nose tip and cartilage (soft tissue) is added on the tip of the nose to lift it in an arranged way according to patients' demand.
Once it's done, incisions are closed and patients are suggested to get a post-surgery session for removing sutures but some doctors prefer absorbable sutures so there is no need to get those sutures.
Aftercare:
After Nose Tip Plasty, you may feel some mild discomfort but there is no need to worry about it because it's temporary and will go away within some time. Doctors usually suggest patients wear some nose support for better shaping. However, some aftercare guidelines must be followed by everyone to speed up the recovery process:
During the healing process, avoid touching or blowing treatment area
Avoid strenuous exercises for 2-3 weeks after treatment
Quit smoking for a few weeks
Avoid sun exposure for a few days
The sleeping position must be discussed with the doctoc
Why choose us?
The nose is the most noticeable part of your face. Uneven, big, or fat nose tip can affect your overall look. You can resolve such issues through Nasal Tip Plasty because everyone wants to look perfect. Our highly-experienced surgeons are always working for patients' ease in a comfortable environment. So if you want to improve your looks by altering nose tip you can feel free to consult the SKN Cosmetics & Plastic Surgery clinic to consider the best Nose Tip Plasty in Islamabad, Rawalpindi & Pakistan.