As a central point of the face, the "nose" has a significant influence on the overall appearance and thus has a direct impact on an individual's personality. Some people are lucky enough to have a perfect nose, but many people suffer from nose problems. Any sort of birth defect or injury can affect its form or can result in even breathing difficulties.
Aside from this concern, some people are unhappy with the shape or size of their nose and consider making changes to it. Nose surgery is the only option for such concerns, but the story does not end there, as there are various nose surgeries available.
On this page, you will learn all about Rhinoplasty in Islamabad, Rawalpindi & Pakistan including its working, results, benefits, cost, and many more. So, keep reading!
Quick Facts:
Surgical procedure.

The surgery will take 1 – 3 hours.

It requires General Anesthesia during the surgery.

You may require 2 weeks off work.

Return to exercise or gym after 5 to 6 weeks.

It may take one day to stay at the hospital or clinic.

A candidate should sleep on his/her back for 4 weeks.

You can take a full shower after 1 to 2 days by keeping the treated area dry.

Fully recover after 6 to 8 weeks.

Final results may obtain after 9 to 12 months.
To know more about these facts, you can read the further detail on this page or you can consult our experts anytime according to your concerns.
What is rhinoplasty: 
Rhinoplasty – It is a surgical approach that targets to change the size and figure of the nose for both functional and cosmetic reasons and is performed by an expert rhinoplasty surgeon. It is one of the most difficult procedures to change the size, shape, and angle of the nose to balance it with the rest of the facial appearance. 
Also, it is used to perform making corrections in a bone of the nose. For obtaining good results, considerable precautions and strong surgical abilities are required.
Types of Rhinoplasty:
Here, we'll take you toward the most popular Nose job, which is being performed at our clinic for the last ten years. Also, it is one of the most widespread cosmetic procedures. Our experienced and professional Rhinoplasty Surgeon puts maximum effort to modify the structure of the nose to improve facial balance.
There are several types of nose surgeries that are used to perform according to the candidate's condition and suitability. Such as:
Open Surgery:

By its name, the type of procedure that is performed by making an incision for separating both nose nostrils. Our surgeons recommend this type to those candidates who have a very serious, complicated, and injured nose.

Closed Surgery:

Another type of surgery, where the incision doesn't require but make changes inside the nose. Only experienced surgeons can perform this surgery.

Fillers Procedure:

Besides medical purposes, nose treatments are also performed for cosmetic concerns. Some candidates don't require surgical procedures but only need to change nose shape with fillers. Liquid nose treatment is a non-surgical treatment.

Alarplasty:

Last but not least, a type of nose treatment best for those who need the reduction in the base of the nose. Also, it makes the nose look more appropriate and more symmetrical.
Rhinoplasty Before & after:
According to SKN cosmetics, the results after nose treatment are effective and long-lasting. There will be no need for any more surgeries. The outcomes can be perceived in the form of an attractive outer nose appearance with no genetic faults, inhalation difficulties, or nasal trauma.
You will begin to look better with every passing day. As no matter whether Nose's Job is performed for which reason, either medical or cosmetic. It will make your outer beak more balanced and contoured.
Please note that the nose job results cannot be seen instantly, you have to show patience as consequences are quite slow and gradual. Generally, it would take 4-6 months for the complete deliverance of upshots once the swelling subsides.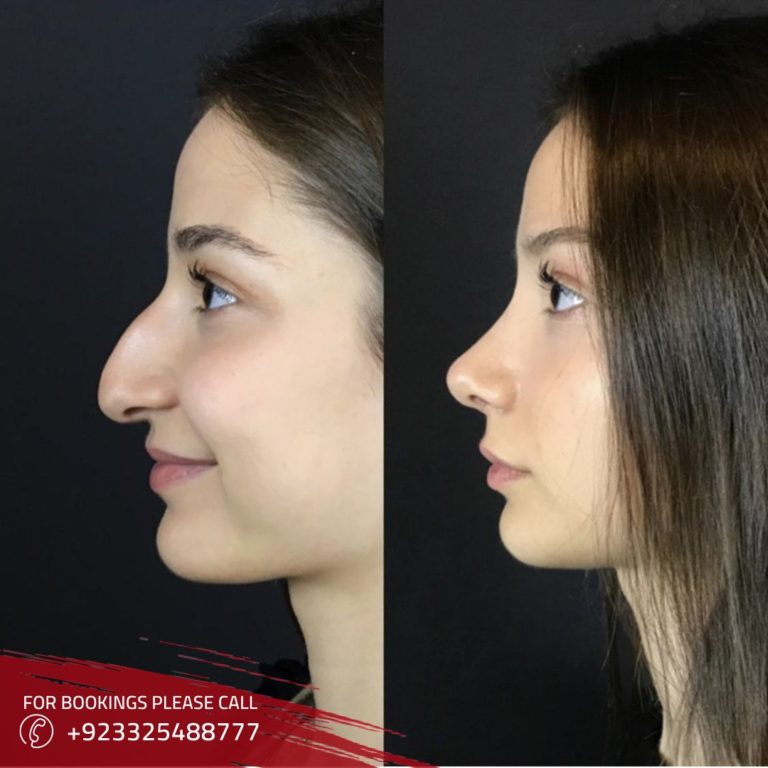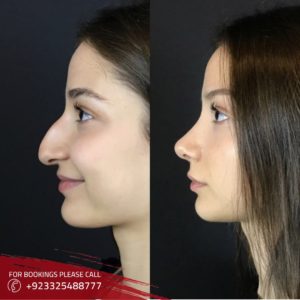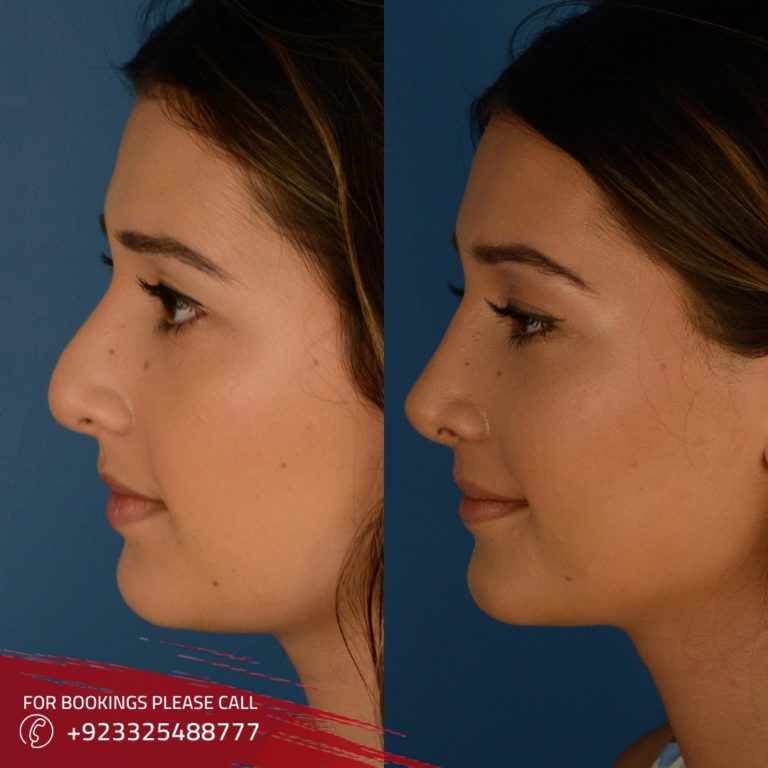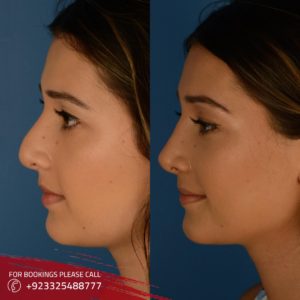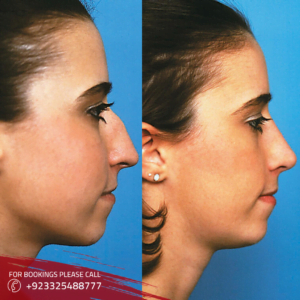 Top Benefits:
Generally, there are a lot of advantages that a candidate can gain after successful treatment. Some common benefits are mentioned below:
The treatment can reduce or increase the size of the nose.

Breathing issues will improve as well as other structural problems.

The physical appearance of your face will be enhanced and modified.

It will provide long-lasting and effective results.

There are no major side effects.

The bridge of the nose will be straightened.

It will boost a candidate's confidence and self-esteem.
Who Are The Best Candidates:
According to our experts, the ideal candidates for Rhinoplasty in Islamabad, Rawalpindi & Pakistan would be those who are looking for some sort of changes in their nose. However, the main reason can be either cosmetics or medical. It entirely depends upon the need of the candidate. So, there are some points which will clarify who is suitable, such as:
A person who has a good health condition. The average and ideal age for surgery is 18 plus.

If you are facing asymmetrical nostrils and bumps on the nose.

A crooked or wide nose is affecting your overall appearance.

Having issues while breathing or difficulty to breath due to structural issues and chronic blockings.

Bearing a large or small nose is becoming tough for a candidate.
Why Do People Have This Surgery?
This all-in-one surgical approach holds some targets that every patient must consider before stepping into this practice. Have a look at the important ones!
Crooked nose appearance.

Ruptured Nostrils, if they are too wide or too narrow.

Breathing difficulties.

Satisfying the aesthetic preference.

For correction, reshaping, and reconstructing the nose.

The Hump of the nose is a typical reason for nose surgery.
How To Prepare For Surgery?
When a person mentally decides to have nose surgery, it is very important to get prepared according to the surgeon's instructions before the procedure. Most surgeons provide precautions manual to patients, and so do our surgeons.
In this session, you can talk to your surgeon openly about what type of changes you need and what are your expectations. However, for obtaining the best and most successful results of treatment, these guidelines are necessary to follow:
You may need to provide your medical history.

Do not take blood thinners like aspirin as they increase the risk of tissue damage.

Avoid drinking alcohol and smoking cigarettes two weeks before the procedure.

You should take a deep shower before surgery as it will not allow taking showers for a few weeks after the surgery.

If a candidate has any sort of infection then sorts it out first.

Eat healthy foods according to prescribed instructions.
The Procedure:
No doubt, Rhinoplasty is a complex and delicate surgical procedure and it demands great expertise and skills of the surgeon. However, the procedure will be performed under general anesthesia. it depends on what type of surgery is going to perform. Procedural points are mentioned below:
The surgery process differs from individual to individual depending upon their medical requirements and aesthetic goals. Once the anesthesia is administered, the surgeon will make the necessary incision according to the open or closed techniques.

After creating the incision, the doctors split the skin of the nose from its supportive framework of bone and cartilage and start modifying the structure according to the patient's needs and demands.

While you are completely asleep, the team will monitor your blood pressure, heart rate, and oxygen level.

In the end, the surgeon applies a splint on the nose for maintaining the new alterations, and incisions are sewed through absorbable/non-absorbable stitches.
The average duration of the surgery is 1 to 3 hours or sometimes it depends on the surgery type and candidate's requirements. After the procedure, it may require one night's stay at the clinic.
Aftercare Instructions:
After the treatment, the plastic surgeon will prescribe you some post-care instructions because it is very important to take extra care of your treated area. Moreover, the surgeon will recommend you according to your health and treatment type. Some common instructions are mentioned below:
It is necessary to take complete bed rest for several days.

Rest your head in a straight position.

We advise you to take at least 2 weeks off work.

Do not try to blow your nose because swelling will block your nose for a few days.

Avoid making deep facial expressions and do not laugh openly.

Do not go out in direct sunlight.

Eat healthy foods and avoid constipation.

Avoid performing physical activities like gym and exercises.

Stay gentle while brushing your teeth.

If you feel pain then use prescribed painkillers or otherwise inform your surgeon immediately.

Avoid using sunglasses on the nose.

Use prescribed medication and antibiotics for avoiding infection.
Recovery Time:
The recovery period of nose reshaping surgery is different for every patient. It usually depends upon the patient's goals, outlooks, and the technique adopted by the surgeon. In most cases, it takes 5-7 days to completely recover from the operation.
Although you will face temporary discomfort and swelling around the eyes as Swelling is common and stays for at least 4 to 6 months so take good care in the healing process so it will disappear. The healing process is mentioned below:
After the surgery,

it will recommend taking rest for a few days and you may feel sleepy due to anesthesia so don't be worried.

After one week,

the splint will be removed from the nose and you can continue the working routine.

After a few weeks,

the irritation and discomfort will be largely resolved and a candidate may feel less swelling than before.

After 3 months,

in this period a candidate may observe a change in nose shape and it will appear natural. Hopefully, the swelling will be improved after 3 to 4 months. A candidate can continue exercise but it is still important to take care of your nose.

After 7 months,

the nose is completely healed and there will be no need to give extra attention as you can do anything freely. Now, it's the time to enjoy your new look and enjoy your upgraded confidence.

After 1 year,

complete results are finally obtained and you will get a new shape of the nose. Now there will be no need to avoid doing anything and enjoy your new face look.
Cost of Rhinoplasty in Islamabad:
The average cost of Rhinoplasty in Islamabad, Rawalpindi & Pakistan ranges from 90,000 PKR to 300,000 PKR. Also, it depends on person to person, nose condition, and relative demands. 
Please note that it's a rough estimate as the price of treatment fluctuates in consideration of the procedure complexity and used technique. There are several factors that can affect the cost of the procedure. These are mentioned below:
Experienced plastic surgeon's fee.

Location and reputation of the clinic.

Anesthesia fee.

Surgery type and surgical facility cost.

Medical tests and reports.

Other supporting charges.
These factors will be discussed before the treatment and according to your concerns. Further, if you want to know more about cost-related queries then feel free to contact us.
Side Effects:
We all know that every treatment has minor side effects due to the changes in the human body. Side effects are common and treatable so it doesn't mean to take tension because your surgeon will also recommend medication for solving the risk. Some common risks are mentioned below:
Infection.

Scarring.

Breathing issues.

Swelling.

Pain.
Furthermore, these side effects are temporary and can be solved by using prescribed medication. Otherwise, choose your plastic surgeon that must be board-certified and focus on the successful procedure without experiencing any risks.
Best Rhinoplasty Surgeon in Islamabad:
Therefore, if you're considering getting the Nose Reshaping or Best Rhinoplasty in Islamabad, get the best surgeons at our clinic.
Our expert Dr. Naveed Azhar is highly qualified and trained with great expertise and performs the nose job efficiently and effectively, his designation is among the best competent practitioner in Pakistan, with an experience of 10+ years. This surgical practice demands proficient skills and it's beyond the capacity of a junior practitioner.
Even a slight disproportionate or asymmetrical nose can have a large effect on the facial features so get the best Rhinoplasty and alter the shape, size, and width of your nose by correcting the birth faults and breathing hitches.
Schedule Your Appointment With Us
Therefore, if you want to get your nose job done through a reputable place then feel free to consult skn clinic. We are here to give you amazing performance and satisfying results rate without facing any type of complications. So, don't wait and schedule your appointment with us today.