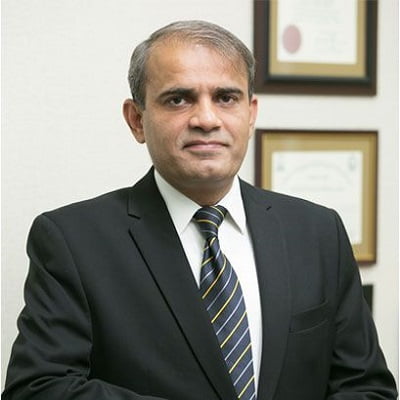 A lot of men and women want to have a Rhinoplasty because they are not happy with the appearance or shape of their nose. The main aim of Rhinoplasty in Islamabad is to examine and make necessary corrections to the nose according to the patient's desire by keeping in mind his skin type and face architecture.
Possible Changes To Your Nose After Rhinoplasty:
a change in size
a change in angle
reshaping of the tip
narrowing of the nostrils
Preparing for Rhinoplasty:
Before Rhinoplasty, you must meet with your surgeon to discuss whether you're a good candidate for Rhinoplasty. The surgeon will observe your medical history and ask you about any current medications and medical conditions.
Rhinoplasty for a flawless nose is a safe procedure, but the surgery must be done by an expert. The surgeon should ensure that the patient has understood the procedure and the risks and benefits associated with Rhinoplasty. In this regard, some surgeons use 3D imaging before surgery to show patients how their nose might look after surgery.
How Rhinoplasty Procedure is Done at SKN Cosmetic Surgery Clinic?
Rhinoplasty for flawless nose in Rawalpindi, Islamabad, and Pakistan can be done in a hospital, a doctor's office, or an outpatient surgical facility. The Best Rhinoplasty Surgeon in Islamabad, Rawalpindi & Pakistan will use local or general anesthesia depending on the nature of the procedure. If it's a simple procedure, you will receive local anesthesia to your nose, and if it is a complex procedure, you will receive general anesthesia. Children are usually given general anesthesia.
Once you are unconscious, the surgeon will make cuts inside your nostrils. He will separate the skin from your cartilage and then start the required reshaping process. The whole procedure usually takes up to two hours. If the surgery is complex, it can take a bit longer.
Best Rhinoplasty Surgeon in Islamabad:
At Cosmetic Surgery Clinic in Islamabad, we have skilled and expert surgeons available to carry out these complex surgical procedures with utmost simplicity and with state of the art technologies according to the industry best practices. Doctor Naveed Azhar is one of the Best Rhinoplasty Surgeon in Islamabad, Rawalpindi & Pakistan who has been around for over a decade. In 2007, he became a Member of the Royal College of Surgeons of Edinburgh and the College of Physicians and Surgeons of Pakistan. His passion ultimately drove him to plastic surgery.
Our Best Results of Rhinoplasty:
Long-lasting effects will be seen after rhinoplasty surgery. The initial swelling goes down in a few weeks, but it could take up to a year for your new nasal contour to become completely refined. While your nose is being refined to a more permanent result, you can notice subtle changes in its look throughout this period. These pictures depict the best results of Dr. Naveed Azhar.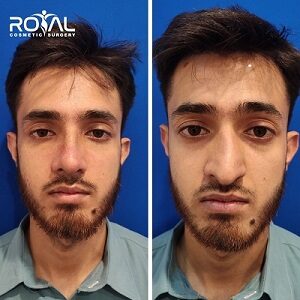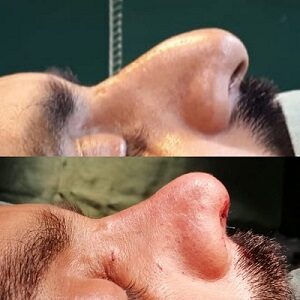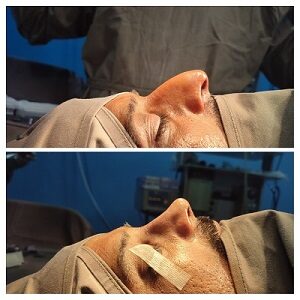 Benefits of a Rhinoplasty:
Rhinoplasty offers marvelous benefits to the sufferers; it not only adds to the looks and beauty but also resolves nasal trauma and birth flaws. Some other benefits of the Rhinoplasty procedure are listed below,
It removes dorsal humps from the nasal bridge and straightens your nose
It treats the structural defects of the nose
Helps people to accomplish their aesthetic objectives
It creates a composed facial profile
Resolves breathing difficulties
Repairs the broken nose
The best solution for a deviated septum
Recovery from Rhinoplasty:
After surgery, your doctor may place metal support on your nose in order to maintain its new shape while it heals. You'll be observed in a recovery room for a few hours after the surgery. If everything is okay, you will leave later that day. If it is a complicated procedure, you might have to stay in the hospital for a day or two.
Your doctor may advise you to avoid the following things for a few weeks after your surgery:
running and other strenuous physical activities
swimming
blowing your nose
excessive chewing
resting eyeglasses on your nose
vigorous tooth brushing
You should be able to return to your daily activities or school after one week. Follow-up care is of great importance after Rhinoplasty. Make sure to keep your appointments and follow your doctor's instructions.