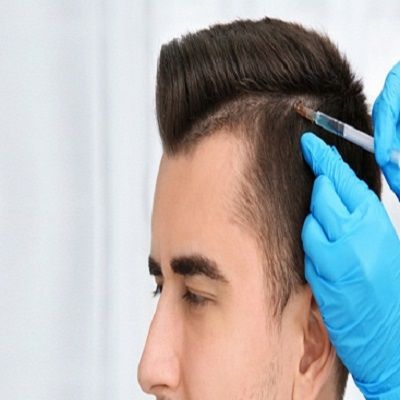 Hair loss is the most common problem everyone facing, it can be temporary or permanent but must be taken seriously. We lose up to 100 hairs in a day without even noticing but when it becomes complex, requires medical care and shouldn't be ignored. Men and women both suffer from this problem but a majority of the men are affected from it and they mostly start experiencing hair loss after 35 but aging isn't the only reason behind hair fall, it can be due to genetics, bad diet habits, medications, stress, illness, or hormonal changes. Many individuals face a hairless front line that looks ugly and unattractive but it can be tackled by having Front Line Hair Fixing in Islamabad, Rawalpindi & Pakistan. The two techniques used for this purpose include:
Surgical Front Line Hair Fixing
Non-Surgical Front Line Hair Fixing
Surgical Front Line Hair Fixing:
In this process, the hair transplant technique is used to get the front line hair back by grabbing patients' hair to place carefully through the safest surgical procedure. Hairs are drawn from the backside of your head and front-hairstyle is prepared according to the preference of patients by using medically approved mixtures. Once it's done, they are placed on the front line. However, the results attained from this practice are natural and long-lasting.
Non-Surgical Front Line Hair Fixing:
Non-surgical fixing of front hair has gained popularity all over the world because of people's preference and safest outcomes. This treatment involves a lot of practices that help in the regeneration of hair. Some common ones include:
1.      Laser therapy:
Laser therapy is the safest approach that enriches hair growth in both men and women without making any incisions. It's the FDA-approved method in reducing hair loss and the majority of the people get this for their receding hairline. Practitioners use a laser device that illuminates the photons to encourage the weak cells of scalp tissues because it helps a lot in the regeneration of hair. It is also known as Cold Laser Therapy. You're recommended to visit Trichologist before you get Laser therapy so he can suggest you to get this treatment or not. Although preparation instructions and aftercare guidelines are also advised by the doctor according to the health condition.
2.      PRP injections:
PRP (Platelet-rich Plasma) is the oldest practice which helps a lot in fixing receding hairline. These injections boost hair growth by providing enough blood supply to the hair follicles to acquire natural and permanent outcomes. Some medications can also be prescribed from your doctor along with these injections to speed up the hair growth process. Practitioners use your blood and pass it from centrifuge to get platelet-rich plasma which is injected into the specific areas of the scalp. Patients are required to get 3-4 treatments within a month for effective results, which can be maintained for a long-time by following aftercare instructions from your doctor.
3.      Natural Hair Wigs:
Natural wigs can be prepared from your hair or artificial hair to get a hairpiece which helps to get off hair receding concerns. The front-style of the wig is prepared for your own choice so you can wear it easily when you want. Results acquired from these wigs are completely natural, so no one can even recognize that you're wearing something on your head. You can make hairstyles of your own choice and shampoo it whenever you want. Must consult with your doctor before getting these wigs.
4.      Hair fillers:
Hair fillers contain hyaluronic acid which helps to get your front line hair back without any efforts. Practitioners inject the hair fillers on the specific areas of the scalp to improve the blood circulation which helps a lot in the regeneration of hair. Your doctor may suggest some sessions according to the hair condition somehow, patients are required to take 2-3 sessions every month for enduring outcomes.
5.      Medications:
A lot of medications can be used to get off hair concerns. People who are afraid of getting hair injections or surgical procedures prefer to take medicines to get their Hair problems fixed. Minoxidil & Anthralin are the two common pills used which help in boosting hair growth and discarding the baldness but not completely, they can slow down the process of hair fall and encourage new cells for hair regeneration. It's recommended not to take any medication without a prescription from your doctor.
Aftercare & Recovery:
Every treatment has a different recovery process depending upon its complexness. Surgical practices require long recovery procedures as compared to non-surgical ones, your doctor may suggest you some specific aftercare instructions according to your health condition to speed up the healing process.
 How much is Front Line Hair Fixing Cost?
The cost of Front Line Hair Fixing in Islamabad, Rawalpindi & Pakistan varies from person to person. You can get affordable treatments at SKN Cosmetics & Plastic Surgery Clinic to get off the receding hairline. Some common factors on which cost depends:
Hair condition of a patient
Treatment you choose
Practitioners' fees
Clinic rates
Why choose us?
Our aim is to make you feel confident with strong and natural hair. We provide the best services to resolve your hair concerns without any complications. So if you want to fix your front line hair with safest techniques you can feel free to consult SKN Cosmetics & Plastic Surgery Clinic to consider best Front Line Hair Fixing in Islamabad, Rawalpindi & Pakistan.