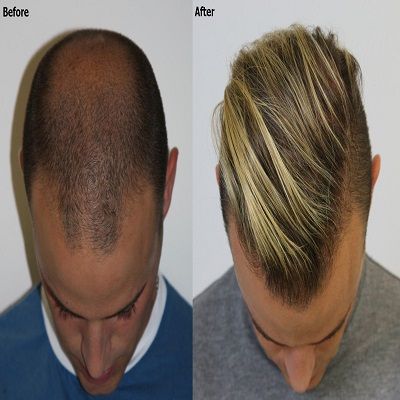 Crown Hair Transplant:
Crown area is the highest point of the head which is also referred to as vertex. Hair transplant of this area is commonly used to get your hair back, this is one of the most popular treatments which can resolve balding issues on the upper part of the scalp. Most of the hair fall starts from a vertex and then it spreads around the surrounded area and develops a circular shape that looks awkward. The majority of men suffer from this problem. This hair transplant is effective for those who are facing crown hair complications.
What are the Causes of Crown Hair?
There can be different reasons for hair loss from the crown area like hormonal changes, health issues, stress, medications, growing age, etc. However this is most commonly found in men, women also suffer from hair loss in their crown area due to several reasons. If you're facing more than one whorl, surgeons will face little bit difficulty during hair transplant surgery.
Results?
Crown hair transplant in Islamabad, Rawalpindi & Pakistan provides a completely natural look by improving the growth of your hair. Once you're done with the treatment you will start seeing basic results between 2 to 4 months. A considerable amount of hair can be seen emerging from the crown area up to 8 months. However, most of the implanted hairs emerge from your scalp, which can take up to 12 months. It doesn't result in side effects or risks however, minor bruising or swelling can occur for some time. Although if you're facing hair fall in the front area of your scalp, it must be treated first to attain optimal results.
What are the Comforts?
Hair transplant of the crown area is one of the most successful treatments to restore the growth of hair by implanting hairs. It provides a natural look of your hair to improve your appearance. Some major comforts come from this treatment are:
This surgery provides a natural look
It's the safest treatment, prevents you from hair loss
It can easily build your confidence
Delivers promising outcomes
This treatment will prevent you from embracing
It can make your overall look attractive by resolving baldness problems
It will make you look younger
Your hair will keep growing for a long time
This surgery provides permanent outcomes
Candidates:
The ideal candidates for hair transplant treatment are those who are suffering from continuous hair loss from their vertex. There are some certain conditions for a good candidate:
If your age is 25 or above
If you have good physical and mental health
If you are willing to improve your overall look
If you're tired from embarrassing
If you have baldness issues
If you're facing thin hair
If you have lost hair due to some injury or other incident
Pre-Operative Instructions:
Every surgery has some demands that must be fulfilled before you go for the treatment. To avoid discomforts during the treatment or to attain successful results, you must follow these instructions:
Avoid the intake of medications that contain Aspirin
Stop smoking or other drugs
Avoid taking any vitamins or supplements one week before surgery
Must take medicines prescribed by the doctor
How it's done?
Hair transplant treatment is responsible for the natural growth of your hair. This procedure can take between 3 to 6 hours. First, your scalp is cleaned to inject medicines. Surgeons perform this transplant by eliminating hair from the hair-filled section of your scalp to place on your bald area. You will be having bandage to cover your scalp for some days. There are two methods for crown hair transplant:
1.      Follicular unit transplantation (FUT)
The surgeon uses a dissecting instrument to cut out the strip of skin. The incision usually 5 to 8 inches long, stitches are made to close this incision. They separate the small portion by using a surgical instrument. Once these sections are implanted, the small portions can achieve the natural growth of hair.
2.      Follicular unit Extraction (FUE)
First, your scalp is cleaned to inject the medicine. During this transplant, hundreds or thousands of hairs are implanted. Surgeons make small holes with a needle to place hair in these holes gently.
Post-Operative Instructions
The post-operative instructions must be followed properly for efficient recovery. You will be requiring more care during stitches, they will be removed after 8 to 10 days of surgery. During the first week you will feel some redness or swelling, to avoid these conditions you must follow some major instructions:
Medications must be taken on the proper time
Don't rub the treatment area
Avoid smoking
The sleeping position must be upright
Avoid physical activities for some days
Cost of Crown hair Transplant
The cost of Crown hair transplant in Islamabad, Rawalpindi & Pakistan usually varies from patient to patient. SKN Cosmetics & Plastic Surgery clinic in Islamabad, Rawalpindi provides the best Crown Hair Transplant at reasonable rates. The cost commonly depends upon:
Baldness in the crown area
Hair transplant technique
Number of sessions you take
Expertise and status of clinician
Location of clinic
Book an Appointment:
Hair is one of the most important parts of your personality. If you want to grow your vertex hair naturally to enhance your confidence level, though crown hair transplant feels free to contact SKN Cosmetics & Plastic Surgery clinic to consider Crown hair transplant in Islamabad, Rawalpindi & Pakistan.