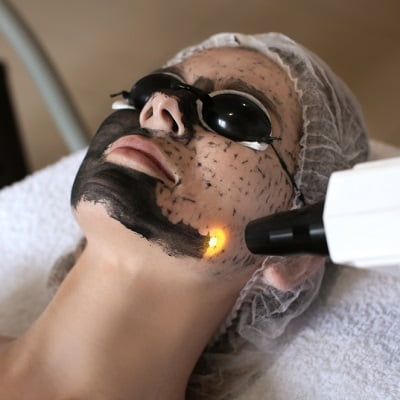 Laser treatment of carbon peel is a painless procedure that works for people with oily skin, blackheads, large pores, and acne on the face and other areas of the body. Most of the time, it is also called as charcoal facial/peel. This is one of the resurfacing techniques that are used for treating imperfections of the skin by utilizing focused light beams. The Carbon Laser Peel in Islamabad, Rawalpindi & Pakistan restores skin balance by providing softer, smoother, firmer, and refreshed skin.
Results and Benefits:
Results:
The treatment significantly clears up an uneven skin tone. It also works for pigmentation and congested pores. At SKN Cosmetics, with the space of 2-3 weeks, two to six treatments of Carbon Laser Peel in Islamabad are carried out for delivering superior results. After your initial course maintenance treatments are required to be followed depending on your skin condition and desired results.
Benefit:
Makes your skin softer, smoother, and more radiant
Stimulates collagen growth for improving the skin texture
Aids in removing dead cells from the damaged upper layer of skin
Exfoliates the skin and reduce pore size for an evening out the skin tone
Lighten age spots/dark spots, fades freckles, reduces wrinkles, and fine lines
Involves the use of liquid carbon that penetrate deep into pores for removing dead skin cells, oil and blackheads
Who Is the Candidate?
Chemical peels are the safest option for getting the type of baby skin you have been wishing for so many years. It is the right time to make your dream come true. You can be selected for the candidacy of Carbon Laser Peel Treatment in Islamabad, Rawalpindi & Pakistan if:
You are facing facial irregularities
Your skin has started to sag due to age
You have dark pigments on your skin
You want to remove stretch marks or large pores
You are a sufferer of acne scars or post-surgical scars
Aim of Treatment:
This effective technique has the major aim of rejuvenating skin and deep skin cleansing. For these purposes, liquid carbon is applied to the face and is blasted off with the help of lasers. Deep cleansing of the skin is usually ensured by a combination of laser treatment with carbon. This type of peeling causes skin tightening and purification.
Technique We Use:
For treating imperfections of the skin, chemical peels are usually combined with laser beams in order to rejuvenate the skin. This highly advanced technique restores the skin's luminescence and brightness.
The dermatologist at SKN Cosmetics starts the procedure by covering the face with a thin layer of liquid carbon.
Once the face is covered by carbon peel, the laser beam is further focused and targeted. Used chemical peel shows its effectiveness by absorption of laser energy through dark particles of carbon.
These particles are sucked by using a vacuum pump. The entire process helps in removing the superficial layer of dead skin cells.
It creates thermal energy inside the skin, setting off the generation of new collagen and another new layer of skin.
Thus, the rate of development of connective tissues increases, and damaged skin will be eradicated by carbon particles, cleaning out your pores altogether.
Recovery:
There is minimal to zero downtime after getting the Carbon Laser Treatment in Islamabad, Rawalpindi. You are advised to go with your regular activities right after the next day of treatment. Slight redness is usually seen by the sufferer which fades in a couple of hours or days. For better and fats healing, few instructions should be followed. These are listed below:
For getting rid of minor side effects, use topical medications
Use ice packs for reducing the burning sensation caused by lasers
Avoid scratching and rubbing the area of treatment for a few days
Avoid sun exposure and use sunscreen when you are out at day time
Schedule a Free Consultation:
The combination of laser technology with medical-grade carbon achieves superior cleansing of the skin and visibly improved overall skin tone at SKN Laser Treatments. The quick treatment time and immediate results make this a convenient, highly effective, and recommended lunchtime procedure. Book your appointment by filling the form today.