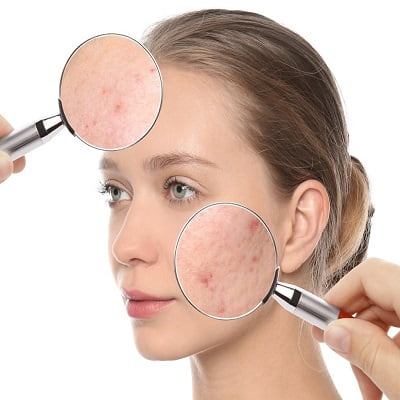 After trying every home remedy and expensive product, still, if you are experiencing acne or blemishes then don't be upset. There are several ways to get rid of acne but first, it is very important to consult with the best dermatologist who can diagnose properly and suggest you a suitable treatment option.
However, to know basic information about the 3 Best Ways to Get Free from Acne then read this blog post that includes causes, best treatments, results and cost with much more information. So, keep reading!
What Is Acne?
An outbreak that commonly appears in a form of pimple on the face, chest or back of the person is known as Acne. It is a very common skin disorder condition like pimples, black or whiteheads that become blemish. There are several types of acne, such as:
Mild level of acne.
Medium level acne.
Severe level acne.
These outbreaks blocked the skin pores cause of excess oil production on the skin. Moreover, it can be a temporary or long-term condition; if you will not cure it through effective treatment then it can be the worst condition of your skin.
Causes of Acne:
According to expert dermatologists, there are huge numbers of causes of acne. The dermatologist will properly diagnose your skin condition and it may require a blood test. Therefore, some common causes are mentioned below:
Puberty
Depression or stress.
Sweating
Irregularity in sleep routine.
Changes in hormones.
Lack of water intake.
The reaction of medications.
Due to dandruff.
Use of worst skin products.
Eating chocolates, high sugary items etc.
Best Treatments For Acne:
Treatment is the best solution until it's too late! According to SKN Cosmetics, we are offering treatments for getting rid of mild to severe acne conditions. Sometimes, it is fixed by medications and antibiotics but some of the clients have severe acne conditions that might lead to laser or surgical procedures. However, the best treatments for acne are mentioned below:
If you are sensible enough to take good care of your skin then you need to prevent such situations as acne, pimples and dirt on the skin. You can follow daily skin routines like washing your face twice a day and keeping yourself hydrated. If you are good at hygiene then you won't experience any skin problems.
If you have mild acne issues then the skin specialist or dermatologist will recommend medications and antibiotics that will treat from inside of your body. Sometimes, the dermatologist suggests external use medication like gels or lotions for apply on the affected skin.
One of the most demanding procedures that can give you permanent results is laser treatment. It can also treat acne scars and other impurities of the skin. However, the procedure will be performed in multiple sessions so you can get desirable outcomes.
Unluckily, if any person gets the worst and most severe acne condition that is not fixed by medication and other non-surgical treatments then it may require a surgical procedure that extracts the defective area and insert skin grafts for making it a better appearance. It is rarely performed because dermatologists always try to fix the problem with minimal treatments.
Therefore, after knowing the 3 Best Ways to Get Free From Acne which are the most common and workable treatments with care routine, it would be best if you choose an experienced dermatologist for your treatment.
How To Prevent in Future?
Generally, to prevent in the future acne or other skin diseases in there are some tips and guidelines that can be helpful for you. However, a few tips are mentioned below:
Wash your face at least two times a day or whenever your face gets sweating.
Try to avoid the use of cosmetic products unnecessarily or daily basis.
Better to get a skincare routine from an expert skin specialist who prescribed you according to your skin type and with effective products.
Avoid touching your skin without washing your hands and don't pop the outbreaks.
If you are taking other medication that is the cause of acne then don't take them or talk to your dermatologist.
Use prescribed sunscreen whenever you go out in sunlight.
Maintain a healthy diet that boosts your immune system.
Keep yourself hydrated.
All Summed Up!
Therefore, if you are experiencing different levels of acne from mild to severe ad want to treat it in the best and most effective way then feel free to consult SKN Cosmetics for amazing treatments and they will guide you on how to take care of your skin for the prevention in future. We are here to give you a memorable experience!