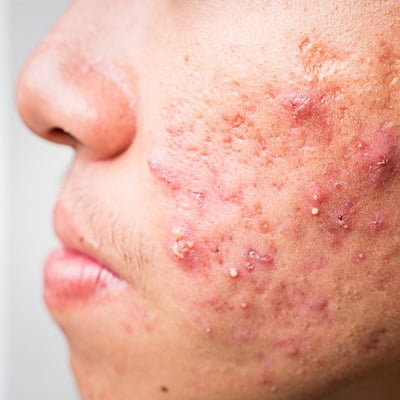 It is an understood fact that acne can appear at any age and leave scars behind. To have severe acne scars are still not a big issue but if you are living with such blemishes and scars can affect your self-image – now that is a big problem for people. Next, everyone doesn't have the same skin type and color so if you are a brown skin person and want to get rid of unwanted scars then you may need to treat them as soon as possible.
In this blog post, you will learn all about Acne scar treatment for brown skin in Islamabad including several solutions, benefits and results etc. so, keep reading!
Causes of Acne Scars:
There are several causes to have an acne scar. However, common causes are lesions like a papule, pustule or cyst. They occur when your skin's follicle or pores get excess oil, due to dead skin and bacteria. The scars usually appear awkwardly on dark skin tones.
Sometimes, the causes of acne scars are squeezing the breakout or trying to apply an unsuitable product on your face. However, only your dermatologist can let you know about the cause after examining your skin.
Best Treatments for Brown Skin Acne Scar:
According to SKN clinic, our expert dermatologist says that not all treatments are suitable for darker skin tones but some specific options are specifically designed to treat the scars on brown skins, stimulate natural wound healing period and produce collagen on the skin without any complications. However, the common treatments are mentioned below:
Microdermabrasion – is a type of treatment that is used to perform with a special machine technology for removing the upper layers of the skin. The best thing about this treatment is that it will give you effective results without experiencing any complications and side effects. The scars will be less visible and your overall skin will look naturally young.
Laser Skin Resurfacing – an effective process of reducing scars on the face with the technology of laser. The skin will rejuvenate and remove the damage of top layer skin, produce the collagen and make your skin texture clear and smooth. Only this option will provide you with long-lasting results in just a few sessions otherwise, if the acne or its scars appear again then you may need to get this treatment.
Chemical Peel – it is a procedure that is used to perform for removing the top layer of old skin. There are three types of methods in this procedure, mild, medium and super chemical peels solution. The chemical peel solution will improve the texture of your tone and texture and also gives natural effects to your overall skin. This procedure is effective for sun-damaged skin, hyperpigmentation, dark spots and removing the dryness of your face. You will see instant results and it will last for a long time.
Dermal Fillers – for treating mild to moderate stages of scars, dermal fillers are effective and one of the best solutions to hide them. It is an injectable treatment that will use Hyaluronic acid for injecting under the skin and making your scar less visible. The results will be instant and satisfying but temporary for 6 to 8 months.
Microneedling –by using the pen of tiny needles that can make doted cuts on your skin for stimulating the collagen production which can treat the scars. Sometimes, the procedure is performed with radiofrequency for making it effective. The scar appearance will be improved and prevent your skin from future acne scarring.
The Best Results:
After getting the suitable treatment, you will get amazing and satisfying results until it is performed by an experienced dermatologist. Different treatment options have different results. You can ask your dermatologist for result information because all scars don't disappear permanently.
How to get rid of acne scars on brown skin?
It is necessary to follow the aftercare tips for the future prevention of acne scars. However, the common tips are listed below:
Treat your acne scar when it develops.
Do not try to squeeze the breakout.
Use recommended sunblock and face wash.
Avoid rubbing or scratching the skin.
Ask your dermatologist before the use of any skincare product.
Top Benefits:
Generally, there are a lot of benefits to choosing the Acne scar treatment for brown skin in Islamabad. Common benefits are listed below:
All treatment options are painless and non-surgical.
Provide you instant satisfying and effective results.
These all scar treating methods are affordable in cost.
Improves the quality of your life and self-image.
The scars will reduce and make your overall facial appearance perfect.
A Note From SKN Clinic!
Therefore, if you are tired of treating scars and blemishes at home then now it's time to choose something worktable. Feel free to consult SKN cosmetics where you will get a variety of effective treatments at a reasonable cost range. Give us a chance to provide you satisfying experience!