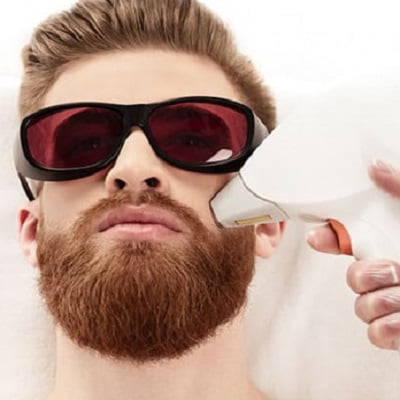 The Beard style never goes out of fashion. Facial hair on men usually known as beard hair consumes a lot of time and effort to get removed. It is inconvenient to maintain also, as constant shaving leads to cuts, razor burn, irritation, and excess growth of ingrown hairs.  Whether you are keeping a full beard or just trying to maintain facial hair, a Beard line laser can effectively help you to achieve the desired shape of your beard.
What is a Beard Line Laser?
When talking about men's beard hair, a Question may come to mind: what is a beard line laser? To know about it one must first know about Beard Line. When specifically talking about lining, it refers to three lines, The Neckline, The place between the sideburns, and the earlobes.
If anyone has the perfection of these lines, he is possessing a well-groomed beard impacting a good personality.
Beard line laser hair removal treatment involves the removal of extra-grown hair on facial areas such as the upper cheeks and neck. It helps to create a well-defined and more polished appearance.
Benefits:
The real benefits of beard line laser hair removal in Islamabad, Rawalpindi & Pakistan are as following:
Free from Daily Shaving: you can get rid of daily shaving. This not only reduces your time but also the constant and hard effort of maintenance.
No more shaving mistakes: for a better edging of beard, it requires practice. It is a painful and worst situation when you accidentally shave your beard. Through this method, the risk of such accidents can be decreased.
Reduction of Thick hair spread: Laser hair removal does not completely remove your beard hair. If you have a thick spread, this treatment can remove and even reduce that spread. Thus giving you a more flowing mane.
No more razor burn: it is obvious that while shaving, itchiness, scarring, redness and even bleeding sometimes do occur. Treating beard hair with laser technology can reduce the need to shave as well as the aforementioned razor burns.
Say goodbye to razors and burns with Beard laser hair removal treatment.
Pre-Treatment Care:
The area to be treated must be clean-shaved
Avoid direct sun exposure before at least 7 days
Avoid using different cosmetic products on the face.
Candidates with Tanned skin need to wait for 2 weeks before getting treated.
If having tattooed skin, you need to remove it first.
Post-treatment Care:
Avoid any additional laser treatment on the treated area
Aloe vera gel or ice packs may be applied to reduce discomfort
Exfoliation is required to minimize the risk of ingrown hairs
Avoid UV exposure.
Potential Side Effects:
With every laser technique, there exist some side effects. These are
Darkening of skin
Temporary redness and mild pain
Rashes
Discoloration on skin
Itching and swelling on treated areas.
Results:
On average, clients experience up to a 30% reduction of hair after each treatment. For accuracy, consult with your doctor properly and tell him about your desired expectations. Do not hesitate. Using Beard Laser Hair Removal in Islamabad, Rawalpindi & Pakistan for alignment of your beard can give you a new look without the use of a razor.
Book a Consultation:
Lining up the beard is important to get a clean and tidy look. A messy and untidy beard will not be attractive to anyone and gives your personality a negative impact.  For a perfect beard line, choose an experienced surgeon. Schedule your appointment today by filling a form below