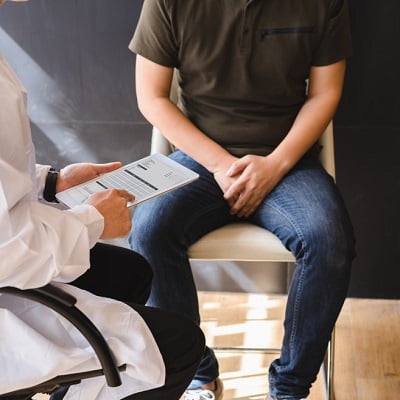 Erectile dysfunction is becoming prevalent in Pakistan. You might be wondering who the best erectile dysfunction (ED) doctor in Islamabad is if you're experiencing erectile dysfunction (ED). Finding the right doctor for you can make all the difference in your treatment experience and outcome, despite the fact that there are many healthcare providers who offer treatments for ED. read on to learn who is the best doctor for erectile dysfunction in Islamabad here. 
Best Clinic For Erectile Dysfunction in Islamabad:
We at SKN Cosmetics in Islamabad are aware of the severity of the problem. We know that for some men, erectile dysfunction can be a sensitive and difficult issue. For this reason, we provide discreet and private consultations with skilled, experienced medical professionals who specialize in treating ED.
Why SKN Cosmetics Islamabad is the Best Clinic For Erectile Dysfunction in Islamabad?
Dr. Naveed Azhar is dedicated to assisting each patient in finding a customized treatment plan. This plan is effective for them. He has years of experience diagnosing and treating ED. We are aware that a variety of factors, including physical and psychological ones, can contribute to ED. Also, our doctors treat patients holistically, taking all of these factors into consideration.
The procedure of Consultation For ED:
To ascertain the cause of your ED, he will conduct a thorough medical history inquiry and physical examination during your consultation. To aid in making a diagnosis, he might also request additional tests like imaging studies or blood tests. He will suggest a treatment strategy based on the findings. Treatment might involve using medications, altering one's lifestyle, or implementing other interventions.
We at SKN Cosmetics treat each patient with the utmost respect and compassion. This is because we recognize that ED can be a sensitive and private matter. We are here to support you every step of the way. Our doctors are committed to ensuring that every patient feels at ease and confident about their treatment plan.
Make an appointment with us at SKN Cosmetics if you're searching for the top ED physician in Islamabad. To help you overcome ED and regain your sexual health and confidence, our team of skilled and caring medical professionals is here.
What is Erectile Dysfunction Treatment in Islamabad?
A large percentage of men suffer from erectile dysfunction (ED), which is a common condition. Its hallmark is the inability to obtain or maintain an erection strong enough for sexual activity. So, for ED, there are several treatment options available, including:
Lifestyle changes:
A healthy weight, regular exercise, and abstaining from tobacco use and excessive alcohol consumption, among other lifestyle changes, can help improve erectile function.
Medications: 
PDE5 inhibitors, such as sildenafil (Viagra), tadalafil (Cialis), and vardenafil (Levitra), as well as alprostadil, which comes in injection, suppository, and cream forms, are some of the medications that can be used to treat ED.
Counseling: 
Moreover, men with ED brought on by stress, anxiety, or depression may benefit from psychological counseling.
Surgery: 
Surgery may be suggested in some instances to treat ED, especially when there is a physical cause, like a blockage in the blood vessels.
How Do I Choose A Sexologist?
Making the right choice for a sexologist can be crucial. As it entails disclosing sensitive and private information about your sexual function and health. So, when selecting a sexologist, keep certain things in mind. In general, it's crucial to pick a sexologist who is knowledgeable, skilled, specialized, and who makes you feel at ease. Hence, to locate a certified sexologist in your area, you can conduct some online research, seek referrals from reliable medical professionals or friends, or get in touch with professional associations.
Best Doctor For Erectile Dysfunction in Islamabad:
Finding a qualified medical professional with experience and expertise in the diagnosis and treatment of ED is crucial. Depending on the underlying cause of ED, there are various possible treatments. So, a healthcare professional will be able to assess your particular situation and make recommendations for the best available treatments. Dr. Naveed Azhar is the best doctor for erectile dysfunction in Islamabad. 
Dr. Naveed Azhar | Best Surgeon in Islamabad:
Dr. Naveed Azhar is an experienced doctor who excels at treating urological diseases. He has experience treating erectile dysfunction and can offer a variety of treatments, including drugs, therapy, and lifestyle changes. Moreover, he will advise you on the best course of action. Dr. Naveed also specializes in providing patients with erectile dysfunction with counseling and psychological support. Additionally, Dr. Naveed provides guidance and support on lifestyle changes like regular exercise, eating a healthy diet, and stress management in addition to these treatments to help lower the risk of developing erectile dysfunction. 
Book Your Consultation:
Book Your Consultation with SKN Cosmetics Islamabad to treat this issue right away. You can call us or fill out the form given below.