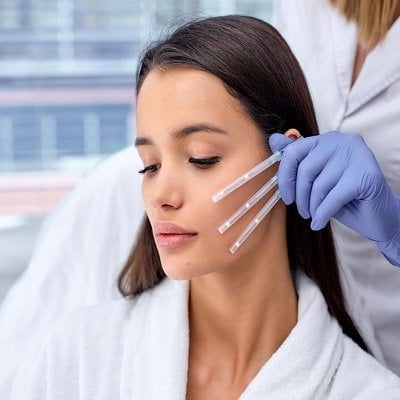 Everyone is worried about their facial appearance, as time passes the skin gets saggy and loses volume. However, there are several cosmetic treatments that are performed to fix the look of the face. One of the advanced procedures is PDO thread lifting, which lifts up the facial position and reduces wrinkles from the face.
Subsequently, you may need to find a reputable and trustworthy clinic for your treatment. Obviously, it is a very skillful and delicate treatment that cannot be performed by an unprofessional person. So, we are going to discuss all about Best PDO Thread Lifting Facial Clinic in Islamabad. Keep reading for more information!
What is PDO Thread Lift Treatment?
A non-surgical procedure that is specifically designed for fixing issues like saggy skin, folds, to restore the firmness and make your facial profile young is known as PDO Thread Lift. It will deliver effective, immediate and dramatic results right after the treatment and lasts for at least 12 to 18 months or more. The targeted areas are eyebrows, cheek, mouth, jawline, neck etc. Everyone can have it as a person should be above 18 and have saggy skin. Moreover, it doesn't have a long recovery period and major side effects.
How Does It Work?
The PDO Thread lift works as the practitioner will perform the procedure under local anesthesia. Next, the practitioner will make a tiny incision for inserting the PDO thread on the targeted area. After that, the threads will adjust according to the expectations of the candidate.
However, the total duration of the procedure will be 30 to 40 minutes or it depends on the number of threads and size of the treated area. It doesn't require any recovery period of more than a week. If a candidate needs more changes then this procedure can be repeated after the specific time.
What To See Before Choosing The Best Clinic?
Generally, it is necessary to choose the best and most reputable clinic for your treatment as soon as possible. It would be pointless and inadequate when you immediately select any random clinic and after getting the worst treatment, you regret it!
However, there are some important points to consider whenever you choose any clinic for your treatment, do follow these points that are mentioned below:
You need to check the reviews and ratings of the clinic.
The specialist, dermatologist and practitioners should be board certified and qualified.
Check the Environment, atmosphere and cleanliness of the clinic.
Must check about the machinery, technology and tools of the clinic.
The staff of the clinic can guide you with the best.
To check Cost ranges for PDO Thread lift treatment.
Before and after results photographs or experiences of other candidates.
Why choose SKN Cosmetics?
One of the multi-specialty clinics that are experts in every type of advanced cosmetic treatment and specific medical treatment is SKN Cosmetics Surgery in Islamabad. Also, it is known as Best PDO Thread Lifting Facial Clinic in Islamabad because we are offering this procedure in a very suitable way, our expert and qualified practitioner will perform it accurately and prescribe your aftercare instructions for taking good care of your treated area until it gets properly healed.
The Cost We Are Offering:
According to SKN Cosmetics, the average cost of PDO Thread lift in Islamabad ranges between PKR 50,000 to PKR 170,000 PKR. Also, there are a few factors that can affect the cost, such as:
Experienced Practitioner's fee.
Clinical Reputation and Location.
Number of Threads.
Other supporting charges.
Furthermore, if you want to get more valid information related to cost and these factors then you need to contact us or visit our clinic anytime. 
All Summed Up!
Therefore, if you are searching for a reputable and trustworthy clinic that can give you a memorable experience in any treatment then SKN cosmetics is the best choice for you. Here, we have experienced specialists who understand your expectation and skillfully provide you with effective, desirable results. So, what you are waiting for? We are looking forward to your presence here.