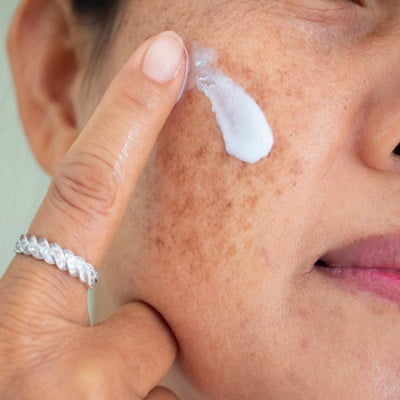 A tiny dot on the face can be visible but what if your face is full of dark spots? Many people experienced different skin issues and one of them is dark spots. They might be harmless conditions but they can lower down your self-image and affect your quality of life.
Don't worry! There are several quick and best treatment options that can give you a satisfying and amazing outcome after the performance. So, take a moment and read this blog post to know more information about the Best treatments for dark spots on face. Let's continue reading!
What Are Dark Spots?
A harmless and painless skin condition that usually appears on the face due to excessive production of melanin is known as dark spots. It can result in hyperpigmentation which is common in many people. When they start to appear in a large number they may require topical or aesthetic treatments. It can appear on any person whether it's a man or woman.
Causes of Dark Spots:
Generally, there are several causes that can develop dark spots or hyperpigmentation of any part of the body. However, common causes are mentioned below:
Aging factor.
Direct sun exposure.
Imbalance hormones.
Due to acne.
Burns
Use of harsh skin products.
Other medical reasons.
Inflammation
Diabetes
Best Treatments For Dark Spots:
According to SKN cosmetics, we are offering a variety of skincare treatments that are effective and provide instant results without any complications. But the most effective and best treatments for dark spots are mentioned below:
Topical creams and gels – every treatment is always starts from a mild solution. The first method for removing such spots from your facial skin is to use recommended creams or gels. These products can fade away the appearance. For a dark and huge number of pigments on the skin then it is not a good option to consider.
Microdermabrasion – a type of treatment that exfoliates by using minuscule particles for removing dead skin cells is known as microdermabrasion. You don't have to wait for any recovery but it might make your skin irritated or red for a few hours. The procedure will perform in 30 minutes and give you immediate and effective results.
Chemical peel – one of the best exfoliating procedures that is applied to the skin surface and lead to new skin tissues is known as chemical peels treatment. This method will slowly reduce the dark spots. Also, it is performed in three methods light, medium or super peel which are recommended according to the situation of the face's skin. The results will be satisfying and visible.
Laser treatment – when no minor treatments work, laser skin resurfacing therapy is best. It will perform by using a beam of light for targeting the areas of spots. It is necessary to understand that it can rarely discolor the surrounding tissues but remove the appearance of dark spots in the blink of an eye. The results will be long-lasting and dramatic.
Benefits of Aesthetic Treatments:
There are a lot of benefits to choosing aesthetic procedures as the Best treatments for dark spots on face. Some common benefits are listed below:
These treatments are painless and non-surgical.
Effective, satisfying and immediate results.
You will not experience any type of complications.
No side effects or long recovery periods.
Cost-effective treatments.
Improves the tone and texture of your skin.
Remove the dark spots or pigments accurately.
Boost your self-confidence and quality of life.
All summed up!
Therefore, every single person experiences different skin conditions due to sun exposure, aging factors and the environment. But it doesn't mean that you will live your life with these unwanted spots which are already affecting your quality of life.
However, if you want to get rid of such pigments from your face then feel free to consult skn clinic for amazing performance and results providing treatments in very reasonable cost ranges. We will make your skin spotless and beautiful!