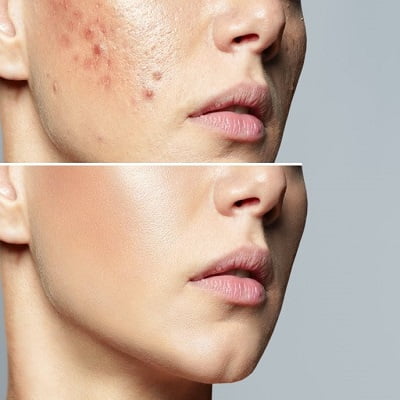 Nowadays, people are suffering from different breakouts that become annoying sometimes. But what is the worst situation? When you get a scar after your pimple – it is a double punishment. Don't worry! such pimples and scars are now treatable. Firstly, you need to take good care of your skin so more acne will not appear, if you have active acne then you need to fix it first and after that get rid of scars according to the suitable solution.
In this blog, you will get helpful information for Choosing the Best Treatment for Acne Scar from SKN Clinic. It includes the best ways to treat the scars and the cost will be mentioned. So, keep reading!
How Acne Scars Appears?
According to an expert dermatologist, the scars will appear when the acne went away from your skin but it leaves the reminder in the form of an unpleasant scar. It appears when the dermis is damaged and appears like a scar. The scars can be in different shapes and sizes like u or v shape, deep, small or huge etc. moreover, the scars can be developed if you forcefully squeeze the pimple or acne.
The Best Solution for Treating Acne Scar:
The best way to treat your acne scar is to choose an effective and suitable treatment option. However, our clinic is offering effective solutions that are suitable for all types of candidates and provide long-lasting results, mentioned below:
A type of treatment that is used to perform for treating the scars on the face is known as Dermabrasion. The practitioner will use a specific tool that deeply exfoliates the upper layer of your skin. The total duration of the procedure will be 30 to 60 minutes as it depends on the size of the scar and it can be performed in multiple sessions. So, you will have to attend the session for making your scar less visible.
Another treatment that is useful for reducing the appearance of the scar is called chemical peels. It is used to perform with a specific strong solution that reduces the visibility of your scar on any area. There are three types of chemical peeling treatment, mild, moderate and super solution. It will recommend you according to your skin type and scar type.
Laser Resurfacing Therapy
The most effective and long-lasting result providing the solution for acne scars treatment is Laser therapy. It will use to perform for removing the most upper layer of your skin and provide you with new skin tissues. The recovery is quickest and you can get multiple sessions until you get permanent results. Moreover, it is suitable for everyone except those who have active acne and dark skin complexion.
Other than that, Dermal fillers injections are also an effective injectable solution for filling the scarring area and adding the volume. It can be dermal, Hyaluronic acid or fat transferring fillers. The results will be immediate and last for 8 to 16 months.
Last but not least, an effective solution for decreasing the scarring area from the face – Microneedling is a suitable option. It will perform with a small tool that contains microneedles on the tool and move on scarring area. It will make collagen on your skin. The results will be seen after a few months and you will get satisfying outcomes.
What Are The Results?
After Choosing the Best Treatment for Acne Scar, you will get immediate, effective and satisfying results. The skin will take some time to heal and after that, you will get noticeable results and it will last for a long time. Moreover, if you feel to get more effects and instant glow then follow the session requirement and take good care of your skin according to the instructions of your dermatologist.
Cost With Impacting Factors:
Generally, the cost of Acne Scar Treatment in Islamabad ranges between 10,000 PKR to 40,000 PKR. Also, there are a few factors that can impact your costs like location and reputation of the clinic, chosen method, number of sessions, choosing experienced dermatologist and other supporting charges.
Furthermore, if you want to know more information related to its cost and impacting factors then you can contact us or visit our specialists who can guide you with the best.
A Note From SKN Clinic:
Therefore, any type of scar can be awkward and annoying for you and it would be best if you treat them on time. Otherwise, it will mark as permanent on your skin. If you want to get an effective treatment option in a reasonable cost range then don't be hesitate to consult SKN clinic as we are offering workable solutions and satisfying services. We are here to give you a memorable experience!