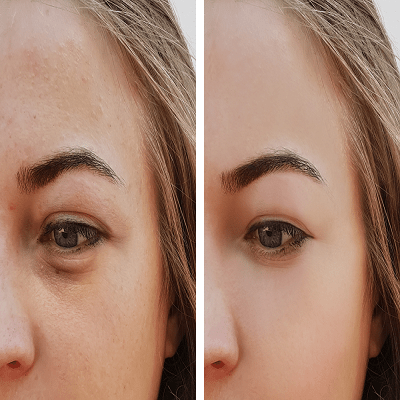 Losing volume under the eyes is the most common problem every next person faces these days. Dark and puffy eyes can make you look tired and unattractive. For years sufferers have been trying several home remedies to get off Dark circles but not even a single procedure is much effective to deliver long-lasting upshots. Therefore, to overcome such concerns safely, Under Eye Filler in Islamabad, Rawalpindi & Pakistan is a very common solution that works to get back the volume of skin under the eyes to acquire a more youthful appearance permanently.
Under Eye Fillers:
Under-eye fillers are made from hyaluronic acid which is naturally found in the human body but due to aging, the body can't produce enough acid, and skin under the eyes becomes loose, dark, and puffy. It's important to get this cosmetic procedure from an experienced surgeon so he can decide the right amount of filler to be injected on the correct facial site.
Are you the Right Applicant?
There is no age or gender barrier before acquiring Under-eye Fillers, people of all ages can get this treatment. But before getting under-eye fillers discuss your medical concerns with the doctor. Hence, the ideal candidate is the one who:
Is suffering from dark or loose skin under the eyes
Is looking for a non-invasive approach
Is tired of puffy eyes
Is willing to improve facial appearance
Isn't a chain smoker
What Are the Results? How Long they Last?
Results acquired from Under-eye fillers can be seen within two weeks in the form of the attractive and youthful appearance of under-eyes' skin which cannot last for permanently. The outcomes will stay for a maximum of 2 years, you will be needing to attend the touch-up sessions for the maintenance of youthful skin appearance.
How to Prepare?
Like every procedure, under-eye fillers also requires some preparation instructions that must be followed by every patient for risk-free treatment and best upshots.
Stop the intake of smoking and Limit alcohol consumption
Eradicate the use of vitamin E to get off procedure complexities
Avoid sun exposures at least 24 hours before treatment
Topical ointments and cosmetics should be escaped
At least two weeks before treatment, avoid blood-thinning medications i.e. aspirin & ibuprofen
What Happens During Under Eye Filler?
The process of Under Eye Filler in Islamabad, Rawalpindi & Pakistan will take a maximum of 30 minutes to complete. The doctor first applies the numbing cream and mark the injection sites. However, a specific amount of soft-gel filler is injected through a small syringe to restore the volume under the skin. The practitioner then ends up the process by applying cold packs under the eyes. Once it's done you're free to go anywhere with no long recovery periods.
Aftercare Instructions:
The patient will feel sense some bruising and redness on the injected site for a few hours which can be fade off by using ice packs. Due to different medical conditions and skin health, you will be advised some particular instructions but some common ones are compatible with everyone. Have a look!
Maintain a healthy diet
Enjoy a good sleep of maximum 8-hours
Avoid massaging the injected site for at least two weeks
Attend the follow-up sittings frequently
Use topical ointments, if prescribed
Stop doing strenuous exercises and limit further physical activities during the first week of filler therapy
Benefits:
Under-eye fillers help in acquiring the fresh look with the wonderful appearance of skin to make you look younger than your actual age. The majority prefers this filler therapy due to its tremendous comforts, some dominant ones include:
Dark circles are diminished
The youthful appearance of skin
Painless procedure & Non-invasive technique
There is no age barrier or long candidacy requirements
No severe complications have been reported
Suitable for almost every skin type
Cost-effective procedure
No downtime
Cost:
The Cost of Under Eye Fillers in Islamabad, Pakistan ranges from PKR 25,000 to PKR 40,000 per injection according to its quality and long-lastingness. People who seek affordable under-Eye Fillers can get their demands satisfied by visiting the SKN Cosmetics & Plastic Surgery clinic. Factors that help in deciding the cost of this treatment are listed:
Medical assessment & skin concern
Sessions you attend
Doctors' expertise
Clinic location
Why Choose us?
Want to attain a youthful appearance? Tired of dull skin under eyes? No problem. We provide the safest and effective Filler therapies to resolve such concerns. Our highly experienced dermatologists perform the best under eye fillers treatment in consideration of cosmetic needs. Feel free to visit us or fill in the consultation form. Our crew is always available to clear your doubts and fears regarding this filler therapy.