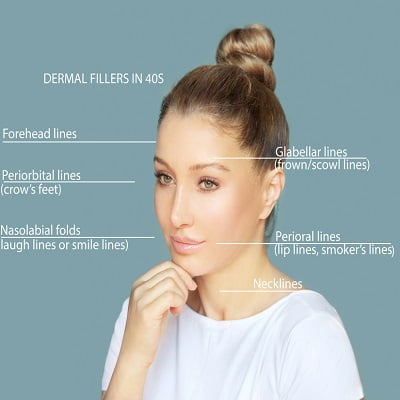 it is a natural fact that your face can show aging signs if you are getting old or losing youthfulness from your face. You don't have to worry if you are the one, there are a lot of advanced cosmetics treatments that are used to perform for making your facial appearance young and glowing. One of the best solutions is fillers that can easily inject into the skin and give you immediate results.
Now, the second main concern would be the cost of the treatment so we are here to break down the relatable information below where you will get complete details about fillers and the cost of dermal fillers in Islamabad. However, keep reading!
About Dermal Fillers:
An injectable procedure that is filled with different types of gel products is known as Dermal Fillers. The most common product is hyaluronic acid which is FDA approved. These are very commonly used to add volume to the face and reduce fine lines, wrinkles and saggy skin of the face. Moreover, it will smooth and soften the skin and make you look young and attractive. It can perform in multiple sessions as well because if a person needs more improvement and enhancement then you can get multiple shots. Suitable for both men and women at any age.
Targeted Areas:
According to SKN cosmetics, dermal fillers injections are used on the specific areas of the face to add volume under the skin. However, the commonly targeted areas are mentioned below:
Forehead fine lines.
Under the eyes for reducing dark circles.
It can smooth the nose shape.
Wrinkles around mouths.
To restore the volume of cheeks.
Vertical lines of lips.
Improves the lip volume.
Enhance the chin creases.
Overall face features can be targeted.
Expected Results:
After getting fillers, the outcome will be effective and immediate as you will see right after the shot. The targeted area will be improved and enhanced the area with smoothness. However, it is necessary to know that these fillers provide temporary results and you may need to re-inject the fillers after a specific time. The fillers will last from 7 to 12 months or it depends on different candidates.
Cost of Dermal Fillers at SKN Cosmetics:
Generally, the average Cost of Dermal Fillers in Islamabad are ranging from 30,000 PKR to 40,000 PKR. You should know that the cost of fillers is depending upon the condition of your face and how many sessions you require. To know the accurate cost range of your treatment, you need to consult our  Best dermatologist who will let you know the exact price of fillers.
Other Cost Factors:
After knowing the rough cost range, there are a few factors that can affect your cost and these factors will help you to know how we calculate the cost of the treatment. Some common factors are mentioned below:
When you choose an expert and experienced dermatologist, it will affect your cost because it is a common factor that professional practitioner has their own fee criteria. So, always choose the best dermatologist for your treatment.
Location and reputation of the clinic matter a lot because if you have a well-known clinic near to your area then go for it but if it is not then you may need to travel from one place to another and it will affect your cost according to traveling expense.
The most important factor to know, the number of dermal filler injections can affect your cost according to how many shots you require for treating your facial area. So, it would be best if you discuss with your dermatologist and they will let you know the accurate price.
Other supporting charges like checkup sessions, further shots and if you choose a different product then it will affect your cost of the treatment.
All Summed Up!
Furthermore, if you want to know more about cost-related information then you can contact us or visit our clinic's expert dermatologist. They will give you a proper estimate for making your face look attractive and youthful. We are looking forward to your presence here!