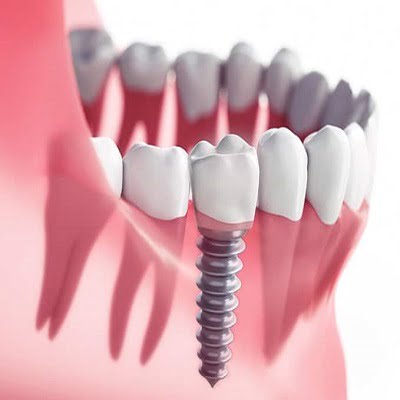 Thousands of people lose their teeth due to numerous causes such as; tooth decay, accidents or gum disease. And after losing a tooth, people assume that a new tooth will regrow itself. But unfortunately, permanent teeth doesn't regrow once they fall out or decay.
So the only way to replace a lost tooth with a new one is by considering Dental Implants.
The traditional dental implant procedure used to take almost a year to finish but nowadays, the procedure of dental implant can almost take 48 hours to complete.
How the procedure of Dental Implant is performed?
Following are the procedural steps included in the dental implants:
Removing your broken tooth
Implant placement
Crown placement
Removing your broken tooth:
First of all, the dentist will carefully remove your broken tooth, so that the tooth socket doesn't get damaged. Because a damaged tooth socket can lead to poor diagnosis and can cause gum recession.
Implant placement:
Then the dentist will implant new teeth in such a way that it is perfectly fixed or immovable. The  Cost of Dental implants in Islamabad & Rawalpindi placement is the primary stability of the dental implant.
Crown placement:
There are 2 methods to place the crown:
Directly
Indirectly
Directly:
A lag-screw is interlaced or crisscross to protect both, the crown and the abutment to the internal thread on the implant.
Indirectly:
In the indirect method, the abatement is connected to the dental implant and then the crown is fixed to the abutment. The purpose of using an abutment is to make a change of angulation for the crown to appear through your gum tissues with a natural appearance.
Dental Implants Cost in Islamabad, Pakistan:
Dental implants Cost in Islamabad, Rawalpindi & Pakistan is higher and more expensive then the teeth whitening treatment.
If you keep your teeth in good state by monthly visiting the dentist for oral checkup, regularly brush your teeth, then you won't have to undergo the dental implant procedure.
If your teeth are becoming yellowish and plagued then you can consider teeth whitening in Islamabad. As your teeth would be healthy, wont decay and you don't have to consider the expensive dental implant procedure.
Good Candidates of Teeth Whitening procedure?
Before undergoing the procedure, it's important for you to make sure whether you are a good candidate or not. Following are the requirements to become the good candidate to undergo the teeth whitening procedure:
You shouldn't have undergone dental filling or teeth repair treatment before.
Your teeth should be in yellowish color.
You should be overall healthy.
You should have the realistic expectations regarding the results of teeth whitening procedure.
Your teeth should be healthy.
How many Benefits of Teeth Whitening are there?
There are numerous benefits of Dental Implants Cost in Islamabad, Rawalpindi & Pakistan, few are explained below:
You will have a brighter and whiter smile.
Your teeth will become flawless.
Teeth whitening treatment is a non-invasive and non-surgical procedure.
You will have completely white teeth.
Teeth whitening procedure is totally safe and you won't to suffer from the post-operative side effects.
Your confidence and self-esteem level will boost up.
Your physical beauty will be enhanced.
You will permanently get rid of the yellowish layer on your teeth.
Also read related article Top 10 teeth whitening myths.
Consultation:
If you don't want to consider Dental Implants Cost in Islamabad & Rawalpindi procedure and permanently want to get rid of your yellowish teeth, then feel free to consult the Royal Cosmetic Surgery to consider teeth whitening in Islamabad.