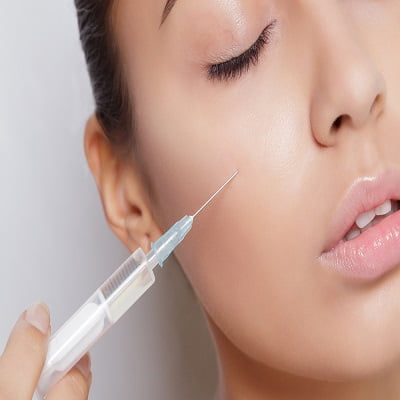 Nowadays, dermal fillers are becoming the trendiest cosmetic procedure in our country for many years. People prefer such fillers to modify the beauty of faces and make their facial appearance attractive and young. The fillers will pump up the skin and slow down the aging process. 
Therefore, SKN cosmetics are offering Dermal Fillers Treatment with a lot of benefits. Our clinic is a reputable center that offers such fillers at a very reasonable price. In this blog post, you will learn all about Dermal Fillers Cost In Pakistan Islamabad as well as its various factors. So, keep reading! 
What Are Dermal Fillers?
According to SKN cosmetics, dermal fillers is an injectable treatment that is used to perform for fixing the fine lines, aging signs, enhance the volume of some patchy spots of the face and eliminate wrinkles which will restore your youthful appearance. It may require multiple sessions for providing effective results. Moreover, these fillers are like gel substances that will inject into the spots by an expert dermatologist. It is an FDA-approved filling product that our surgeons use. 
Quick Facts:
There are some quick facts that summarize all the treatments, these are mentioned below: 
It is an injectable and multiple-session procedure.

 

A single session may take 30 to 40 minutes.

 

No anesthesia, it is totally painless.

 

There is no need to take time off work.

 

Immediate Results, May lasts for a few months to a year.

 
Enhance the beauty, volume and reduce aging signs.

 
Therefore, to know more about anything related to these fillers or related to their prices then you can contact us anytime and visit our website for Dermal fillers. 
The Cost:
The average Dermal fillers Cost in Pakistan Islamabad ranges between 20,000 PKR to 35000 PKR. As SKN cosmetics is offering reasonable prices and recommend you suitable fillers according to your concerns. Moreover, it is a multiple session treatment so the price may get high after consultation. 
Other Cost Factors:
Generally, when a candidate comes for the consultation, we discuss all cost-related queries and other concerns. After considering your concerns, the dermatologist will discuss cost-related factors that can affect your actual treatment charges. Therefore, there are some factors mentioned below: 
Expert Dermatologist's Fee:
Dermal fillers are used to perform by an expert dermatologist and only a skillful practitioner can treat your concerns successfully. It is necessary to choose an experienced and professional dermatologist and it can affect your cost because it might have high fee criteria. Otherwise, if you choose low-pricing dermatologists, the filler may go wrong and it will charge you double if you going to fix the issues again.  
Location and Reputation of the Clinic:
Another factor that can affect your cost, if you don't have any reputable clinic near to your area then you must require traveling from one place to another place. That is why; it may charge you traveling expenses. Also, choosing a reputable clinic is necessary for your treatment, there is a lot of fake clinics that offer less costly fillers.  
The most important and necessary factor to know; when you go for filler treatment it will not be done in just one session. You may require multiple sessions for fixing your issue and achieve desirable results. When more sessions require, your cost will increase with the further session. So, it is necessary to talk with your Dermatologist Islamabad to know how many sessions you will require and how much they will charge.  
Other Supporting Charges:
In this factor, there are several things to know about other charges. If someone gets the worst treatment by any other low clinic then we also fix such issues. Moreover, after the treatment, a person may require a check-up session for enhancing and update the look. 
Furthermore, these factors will be discussed in the consultation session and that is how you will get the estimated price for your treatment. To know more about cost-related queries then feel free to consult SKN cosmetics or contact us anytime. 
All Summed Up!
Therefore, we are offering dermal fillers at a very good and reasonable cost which will be worth it. We have experienced and professional dermatologists who are performing such treatments for the last few years and all are successful procedures. Moreover, our clinic has a relaxing atmosphere with cleanliness environment. For getting your issues to fix, come and meet us anytime!