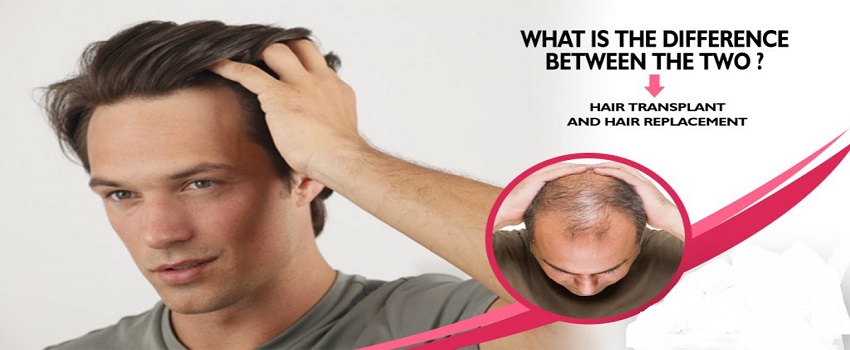 Are you one of them who is getting upset due to extreme hair fall? Hair loss always happens cause of genetic problems, family history, and imbalance hormonal problems or due to health issues and lifestyles. A person should cure this issue on time by consulting a good hair treatment specialist. 
Good news for those who really want to make their look attractive and impressive because SKN introducing a variety of treatments like Hair transplant and hair replacing methods. Both are used to perform the treatment of hair loss. The only Difference Between Hair Transplant And Hair Replacement is the surgical and non-surgical performance. Read this blog post for more information about both treatment options. 
About Hair Transplant:
According to SKN cosmetic, a hair transplant is a treatment performed surgically and under local anesthesia. It is a treatment that delivers long-lasting and natural hair results to undergoing candidates. The complete results will be shown after 7 to 10 months, depends on the nature of treatment and how the candidate takes good care after the procedure. Usually performed in the clinic with full concentration of surgeons. There are two advanced methods of hair transplant which are performed very skillfully. These are: 
These two are the most common method that is performed for hair transplantation and both are good in their own ways. The most performing method is FUE that are known as Follicular unit extraction as compere to the strip method. The hair transplant treatment is also used for eyebrows, eyelashes and beard. 
About Hair Replacement:
On the other side, another treatment that is performed non-surgically is known as Hair replacement, an alternative solution for hair loss to those who want to have hair without any pain. Some of the hair replacement processes are permanent for certain weeks. Mostly in these procedures, Swiss lace hair, hair wigs and scalp micro-pigmentation are performed for hair replacement. Moreover, these are different in replacement techniques and lasts for several weeks. The major benefit of getting hair replacement is, it is a non-surgical and painless process, it gives immediate results right after the treatment and there is no recovery time needed. Also, you can choose your desired colour, texture and length in these hair types. 
Advantages of Both Procedures:
Generally, both treatments are good and effective in their own manners. Hair transplant has few main benefits which are mentioned below: 
It will provide long-lasting results.

 

The natural hairs will be obtained.

 

Advanced technologies are used.

 

It Produces hair growth.

 

Guaranteed restoration.

 

It will enhance your personality and boost up confidence.

 
Moreover, there are also few advantages of Hair Replacement treatments and some of the main advantages are mentioned below: 
Completely painless process.

 

There will be no need for any surgery.

 

It is less expensive as compare to others.

 

You can colour your wig pieces anytime.

 

The process will be suitable if a candidate doesn't have donor side hairs.

 

There will be no need for dye for synthetic wigs because they hold the original colour.

 
The Outcomes of Both Treatments:
The difference Between Hair Transplant And Hair Replacement is the time of obtaining outcomes. In hair transplant treatments, undergoing candidates will obtain complete results within 7 to 10 months and it also depends on person to person and their health condition. The optimal results demand good and responsible aftercare which will deliver effective results. 
In hair replacement treatments, our candidates will obtain immediate results after the treatment and pain-free procedure will deliver attractive and effective outcomes. These results depend on methods of hair replacement treatment and last for several weeks. 
Cost Difference:
The cost of the hair transplant and hair replacement is different and depends on person to person that what type of treatment they want to undergo. 
The hair transplant is expensive as compare to hair replacement because hair transplantation deliver high successful result and this procedure need more skills and focus to perform. Hair replacement is less costly and lasts for several weeks only. However, hairs are the most important feature and what you are paying for will worth it. 
Few factors can affect the cost and these factors can be discussed in the initial session before the treatment. These factors include the experienced dermatologist fee, the location and reputation of the clinic, session's requirements and medications, and the method that are chosen will affect the price.