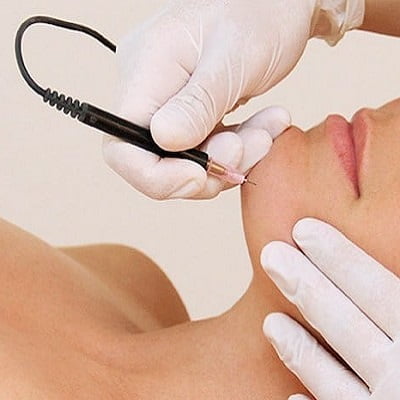 Electrolysis is a common and modern procedure in aesthetic scenes that have been used for over a century. It is also termed an Electric hair removing method. This method was first successfully used by Charles Michel in 1875 while treating grown eyelashes. Since then, electrolysis is accepted as a popular method. Electrolysis is the only permanent hair removal method because it directly targets the hair follicle.
Which Areas Can Be Treated?
The following areas can be treated using the Electrolysis Hair Removal in Islamabad, Rawalpindi & Pakistan:
Eyebrows
Facial hair
Thighs
Legs
Arms
Abdomen
Procedure:
Before the start of the procedure, an individual will have a detailed meeting with an electrologist to discuss everything in detail regarding it.
During a treatment, an electrologist places an ultra-thin needle in the area where hair has to be removed. This placement may not affect the surrounding skin. Once inserted, the milliampere range current delivers to skin tissue. Irremediable damage of follicle occurs, resulting in the fall out of hair from within hence eliminating the ability of the follicle to produce further hair.
Electrolysis is effectively exceptional in contrast to the laser hair removal method because it not only removes white and blonde hair but is also helpful in treating tanned skin. If anyone is interested in treating single hair, electrolysis would be the best option. It is more versatile and yields a long-lasting solution for unwanted hair growth.
Cost:
Electrolysis Hair Removal Cost in Islamabad, Rawalpindi & Pakistan depends on the area and type of hair to be treated. However, it is less expensive than IPL and laser hair removal. It ranges from 7,000 PKR to 15,000 PKR per session. This cost kept reducing on each visit because the amount of hair become less with each session.
Causes of Unwanted hair Growth:
There are many factors involved in the growth of hair like
Hormonal Imbalance
Menopause
Chemotherapy
Heredity issue (Genes transfer influence hair growth)
A certain amount of drug intake such as steroids
Illness or some other medical issues.
Hair growth is different in each of the above cases.
Device:
Medical electrolysis devices commonly known as Epilators are used to prevent hair growth from the root.
How Many Seating's for Treatment Is Required?
The total number of sessions may vary from individual to individual. At the start, it is done once every week however series of treatments will be completed once a person gets rid of all unwanted hair.
Advantages:
Following are the advantages of electrolysis
It is considered a permanent hair removal method.
It is versatile as it can be done anywhere including eyebrows.
It needs no recovery time at all. One can resume all his activities right after the procedure.
Effective for both dark and normal skin.
It does not require the use of harsh chemicals and heat energy.
Side Effects:
Following are the side effects of Electrolysis that may or may not occur:
Irritation on the skin due to needle insertion.
Slight redness.
Minor pain and discomfort.
Swelling
Infection if unsterilized needles have been used during treatment.
Time is taken process because several sessions are required to remove hair from roots.
Aftercare:
Once you are done with the treatment, you should avoid direct sun exposure. Try not to apply any makeup product for at least 24 hours. Don't engage in any activity that causes sweating.
Why Choose Us?
If you are considering electrolysis choose well-trained specialists. Our Electrologists are highly experienced and board-certified. The clinic is fulfilling the standard of cleanliness and hygiene.