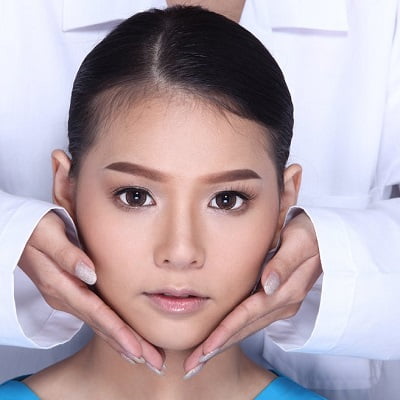 It's time to feel your best with New Year's Day preparations. What could be more tantalizing than getting your young, beautiful V-shaped face back? Full cheeks that taper to a defined jawline and chin at the tip accentuate the youthful face. Unfortunately, the V-shape tends to reverse as we get older. As a result of volume loss in the cheeks and displacement to the lower face, jowls develop. Loss of volume also frequently results in the loss of a defined jawline. For V-day, let SKN Cosmetics assist you in regaining the ideal V-shape. Nonsurgical methods created to sculpt the facial profile are used to achieve the results. This blog will give you an insight as to how to Get the V-shape filler this new year to achieve your ideal V-face!
What is a V-Shaped Face?
As we age, there are a number of complicated but normal changes to our facial regions. As we get older, our skin's tissues start to produce less collagen and elasticity. Their main function is to support the extracellular matrix of the skin. Loss of volume and bounce are the results of this. While a person is still young, a smooth and firm appearance is supported. This extracellular matrix also aids in the retention of water and hydration in our skin.
A narrower angle creates a more masculine and square appearance in women. The posterior line of the ear, jaw, and chin meet at this angle. The appearance of a chin that tends to protrude forward can be created by a wider angle. It will appear longer and narrower as a result.
Men's faces also appear more masculine compared to women's faces, which are more feminine. The angle between the chin, ear, and temple will determine this. Men may have different aesthetic goals than women, such as a more defined curve from the cheek to the chin. These strengthen the angle of the jawline. Additionally, they may want to emphasize their chin a little bit more to balance out a prominent jawline.
What Causes Facial Sagging?
Some of the elements might be
Facial expressions, soft tissue, genetics, and environmental factors
Many people begin to lose facial definition in the middle and lower portion of their faces. This results in jowls and doughiness. It might encompass the chin, neck, and jawline.
Treatment Options To Get V-Shaped Face:
Following are the treatment options to get a V-Shaped face at SKN Cosmetics Islamabad:
What is Juvederm Volux and what can it do?
Volux is a hyaluronic acid facial filler. Around the chin and jawline, it aids in volume creation and restoration. Your Aesthetic physician can sculpt it by aesthetic doctors due to its cohesive and elastic nature. It contains lidocaine, like many Juvederm fillers, to lessen discomfort and pain. Volux and other hyaluronic acid fillers may aid in minimizing the effects of ageing. By moisturizing the skin, it accomplishes this. Additionally, it improves tone and elasticity for outcomes that look natural.
Lift and Define the Jawline with PDO Threadlift and Ultherapy
You may use other options for drooping and sagging that is problematic in the lower face. When you require a little lift for the holiday, a PDO thread lift in Islamabad can be very useful. It utilizes dissolvable sutures in this minimally invasive procedure to reposition tissue and skin. This may produce a greater definition along the jawline as a result of this in the lower face. It aids in creating the desired v-shape for patients.
Slim the Jawline With Botox:
One more procedure is available to help with the jawline. Your desired V-shape will be achieved thanks to this. Typically, Botox injections in Islamabad are regarded as an anti-wrinkle procedure. But this drug has many wide-ranging advantages. It also significantly slims the lower face when administered as an injection into the masseter (jaw) muscle. It then results in a chin contour that is more streamlined.
What is the procedure for V-Shape treatment like
The V shape procedure can last anywhere from 30 minutes to over an hour. Which treatments and how many need to be administered will determine this. During the procedure, the majority of clients only feel a little discomfort. If necessary, a local anesthetic or numbing cream can be applied before the procedure.
Book Your Consultation:
Book your consultation with us and get the perfectly aligned V-Shaped jawline. Call SKN Cosmetics or fill out the form given below.